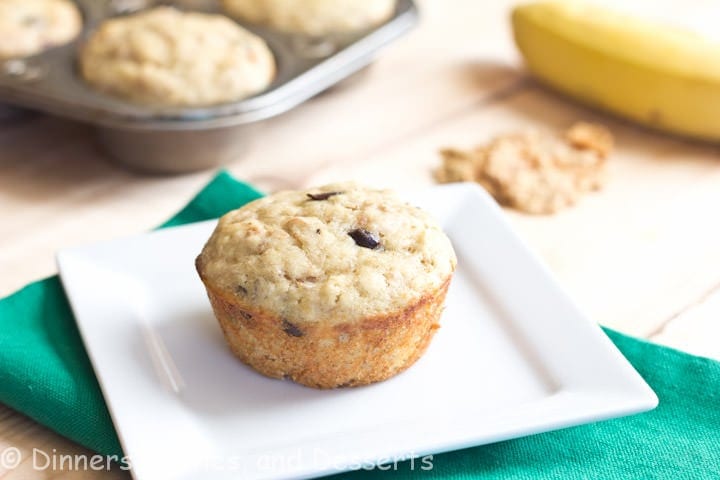 I hope everyone had a wonderful Memorial Day.  My husband didn't have to work yesterday, so we enjoyed a great 3 day weekend as a family.  On Saturday we drove up into the mountains and did some hiking.  We hiked to the top of a mountain (Twin Sisters), which was about 2000 feet of elevation gain and 7.5 miles round trip.  My 7 year old did amazing!  He didn't complain once!  Amazing what bribing them with ice cream will do
  Sunday we got to have a barbeque with some friends, and Monday we relaxed.  I couldn't have asked for much more.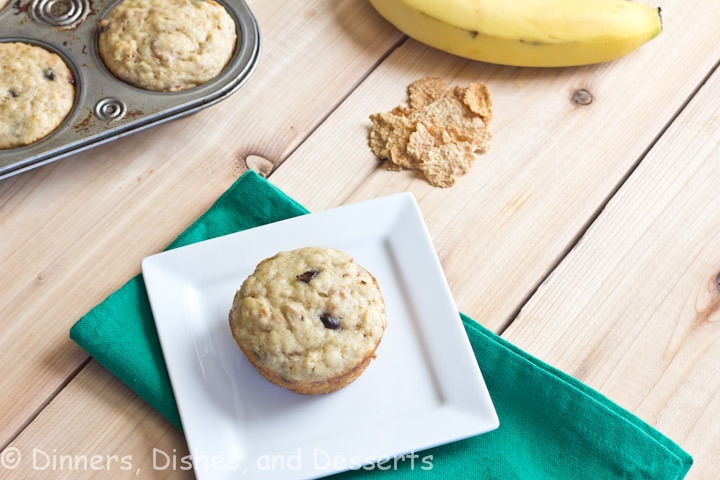 I made these muffins during teacher appreciation week, and sent them to school.  I kept a couple here for us, and they disappeared very quickly.  I wasn't sure how the bran cereal would do in a muffin, but it just disappeared and left great flavor.  I used Raisin Bran, because that is all I had, which just added a few more raisins to the mix.  I did mix in a few chocolate chips as well.  Sorry, I just couldn't help myself!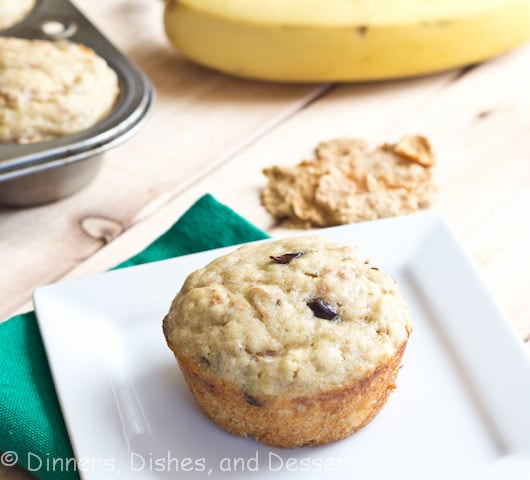 I might have to mix up another batch of these this week for our pending road trip.  As soon as school is out we are getting in the car and headed to see family in Wisconsin.  Snacks will definitely be needed on the drive.
Banana Yogurt Bran Muffins
Moist Banana Muffins with Greek yogurt, and bran cereal.
Ingredients
1 cup bran cereal (I used Raisin Bran)
1 cup mashed bananas (about 3)
¾ cup Greek vanilla yogurt
1½ cups flour
1 tsp baking powder
1 tsp baking soda
½ tsp salt
½ cup raisins (chopped nuts or chocolate chips would work well too)
2 eggs
½ cup brown sugar
¼ cup canola oil
Instructions
Preheat oven to 400 degrees. Prepare a 12 cup muffin tin with non stick spray or liners.
Combine bran cereal, bananas and yogurt. Let stand for a few minutes for the cereal to soften. In a large bowl mix together flour, baking powder, baking soda, salt, and raisins. Set aside.
Add eggs, brown sugar, and the canola oil to the bran mixture. Pour bran mixture into the flour, and stir until just combined. Fill muffin cups about ¾ full. Bake for 15-18 minutes, until a tester comes out clean. Cool in the pan for a few minutes before removing to a wire rack.
Notes
Adapted from Egg Farmers Ontario