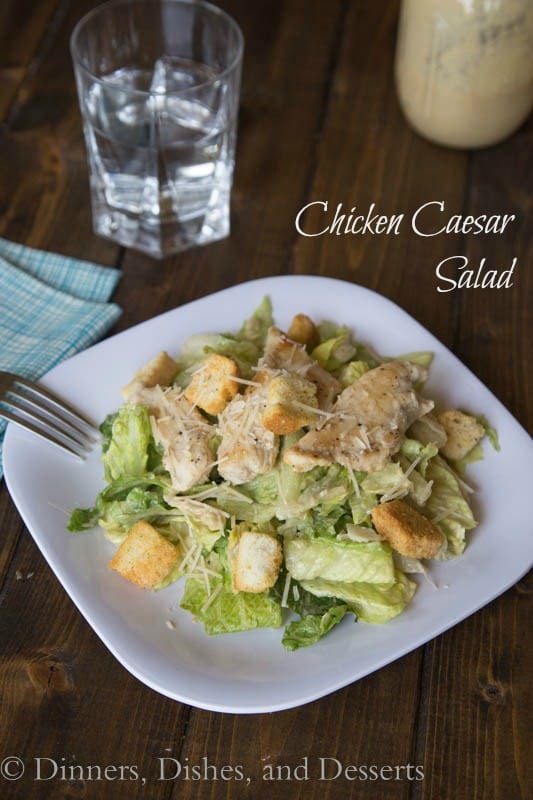 I think that once summer comes, even the most meat eating man out there, is ok with a salad every once in awhile. Especially if it means they get to fire up the grill to cook the meat for the salad.  For my husband, the only reason he will eat a salad is because of the dressing.  If it were socially acceptable, he would probably just drink the salad dressing, or maybe he would use a spoon 🙂  But seeing as how that is frowned upon, he will suffer through some lettuce in order to get the dressing.  His favorite dressing ever…..Caesar.  Followed closely by Thousand Island.
So this past weekend I took it upon myself to make a homemade Caesar dressing, and plan salads for lunch.  Now, you might want to know that I have never gotten my 9 year old to successfully eat a salad.  He will pick off every last piece of lettuce he can find on a sandwich or taco.  But, when grocery shopping he spotted some croutons that he wanted.  I said the only way I was buying them, was if I used them in a Caesar salad.  Shockingly, he agreed.  I was stopped in my tracks, and had to confirm that he actually heard what I said.  Even come lunch time though, I was having my doubts how this would go over.
The dressing for this Caesar salad was so easy.  I added everything into a mason jar, screwed on the lid and shook it.  Couldn't be any easier.  It is even a yogurt based dressing, so it is healthier than some of the alternatives.  Because, let's be honest.  If I am going to eat a salad, I want it to be good for me.  Well guess what.  My 9 year old finished his entire salad, granted I made his a little "topping" heavy.  But still, he ate the whole thing.  He even said it would be OK, if I made these again.  Seriously, almost fell off my chair.  So next time, I think I might have to double the recipe!
Chicken Caesar Salad
A lightened up of a classic Caesar salad, by using yogurt in the dressing.
Ingredients
Creamy Caesar Dressing
1/3

cup

plain yogurt

(fat free)

2

Tbls

fresh lemon juice

1

Tbls

olive oil

2

tsp

red wine vinegar

2

tsp

Worcestershire sauce

1

tsp

anchovy paste

1

tsp

Dijon mustard

1/2

tsp

fresh black pepper

1

clove

garlic

, grated
Salad
Romain lettuce

, chopped

Chicken

, grilled

Parmesan cheese

Croutons
Instructions
In a mason jar or Tupperware combine all of the ingredients for the dressing. Shake until well combined.

To assemble add the lettuce to a large bowl. Pour over about 2/3 of the dressing, tossing to coat. Add more dressing if necessary.

Divide the lettuce among 4 plates. Top with chicken, Parmesan cheese and croutons.