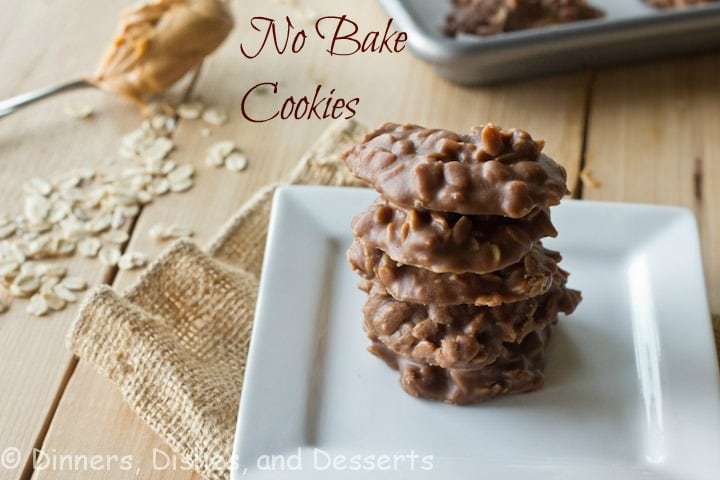 Yesterday was school supply shopping day here.  We have a little tradition of my son and I going out to lunch (his choice) and then heading out to get supplies.  It always amazes me how much he needs, but I must say this year I am happy he only needed 1 box each of crayons and markers.  I think last year I had to buy 4 or each.  It really made me wonder how much he would actually learn and not just color all day.  This year he had notebooks, erasers, red pens, and an actual ruler on the list!  I think 2nd grade is looking good so far.

One thing I know that my 2nd grader will always request is No Bake Cookies.  This is one of those cookies that I usually always have on hand.   I keep them in the freezer, and they go in school lunches.  I take one out in the morning, and by lunch time it is nice and thawed for him.   It has been a few months since we have had these in the freezer though, and apparently my 7 year old was going through withdrawal.  He is usually good with whatever cookie or dessert I want to make.  But this week he put his foot down, and would not stop asking for these!

You really can't get much easier than these cookies.  Just a few ingredients, heat to a boil, cook for 1 minute, spoon onto cookie sheets.  I remember making these when I was in grade school with a friend.  I think it was probably 4th grade.  They store perfectly well in the freezer.  They don't require an oven on super hot days.  What more do I need to say to convince you to make these?  Oh yeah, they have peanut butter and chocolate in them?  There.  Go make them!
---
Yields 2
Your classic Chocolate, Peanut Butter, and Oats No Bake Cookie, Perfect for the hot summer when you don't want to heat up the house. They store great in the freezer for school lunches!
5 minPrep Time
10 minCook Time
15 minTotal Time
Ingredients
1/2 cup butter
2 cups sugar
4 Tbls cocoa powder
1/2 cup milk
1 cup peanut butter
1 Tbls vanilla
2 1/2 cups Oats (any kind)
Instructions
In a large sauce pan melt butter. Add sugar, cocoa powder and milk. Bring to a boil, and cook for 1 minute. Remove from heat, add vanilla and peanut butter. Stir until smooth. Fold in oats.
Scoop rounded tablespoons full of batter onto lined cookie sheets. Allow to cool before removing. Store in an air tight container.
Notes
I usually freeze mine as soon as they cool. If I don't freeze them, I still think they are best stored in the fridge (but that isn't required). Adapted from Food Network
6.8
http://dinnersdishesanddesserts.com/no-bake-cookies/