Photos were updated as of 7/31/14 (using real bacon in the recipe)
The other night while trying to figure out dinner, I was browsing Pinterest to see if something caught my eye.  I had pinned this recipe for Garlic Chicken Farfalle from Kevin and Amanda awhile ago.    I had just gotten chicken at the store, I had leftover half and half from Thanksgiving, and I had bacon bits left from the Monterey Chicken I made.   Dinner was decided! And it was a really good dinner, if I do say so myself.  This went over well with my 6 year old and my husband, that is what I call success!  If my husband has a say, I think this will make a regular appearance in our house.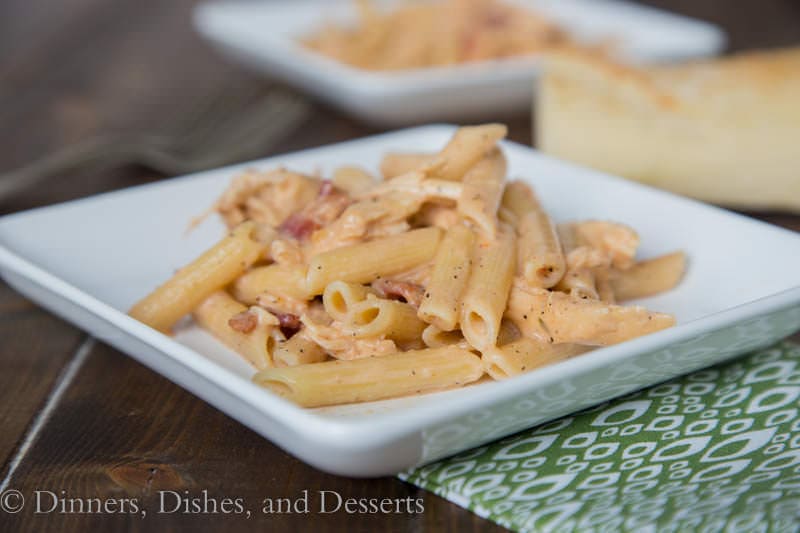 The original recipe called for cooking the chicken in the crock pot with a mesquite marinade.  Considering it was already 4:30 that wasn't going to happen.  I found a bottle of Garlic and Herb Marinade in my pantry, so I used that and added a little Barbeque Sauce to make it smokey.  I think a combination of Italian Dressing and BBQ sauce would work well for this too.   Next time I will follow the instructions and use real bacon, but all I had was real bacon bits this time.   I made other adjustments as well to reduce the calories and fat.  But I don't think I missed out on any flavor, this was creamy, garlicy, smokey, and delicious!
This makes a lot (6 servings for us), and the leftovers were really good.  I don't always like leftovers, and I happily ate these.
Smokey Garlic Chicken Pasta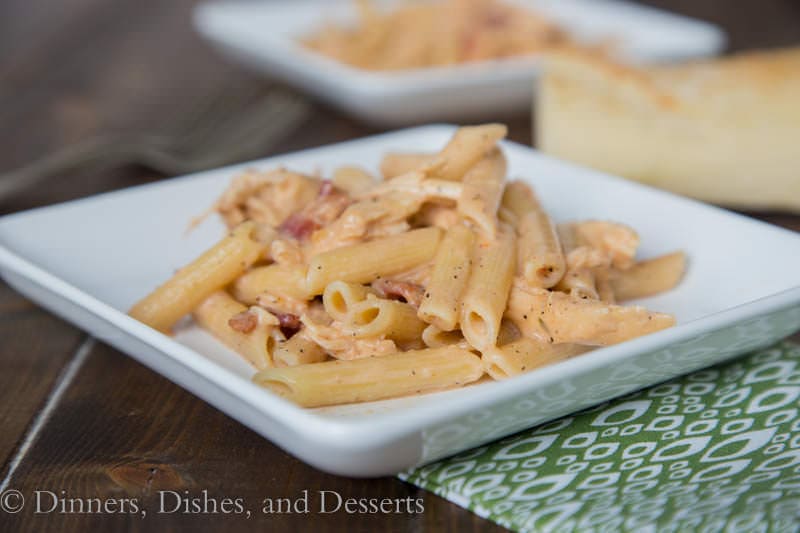 A creamy chicken pasta dish with a lots of flavor. A little smokey, a little peppery, and so good!
Ingredients
16 oz. Pasta, any short cut will do
¾ cup half and half
¼ cup skim milk
2 Tbls butter
2 large garlic cloves, grated
½ cup Parmesan cheese
½ Tbls pepper
½ cup bacon, crumbled
1 pound boneless skinless chicken breasts
1½ cup Lawry's Garlic and Herb Marinade (or Italian Dressing)
¼ cup Barbeque Sauce (I used Sweet Baby Rays)
Instructions
In a shallow baking dish cover the chicken with the Marinade and Barbeque Sauce. Bake at 300 for 30 minutes, or until cooked through. Shred chicken.
Meanwhile cook the pasta according to package directions.
In a small saucepan melt butter. Stir in the garlic and cook for 30 seconds. Add in the half and half, milk, pepper, and cheese. Whisk until smooth. Add in the crumbled bacon. Cook for 3-4 minutes.
In a large bowl mix the chicken, pasta and sauce together. To serve top with additional cheese if desired.