Summer is in full swing. That means barbeques, pool parties, family reunions, and get togethers almost every weekend. I have the perfect side for you to bring! Potato salad is always at potlucks, but it is usually coated in lots of mayo, and not great for sitting in the heat. I am also one of those people who can't stand mayo. I actually made another potato salad a few months ago that had a lemon herb vinaigrette. This one is even better because it has bacon, caramelized onions, and the potatoes are roasted!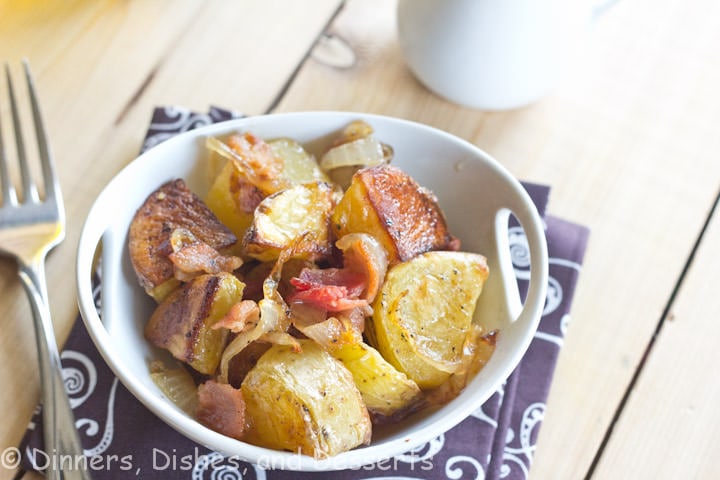 I think that potatoes are always better when they are crispy. I know, I am a little strange. I don't like baked potatoes or mashed potatoes. But if they are roasted or fried, I am all over them! The dressing for this recipe reminded me very much of a wilted lettuce salad that my Grandma used to make. My husband's mom made it for him as a kid, too, and he loved it. So I couldn't wait to make this and see what my husband thought.
It was a huge hit. He ate way more than he should have the first night. He told me I could make this again as often as I wanted. He took the leftovers to work and said they were still good after he reheated them. The caramelized onions and bacon and a lot of flavor to the potatoes. And the dressing is exactly what I remembered as a kid.