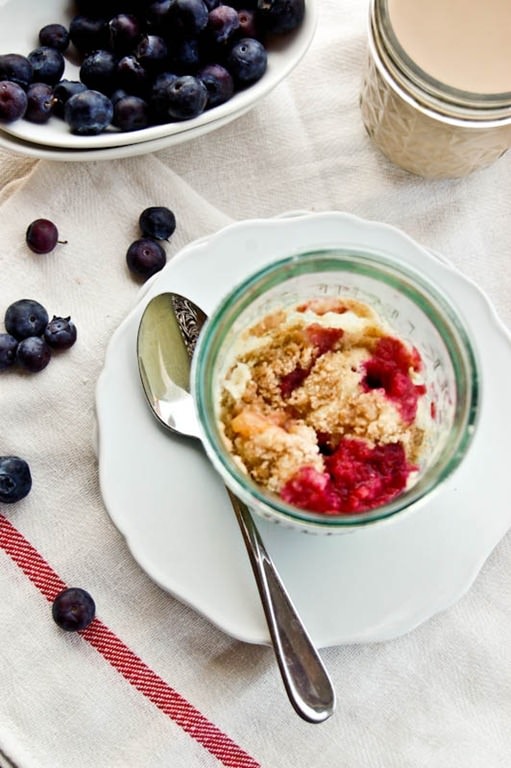 So this was supposed to the week I was moving. Due to issues outside of our control that isn't happening
  But I already had great guest posters lined up, so I am going with it!  This will give me much needed time to pack  and get ready for the move.
Today I want to introduce you to Steph host of Steph's Bite by Bite.  She is always coming up with amazing recipes.  She is a runner, and is currently training for a marathon.  Totally jealous of the marathon part!  So after you check out this quick and easy coffee cake, go tell Steph I said Hi!
Hi guys! I'm Steph from Steph's Bite by Bite and I can't tell you guys how excited I am to be guest posting today for Erin! I've been reading her blog for a long time now and am such a huge fan!
Sometimes I find that I'm hit with a huge craving for cake…it usually happens when I wake up (is that weird?). Unfortunately I can't bake a cake at 5 AM, yes, that's what time I wake up. So I had to find another way to get my fix!
Ever realize that cakes can be made in the microwave within minutes. I'm not lying to you!
And the best part is that it's an individual serving, so there's no, N-O, NOOOO sharing. I have a huge issue with sharing cake. I always think that some one is gonna get the bigger, better piece with all the frosting.
With this personal coffee cake I don't have to worry about that. Hot, warm, gooey blueberries bursting at the seams, crumble topping, say hell-o to a perfect way to start your day!
All I have to worry about is the fact that these are so darn easy to make, that I have to fight myself to not make three in a row.