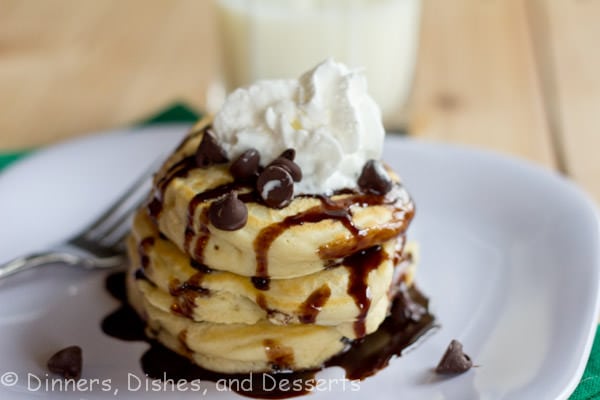 We spent last night working with my 6 year old on addition facts.  It was stressful. Trying to get someone to memorize 8+6=14 is not something I am good at.  You just know it, why don't they?  I really don't know how teachers do it!
I could have used these to de-stress after he went to bed.  Unfortunately they are all gone.  I did have some in the freezer for awhile, but my 6 year old goes through pancakes like no bodies business.  Did you know you could freeze pancakes?  I do it all the time!  Just as easy as buying the frozen ones at the grocery store.  Just make a giant batch, let them cool, place in a freezer bag, and freeze.  Works great to just microwave a couple on a busy morning.
These came about after I made Brownie Batter Pancakes.  I was thinking what other dessert flavors I could try.  Why not chocolate chip cookies?  These have all the major players of a chocolate chip cookie, and you get to eat it for breakfast!  They really aren't horrible for you either, check out the stats. Now I am trying to figure out the next dessert pancake to try!
Nutritional Info: Serves 4, Calories : 274, Fat: 12 grams, Protein: 4 grams