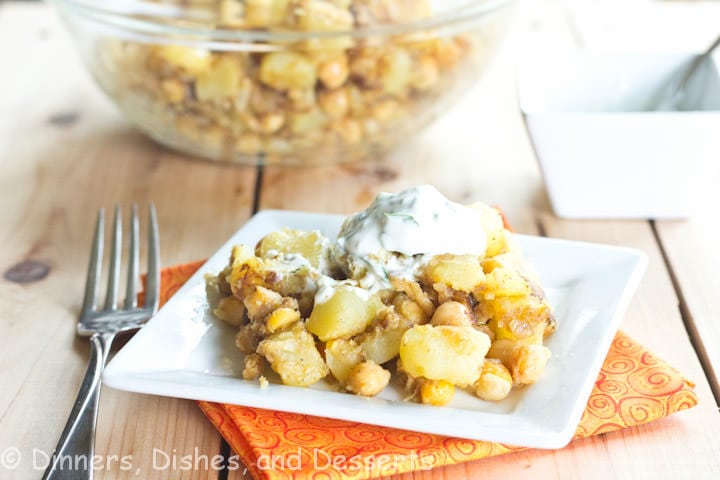 I am on a quest to cook with more beans.  I am not a fan of them, but my husband is.  He asked that I try more recipes, so here I go.  This was actually brought to our last cooking club.  The theme was island food, and I think this was supposed to be Trinidad?  She made no claims to it being authentic, the recipe calls for fried onions after all.  But I think the heart of the dish definitely has the island flavors.  Unfortunately, I do not know where the recipe came from, so I don't have a source to site.
I will admit I was nervous to try this because of the chickpeas.  But I love most things curried, so I figured why not.  It was really good!  The chickpeas kind of disappear with the potatoes, and they are seasoned well, so you can't really tell they are there.
The nice people of Chobani liked my Double Chocolate Chobani Muffins so much, they offered to send me some yogurt.  They really went over the top.  I mentioned my husband loves to snack on their strawberry yogurt.  So in addition to the 2 big containers of Plain and Vanilla Yogurt, they sent 12 little cups of yogurt for him to eat.  It couldn't have been better timing either.  He had to have a tooth pulled last week, so he has been eating LOTS of yogurt.
You top the potatoes with this spicy yogurt sauce that is delicious!  My husband took to just dipping chips in it, he liked it so much.  I ended up having to make more sauce for the leftovers.
My 7 year old actually really likes Indian spices, but he didn't like these.  He isn't a fan of potatoes, but I thought I could win him over with the spices.  Didn't happen.  Oh well, more for us!