Before we get into the Halloween fun today, I wanted to make you aware of a great cause I am involved with today.  Over at Country Cleaver, Megan is hosting a bake sale for Crohns & Colitis Foundation of America.  I have my Peanut Butter Bars up for sale, so please go check it out!
Halloween is just a few days away?  Are you ready?  Are you excited?  Well today for #SundaySupper, Leslie from La Cociana de Leslie is hosting a Trick Or Treat event.  You have lots of drinks, dinners, desserts and more, all perfect for Halloween.  Plus, make sure to stop back all week, as I even more fun Halloween treats in store.
These cookies are so easy to make, and completely up to you how crazy you want to get.  You could start with store bought cookies, frozen cookie dough, from scratch, whatever works for you.  You can even use store bought frosting if you are in a hurry.  Just bake cookies, color some frosting, frost a mouth, some hair, put on some eyes and you are done.  Use whatever colors you want.  The eyes can be the googly candy eyes by Wilton, or M&M's, Reese's Pieces…whatever you want!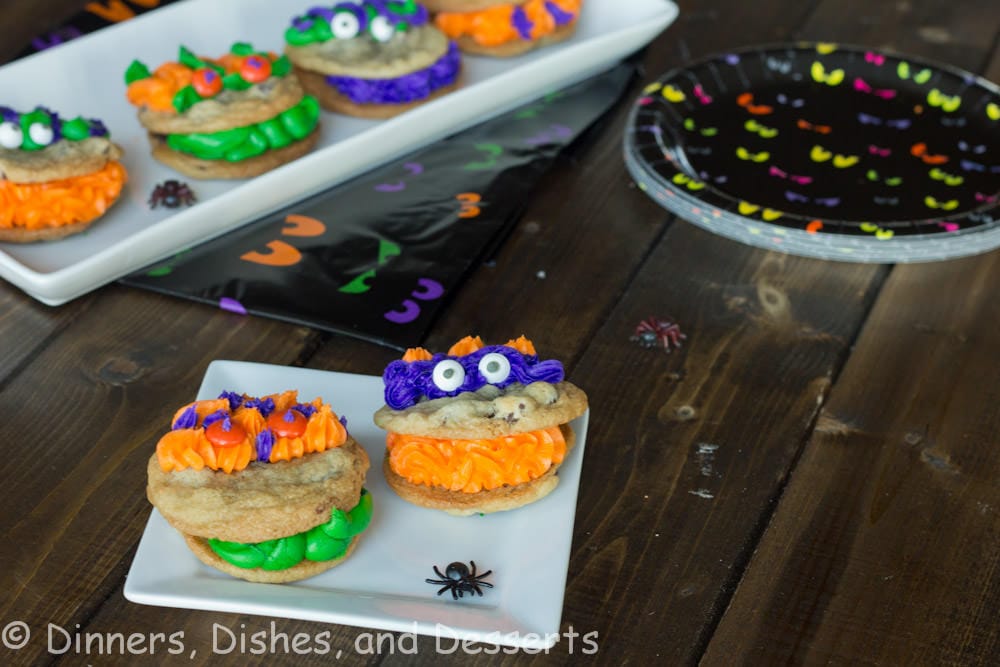 My 7 year old and I picked 3 colors for our monsters.  I put the frosting in 3 piping bags, with 3 different tips.  Then we just went to town, and had fun frosting.  There is no right or wrong way to do it.  My 7 year old kept asking if he could mix up the eyes (1 yellow, 1 googly etc).  Why not?  They are monsters after all!