The weekend is almost here!  We have lots of stuff going on this weekend, so I am ready for it.  Tonight we are going to a pumpkin patch, doing the corn maze, and other fun things with my husbands work.  Saturday night my son has a birthday party to go to, so that means hubby and I get date night!  Then two flag football games for my 7 year old on Sunday.  Hopefully the weather stays nice.
But even if the weather doesn't cooperate, these cookies will be sure to put you in a good mood.  My friend, Roxana first turned me on to these Pumpkin Spice Hershey Kisses.  I didn't realize they existed, and immediately added them to my shopping list.  One of my favorite Christmas cookies, is Peanut Butter Blossoms.  You know those peanut butter cookies with chocolate kisses in the center.  I thought these kisses would be perfect for a fall version of this cookie.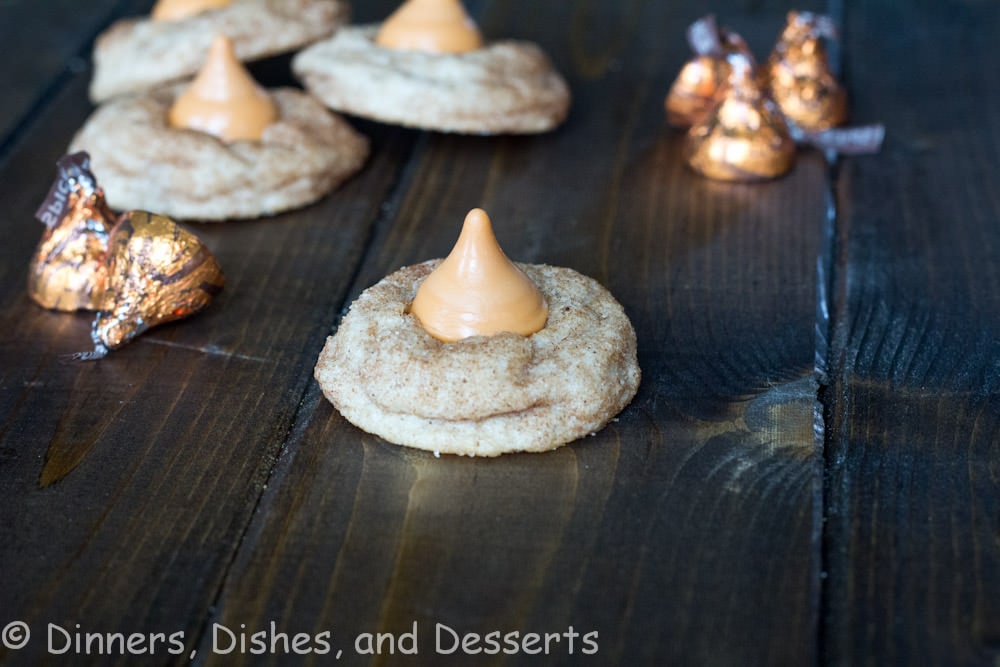 Snickerdoodles seemed like the perfect thing to pair with these kisses.  I have made Snickerdoodles before, but I wanted a version that were super thick and fluffy.  So I set out to find the perfect recipe.  Thanks to How Sweet It Is, I found it.  The cookies were full of cinnamon, thick, chewy, and the Pumpkin Spice kisses were perfect.  I hope you try these, they really are a wonderful cookie for fall.