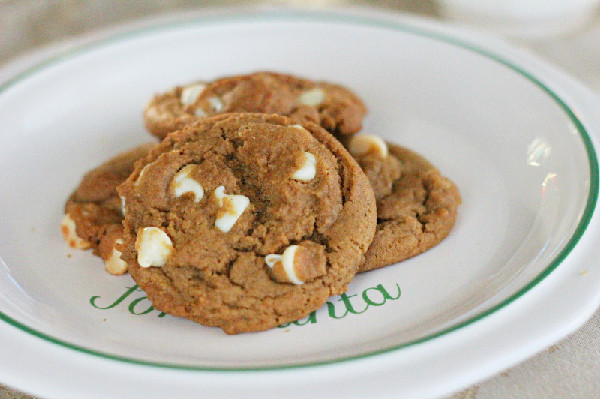 I am excited to be a part of The Holiday Recipe Club Blog Hop that Erin at Big Fat Baker has been putting together.  We were all given 3 flavors (peppermint, eggnog, and gingerbread) for this round.  Our job is to then make something using one of those 3 flavors.  I had a hard time picking!  I love chocolate and peppermint together this time of year.  But, in the end I decided to go with Gingerbread.  It is fairly new to me.  I mean I have had a Ginger Snap before, and a Gingerbread Man Cookie, but I have never baked it myself.  It is a very classic Christmas flavor to me, just not something I crave.  That was until I saw this recipe by Hanging on by a Needle and Thread.  I knew immediately I had to make these!
I had to make adjustments for the altitude, so I was nervous how they would turn out.  But they were thick and chewy, exactly how I like my cookies!  I may have figured out this high altitude baking thing.  I say that, and the next thing I bake is not going to turn out!  That, and I haven't tried cake yet, I hear that is the hardest to get to turn out! Note that my altitude adjustments are in parenthesis in the recipe below.
These cookies are full of the gingerbread flavor with plenty of sweetness from the white chocolate chips.  Perfect to leave out for Santa!