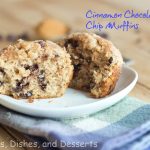 I hope that everyone had a great Thanksgiving weekend.  If you traveled, I hope you made it home safe and that your travels were uneventful.  We traveled to Wisconsin to be with our families.  It was so nice to have a week off from cooking, and get to relax with family. Now we are back though, and it is time for school, and schedules again.  You all know I am a huge fan of muffins, and these are a must this week as we get back on track.
My 7 year old thought these were one of the best he has had in a long time.  Chocolate Chip Muffins are normally his favorite, but he is also a fan of anything with cinnamon.  So I decided to mix them all together for these.  I am not sure muffins have ever disappeared more quickly from my freezer.  He had them every day until they were gone.
If a recipe has cinnamon in it, I think you need to taste it!  So I added a full tablespoon to this batter.  If you don't want cinnamon to be the dominant flavor, you could cut back to 1-2 teaspoons.  But, I think you should go all the way
  It is fall after all, and cinnamon is the perfect fall spice.
To get this recipe please visit Culinary.Net