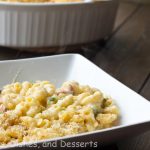 This is the time of year for comfort food.  As soon as the weather turns cooler, we all start craving those warm comfort foods.  Today for #SundaySupper Isabel, of Family Foodie is hosting this great "Comfort Food with Lee Woodruff" event.  This is sure to be a fun event.  Not only do you walk away with 50+ comfort food recipes, but Lee Woodruff herself is joining us for the Twitter Chat this evening.  Come join in the fun, and you will have a chance to win 1 of 5 signed copies of her new book, Those We Love Most
.
I asked my husband for help with this weeks theme.  He came up with a few ideas, but I thought his Jalapeno Mac n' cheese was the best.  I did add some bacon to make it even better.  I seeded the jalapenos so it wouldn't be too spicy, but if you want some serious heat; leave the seeds in.  My husband loves things spicy, so I probably should have left more of the seeds in, but I needed to be able to eat it too
Now, I know mac n' cheese is traditionally a very high calorie meal.  This is by no means a light version, and could be lightened up more, I am sure.  I did try to make it a little more healthy.  I reduced the amount of butter from some other recipes I saw.  I used skim milk, and in place of the cream I used half and half.  Finally, I found a reduced fat sharp cheddar cheese by Cabot that I used.  It was still creamy, and cheesy, and comforting, so I don't think any calories were missed.  Plus, if you use whole wheat pasta (or a brand made with veggies like I did), you are upping the fiber and protein.