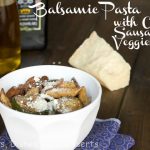 Do you ever see recipes, and immediately make them?  Sometimes I come across a  recipe that is so perfect, I have to make it right away.  This was one of those.  Cassie made a version of this pasta, and I knew we would love it.  My husband loves just about anything with balsamic vinegar, and I couldn't believe I hadn't thought about doing this yet.
My husband isn't all about lots of veggies and no meat, so I had to switch it up a little.  I used some spinach & artichoke chicken sausage I had in the freezer, and just a few veggies.  This was amazing.  Balsamic vinaigrette is one of my favorite dressings, so adding it to pasta was only natural.  The chicken sausage makes it a heartier meal, but still good for you.
I have made it a couple times already, and I know it will be a staple in our house.  You could switch up the veggies to just about anything you have on hand, or what is in season at the time.  Leave out the meat, and this would be a great cold pasta salad.  I served with a little grated Parmesan cheese, but Cassie used goat cheese.  So feel free to switch it up!