Who doesn't love it when dinner comes together with just a few ingredients?  For me that usually means less dishes, less clean up, and dinner is on the table quickly.  All good things.  This week that is the theme for #SundaySupper. Dinners, breakfasts, desserts, appetizers and more, all of them with 5 ingredients (water, salt and pepper don't count) or less.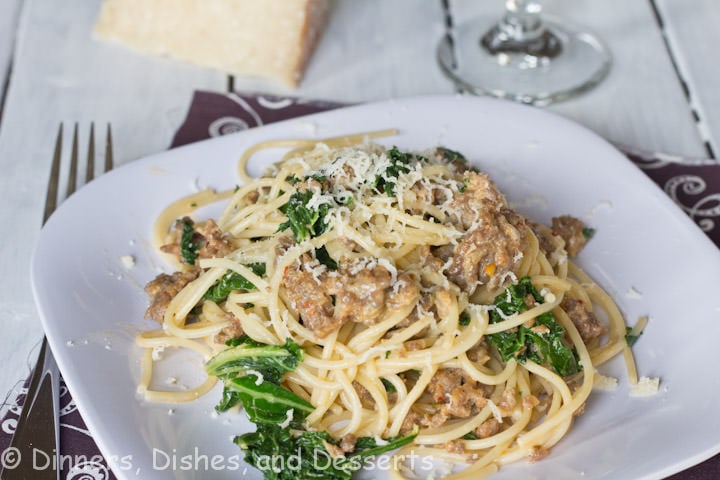 I made this quick and easy pasta dish, that is full of lots of flavor.  This was my first attempt with kale, and I was a little nervous.  But it worked perfectly with the pasta and sausage.  I know I will be buying kale again and trying it in more recipes.  I used hot Italian sausage, so it would have a little kick, without added ingredients.  Italian sausage, or any sausage really, is great because it has lots of seasonings already in there.  So it cuts down on what you have to add to the dish.
We eat a lot of pasta here.  This is a great one now that the temperatures are starting to cool down at night.  Creamy, spicy, and just a comforting dinner.  If you can't find kale, I think that spinach would hold up well in here as well.  I don't have much experience with dark greens, so maybe another green would work well too.  Try it, and let me know!