The other day I realized my stash of cookies in the freezer was gone!  I needed to make something to put in my son's lunch.  He loves peanut butter and chocolate as much as I do, so I found this recipe to try.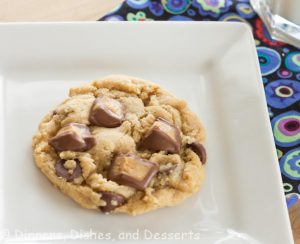 These are incredible.  Seriously, probably the best cookies I have made in a long time.  As usual, I under baked them slightly, and they are so gooey, and soft, and chewy, and yummy!  The base would make a great peanut butter cookie.  The chocolate chips and the peanut butter cups are just an added bonus!
They even freeze well!  I took one out the other day for a "snack" and it was still soft and delicious.  You can't always say that about frozen cookies.  The original recipe said it made 18 large cookies.  It made probably 4 dozen regular sized cookies for me.  It makes a ton!  But really?  I want to see those 18 cookies, they must be the size of my head!  MMMmmmmm….peanut butter cookies the size of my head!  Why did I make them small again?  Oh yeah, my son's lunch box isn't that big.