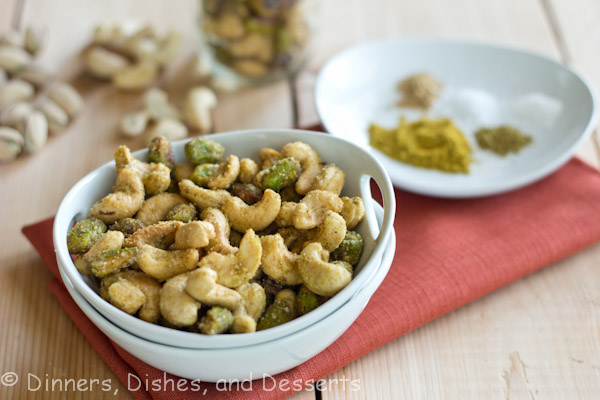 This weekend we were trying to decide what to make for dinner.  My 6 year old and husband were knee deep in the basketball tournament, and stopping for dinner didn't seem like something they were interested in.  My husband said we should just have a few appetizers and call it good.  Problem was, I needed to go grocery shopping, so all of our go to appetizers weren't options.  (Note, I was also being lazy and didn't want to go to the store)  My husband went to my trusty Cook's Illustrated cookbook, and said he would just turn to a page and we would make whatever it was.  Well, he turned to Calzones.  We had made those a couple weeks before (don't worry, the recipe is coming), and I was not putting that much work into this dinner.  So he started over, and went to the first page, and was going to just go until he found something.  He was in luck!  On the first page was a recipe for Indian-Spiced Cashews, Pistachio's and Currants.  I had everything but the currants, so he went to the kitchen and made these!
My husband doesn't cook often, but when he does he does a wonderful job.  He is a very detail oriented person, so he can follow a recipe like no body's business.  But, I must admit that I was skeptical of this recipe from the start.  I like nuts, I like Indian flavors, but them combined just didn't sound good to me.  Boy was I wrong, they are fantastic, bordering on addictive.  The real surprise came when our 6 year old wanted to try one.  We gladly gave him one, but thought it would end with him spitting it out and drinking lots of water.  Wrong again!  He loved them.  Days later and he keeps saying how good they are.  Any time someone opens the container, he runs across the room wanting some.
As I said, I left out the currants.  It only called for 2 Tbls of dried currants, so I don't think we were really missing out on anything.  Both the cashews and pistachios are great in the seasoning, but the pistachios really sucked up the Indian flavors.  I can imagine this seasoning would be good on almonds and peanuts as well.  Slightly sweet, salty, spicy (but not hot)…I think I know what I am having for a snack tonight!