I am back with the talented #SundaySupper team today.  This week the focus is back to school.  School is back in session here, so our nights are busy again.   Football practice, homework, and just playing leave little time for anything else.  It is times like this when you need quick and easy recipes to get dinner on the table.  If you are out of ideas just wait – there are so many great ideas at the end of this post.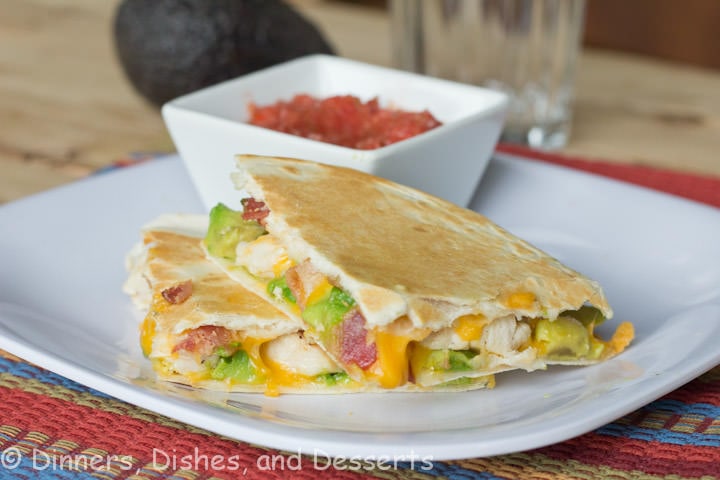 Quesadillas are a favorite at our house.  And they are so versatile, you can use whatever you have in your fridge.  Leftover Chicken?  Perfect.  Leftover Taco Meat?  Great.  Just cheese and a few veggies?  That works too.  Really it is just a tortilla with cheese and whatever else you want to put in.  It doesn't always have to be Mexican either.  You could use breaded chicken, Mozzarella cheese, and dip it in marinara sauce.  Or maybe chicken, carrots, onions, and dip it in a peanut satay sauce.  They take minutes to prepare, and you can change it up to meet everyone's tastes.
This version is one of my favorites.  Chicken, Bacon, and Avocado are perfect together.  I like it on a sandwich, and I love it in this quesadilla.  You can use leftover chicken or rotisserie chicken to get this meal on the table quickly.  Just crisp up some bacon, dice and avocado and you are done.  If you have fresh tomatoes they would be wonderful in here too.  Serve with this Red Onion Salsa for a wonderful dinner for the whole family.