Chocolate Pancakes – A Chocolate lover's dream breakfast! Thick and fluffy chocolate pancakes with melted chocolate chips in every bite. A sweet and decadent breakfast treat!
If it was acceptable, I would have chocolate for breakfast every day of the week! I am definitely on the sweet side of the aisle when it comes to breakfast choices, so it should come as no surprise that I made chocolate pancakes.
I mean Chocolate Waffles and Chocolate Cheesecake Muffins are already in my Recipe Index, so I figure pancakes should get a spot as well!
Ingredients
Make sure you grab these ingredients before you get started. I love how I can always make these chocolate pancakes in a pinch because most of the ingredients are kitchen staples.
Flour
Baking Powder
Salt
Cocoa Powder
Sugar
Canola Oil
Vanilla
Buttermilk
Chocolate Chips
How To Make Chocolate Pancakes
If you've ever made any homemade pancakes before, these aren't much different than what you're used to making in the construction of the recipe, but the flavor is out of this world. They're so decadent but surprisingly easy to make.
Follow the instructions below for easy brownie pancakes:
Mix dry ingredients. Combine flour, baking powder, salt, cocoa powder, and sugar.
Add wet ingredients. Pour canola oil, vanilla, and milk into your bowl of dry ingredients.
Stir. Thoroughly combine the wet and dry ingredients, taking special care to scrape the bottom and sides of the bowl.
Add chocolate chips. Fold chocolate chips into the bowl of chocolate pancake batter.
Pour. Carefully pour a small amount of pancake batter into a preheated pan.
Cook your pancakes. Let the pancakes cook in the pan until bubbles begin to appear on the surface of the chocolate pancakes and the edges are starting to set.
Give them a flip. Once the edges are set, flip your pancakes with a spatula in one smooth movement, careful not to fold them in half or smear the uncooked batter across the pan.
Finish cooking. Let them cook for approximately two more minutes or until they are cooked completely through.
Enjoy! This chocolate pancake recipe is best served warm, so make sure to have your toppings (and a fork) ready as soon as they come out of the pan.
TIPS AND TRICKS
Let your pan heat up before pouring the batter. This will prevent your batter from sticking.
I like to use an ice cream scoop to pour the batter onto the hot pan. This ensures they are all the same size.
Watch for the bubbles when cooking. Flipping before the pancake sets enough, it will make flipping your brownie batter pancake tricky.
Don't press down on your pancakes. Once you flip the pancakes, let them be. They will start to puff up and little, and this is what gives them that light and fluffy texture.
You could even dress them up a little and serve them for dessert.
WHAT MAKES PANCAKES FLUFFIER?
Let me start out by telling you that there is a lot of science behind the explanation of what makes a fluffy pancake. Let's just say it involves mixing the flour and milk together and then adding a leavener to create bubbles in the batter. The secret in this recipe is all in the baking powder.
Baking soda, alongside yeast, are the leaveners most often used in batters and doughs to make them big and fluffy.
SHOULD I COOK MY CHOCOLATE PANCAKES IN BUTTER OR OIL
I know that butter almost always makes things taste better, but trust me when I say to use oil to cook your pancakes. The milk solids in butter can burn very quickly, in turn burning your pancakes. For a pancake that tastes just as delicious as restaurant pancakes, reach for canola or vegetable oil to add to your pan.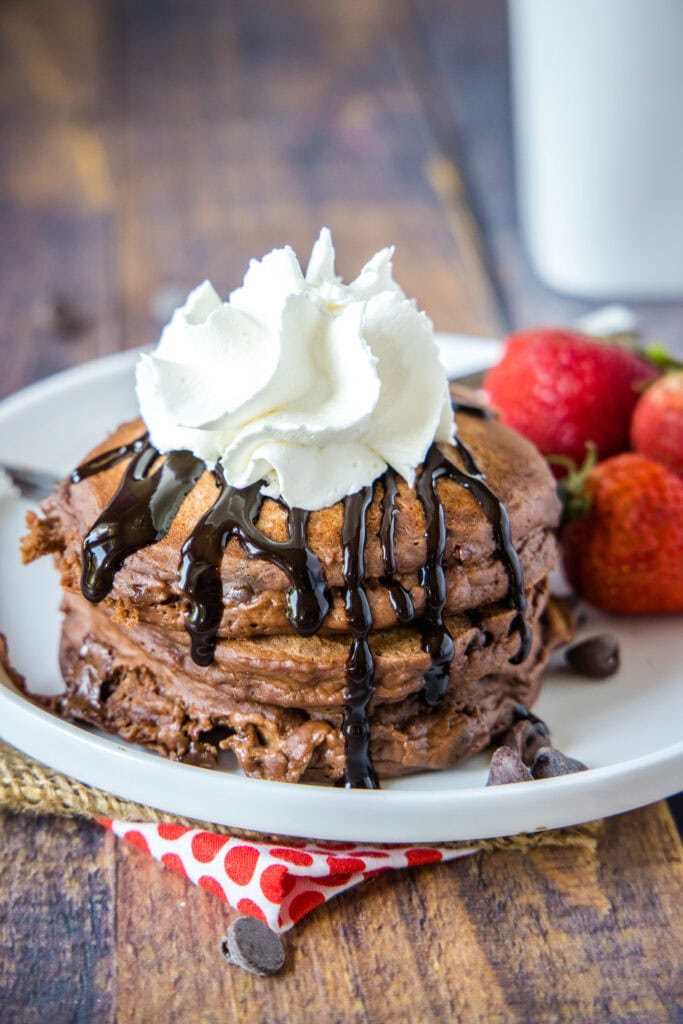 OPTIONAL PANCAKE TOPPINGS
This Chocolate Pancake recipe is totally indulgent, so you may decide they're perfect just the way they are. Feel free to take them to the next level (or let the kids play with their food a little) by adding these toppings:
Whipped Cream
Chocolate Chips
Berries – Strawberries, Raspberries, Blueberries, Blackberries
Sprinkles
WHAT TO SERVE WITH THIS CHOCOLATE PANCAKEs RECIPE
These Chocolate Pancakes are so delicious, no one at your breakfast table will be disappointed if they're served alone. Some say breakfast is the most important meal of the day, though. So, there's no harm in serving a little extra — especially if it's to a table full of people you love:
Here are some things that pair well with these pancakes:
If you love these Chocolate Pancakes as much as we do, make sure you share the recipe with your friends so they can try them too!
Yield: 4
Brownie Batter Pancakes
Chocolate Pancakes - A Chocolate lover's dream breakfast! Thick and fluffy chocolate pancakes with melted chocolate chips in every bite. A sweet and decadent breakfast treat!
Ingredients
1 cup all-purpose flour
1 1/2 teaspoon baking powder
1/2 teaspoon salt
1/4 cup cocoa powder
2 Tablespoon sugar
2 Tablespoon canola oil
1 teaspoon vanilla extract
1 1/4 cup buttermilk
1/3 cup Chocolate Chips
Instructions
In a large bowl stir together flour, baking powder, salt, cocoa powder, and sugar. Add canola oil, vanilla, and milk. Stir until combined.
Fold in chocolate chips.
Preheat griddle or large non-stick skillet to medium heat. Spray with non-stick spray
Using 1/4 cup measuring cup, pour batter into preheated pan. Cook until the edges are starting to set, and bubbles are forming on the surface.
Flip, and cook for an additional 2 minutes.
Serve topped with whipped cream or powdered sugar.
Nutrition Information
Yield
4
Serving Size
1
Amount Per Serving
Calories

296
Total Fat

13g
Saturated Fat

4g
Trans Fat

0g
Unsaturated Fat

9g
Cholesterol

3mg
Sodium

621mg
Carbohydrates

40g
Fiber

5g
Sugar

14g
Protein

8g
I created a fun group on Facebook, and I would love for you to join us! It's a place where you can share YOUR favorite recipes, ask questions, and see what's new at Dinners, Dishes and Desserts (so that you never miss a new recipe)! If you'd like to check it out, you can request to join HERE.
Be sure to follow me on Instagram and tag #dinnersdishes so I can see all the wonderful DINNERS, DISHES, AND DESSERTS recipes YOU make!
Be sure to follow me on my social media, so you never miss a post!
Facebook | Twitter | Pinterest | Instagram