Chicken sausage sandwich with sauteed peppers and onion served on a pretzel roll bun. Great recipe for game day, cookouts, barbecues, get together, or an easy dinner.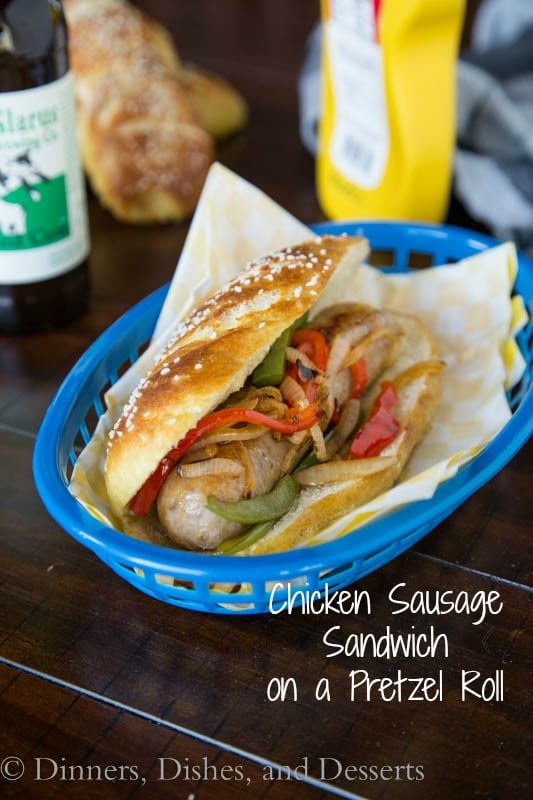 I think one of the best parts of vacation, in my opinion, is getting to try new restaurants and different foods. We don't go out to eat a lot at home, so it is a special treat when we are traveling. Especially when you go to a new area, that is known for good food. I hope to share a post on Thursday Things about the food we had on our trip to California, but in the meantime I made a homemade version of something that we had on our trip!
On our last night in California we were in Disney Land. We went to a German style restaurant in the park for dinner. I had a flatbread pizza, but my husband had a chicken sausage sandwich. It was served on a pretzel roll and topped with sauerkraut. We aren't big fans of sauerkraut, so back at home I topped it with sauteed peppers and onions instead. I like using chicken sausage in recipes. They now have so many great varieties available, that you really can mix this up just about any way you can think of. I used an Italian sausage version this time.
I have made pretzel rolls before. They always go over really well here. My husband makes the comment every time that we really need to have them more often. I am honestly not sure why we don't. There is no kneading involved, so they are pretty easy to make. Just mix, shape, boil, and bake. Obviously this time I shaped more like a hot dog bun instead of a roll, but no matter what way you shape them, the recipe and the method are exactly the same. Trust me, these are a great replacement for hamburger buns too.
Yield: 4
Chicken Sausage Sandwich on a Pretzel Roll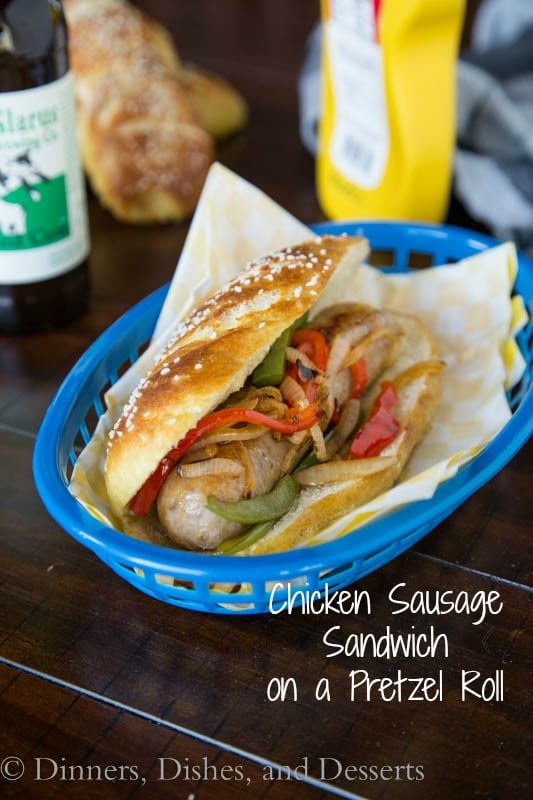 Chicken sausage sandwich with sauteed peppers and onion served on a pretzel roll bun.
Ingredients
4 links chicken sausage
1 Tbls olive oil
1 red bell pepper
1 green bell pepper
1 small white onion
4 Pretzel Rolls, (Recipe here)
Instructions
Thinly slice the bell peppers and onions. In a large skillet over medium high heat, heat olive oil. Add sliced veggies, and saute until tender 5-7 minutes.
Grill or saute sausage until cooked through.
To serve fill each pretzel bun with a link of sausage as well as some peppers and onions.
Nutrition Information
Yield
4
Serving Size
1
Amount Per Serving
Calories

264
Total Fat

9g
Saturated Fat

2g
Trans Fat

0g
Unsaturated Fat

6g
Cholesterol

39mg
Sodium

673mg
Carbohydrates

31g
Fiber

2g
Sugar

4g
Protein

14g
More sandwich recipes?