Chicken with Mustard-Tarragon Sauce is a creamy, tangy sauce that comes together in minutes. Turn plain old chicken into something special even on a busy weeknight.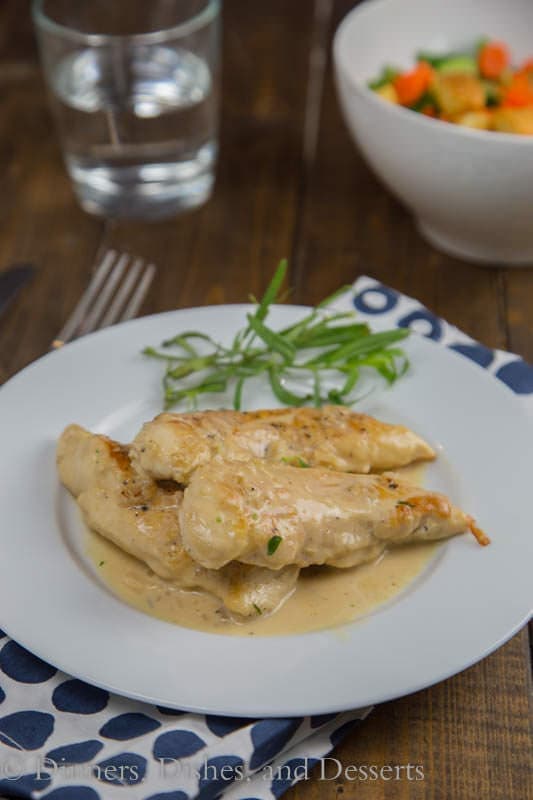 My kitchen has kind of turned into a disaster zone lately. It all started when our freezer started leaking water (inside the freezer), and coating the whole thing in ice. To replace it meant having to remodel a portion of our kitchen. The fridge that came with the house was a custom, built-in fridge. FYI – those are extra wide! You can't just replace them with a normal size fridge, because you end up with a 6 inch gap between the fridge and the cabinet next to it. Not to mention the giant gap above it, because they are also extra tall. So yeah, fun times at my house!
Considering the disaster zone that is my kitchen right now, I have to figure out how to cook dinner without an oven and in a small usable space. This chicken with tarragon-mustard sauce is perfect. Everything is made in just one pan, and ready in less than 20 minutes. I used chicken tenders because that is what I had on hand, but cutlets would be done even faster. The tarragon-mustard sauce is creamy and just a little tangy from the mustard. The tarragon gives a hint of licorice flavor, but definitely not over powering.
Everyone at my house pretty much licked their plates clean, they loved the sauce so much. You could even serve over egg noodles to soak up all that goodness. I served mine with a giant salad but pan charred asparagus or cheesy garlic pull apart bread would be really good as well. My husband thought the leftovers were great the next day for lunch too. Definitely a great quick and easy weeknight meal that turns ordinary chicken into something special.
I am sharing this recipe for Chicken with Mustard-Tarragon Sauce at Food Fanatic today!  Check out all the other Easy Dinner Recipes I have shared over there too!