A homemade version of The Cheesecake Factory's Chocolate Chip Cookie Dough Cheesecake
I don't think I have ever lived in a town with a Cheesecake Factory. Or even lived within an hour of one. So it is always a special treat when I do get to go. I think I have bene less than 5 times in my life. But you know what is requried when I do go? Chocolate Chip Cookie Dough Cheesecake!
A rich, thick, and ultra creamy cheesecake that is stuffed full of egg free chocolate chip cookie dough. I am kind of in love with anything with cookie dough….Cookie Dough Truffles might be one of the hardest things to stay away from.
I am going to be honest, I am not a big fan of plain cheesecake. The only couple that I have liked have been heavily flavored with something else. For example; tons of cookie dough. Or No Bake Peanut Butter Cheesecake. The Cheesecake Factory has a version of this that is completely over the top.
I am pretty sure there is more cookie dough than cheesecake in theirs. I evened the playing field a little, but however you want to do it is fine by me. Plus it has an Oreo cookie crust, and I am just a sucker for Oreo crusts. I mean No Bake Oreo Cheesecake is really just a method to eat Oreos.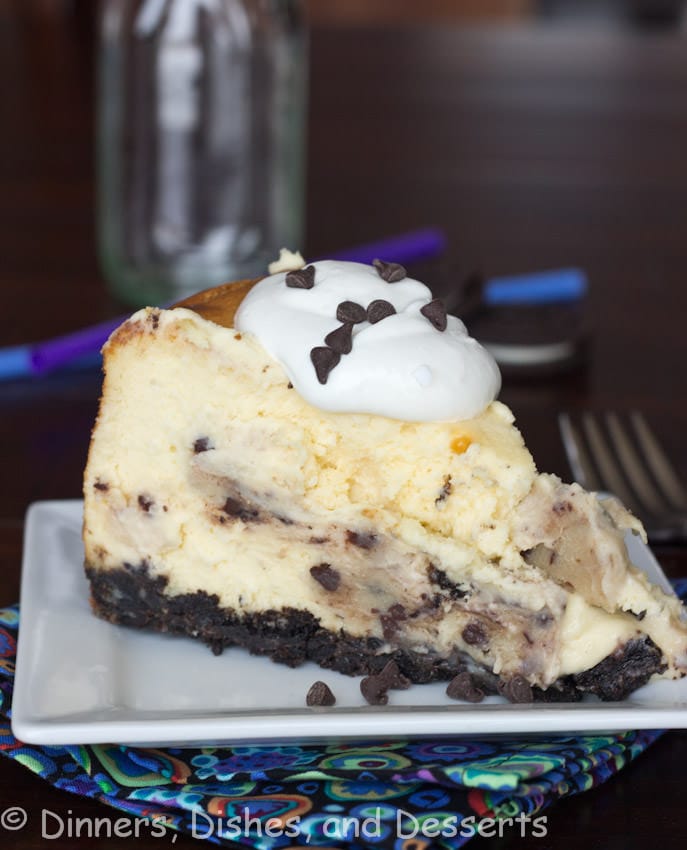 I thought about doing little mini version of these, but I wanted you to be able to see the cookie dough. If you have a mini cheesecake pan (I don't), these would be great to do in there. Everyone loves mini desserts, and it is built in portion control 🙂
Looking for even more cheesecake recipes?
Pressure Cooker Nutella Rolo Cheesecake by Pressure Cooking Today
Low Carb Coconut Cheesecake by All Day I Dream About Food
Chocolate Cake and Cheesecake by Pint Sized Baker
Yield: 12
Chocolate Chip Cookie Dough Cheesecake
New York Style Cheesecake filled with lots of cookie dough! A copycat version from The Cheesecake Factory
Cook Time
1 hour
30 minutes
Ingredients
Crust
2/3 package of Oreos, , crushed
4 Tbls butter, , melted
Cheesecake
2 1/2 pounds cream cheese, , softened - cut into 1 inch chunks
1 1/2 cups sugar
1/8 tsp salt
1/3 cup sour cream
2 tsp lemon juice
2 tsp vanilla
6 eggs, , plus 2 egg yolks
1 Tlbs butter, , melted
Cookie Dough
1/2 cup butter
3/4 cup brown sugar
1 tsp vanilla
2 cups flour
1 (14 oz) can sweetened condensed milk
1 cup chocolate chips
Instructions
Prepare the Cookie Dough :In an electric mixer, beat together butter and sugar. Add vanilla. With mixer on low, slowly add in the flour, until completely incorporated. It will be very dry, that is ok. Beat in milk until well combined. Stir in chocolate chips. Roll into small 1 inch balls. Place in freezer for 45 minutes, or until completely frozen.
Prepare the crust: Preheat oven to 325 degrees. Mix together the cookie crumbs and the butter. Press into the bottom of a 9 inch springform pan. Use the bottom of a measuring cup to firmly press it into the bottom, keeping it off the sides. Bake for 10 minutes. Let cool completely.
Prepare the Cheesecake: Increase oven heat to 500 degrees. Using an electric mixer beat cream cheese on low until broken up, about 1 minute. Scrape the sides, and add 3/4 cup of sugar, and salt. Mix over low for about a minute, until well combined. Beat in the remaining 3/4 cup of sugar.
Scrape the sides, add sour cream, lemon juice, and vanilla. Mix over low for 1 minute. Mix in egg yolks until thoroughly combined. Add the whole eggs, 2 at a time, beating for about 1 minute after each addition. Stir in about 1/2 of the frozen cookie dough balls, until evenly distributed.
Gently brush the top of the baked and cooled crust with the 1 Tbls of melted butter. Place springform pan on a baking sheet. Pour filling into the crust.
Bake for 10 minutes. Without opening the oven door reduce the temperature to 200 degrees. Bake for about 90 minutes, or until the center of the cheesecake is 150 degrees.
Let cool for 5 minutes. Then run a knife around the edge to loosen the sides. After 2 hours wrap in plastic and refrigerate until cold, about 3 hours.
To remove the mold wrap a warm kitchen towel around the pan, and let set for 1 minute. Gently remove the sides. Cut into 12 slices, and top with whipped cream to serve.
Notes
Inspired by The Cheesecake Factory. Cheesecake base from Cook's Illustrated. Dip the remaining cookie dough balls in melted chocolate for Cookie Dough Truffles!
Nutrition Information
Yield
12
Serving Size
1
Amount Per Serving
Calories

801
Total Fat

54g
Saturated Fat

32g
Trans Fat

1g
Unsaturated Fat

18g
Cholesterol

257mg
Sodium

470mg
Carbohydrates

70g
Fiber

1g
Sugar

50g
Protein

13g