Iowa CornQuest 2016 – My trip to Davenport Iowa and the Quad Cities
Do you recognize any of your favorite bloggers in the picture above? I recently had a chance to visit Davenport Iowa with a few of my favorite people and made a few new friends!!
From Left to Right:  Natasha from  Houseful of Nicholes,  Chrissy from The Taylor House, Me, Paula from bell'alimento, Allyson from Domestic Superhero, Jen from Yummy Healthy Easy, Sandra from A Dash of Sanity, Kita from Pass the Sushi and Girl Carnivore, Amanada from The Chunky Chef, and Stephanie from Spaceships and Laser Beams.
Last week I had the chance to visit Davenport and the Quad Cities before a trip to Texas for a conference. I almost said no to the trip, because I didn't know how I would fit it in. I am so glad I didn't, because I had such a great time. I learned so much, and had so much fun with new friends! We stayed at the Hotel Blackhawk which is 101 years old. It has quite the history, was gorgeous, quiet, and complete with a bowling alley in the basement!
For dinner the first night we went to the Mississippi River Distilling Company. We had a delicious meal full of corn and learned all about corn ethanol production and the benefits of using it versus other fuels. A very interesting discussion, and something that I want to learn more about. We had the chance to chat with some local farmers and talk to members of the Iowa Corn organization. And of course there were some cocktails and tasting of the distillery products!
The next morning was a breakfast at the hotel with The American Lung Association, Iowa Corn and Annette, a local farmer. Annette is so passionate about what she does, and has the BEST stories to tell. She was born and raised on a farm, helped her mom after her father passed away in the early 1980's, and is now thriving as a farmer. Farming is not something you traditionally think of women doing, but she does it and does it amazingly well.
After breakfast we headed to Whisk Away Cafe & Bakery where we were in store for a fun cooking class using…..Corn!!  We made 4 delicious recipes using sweet corn, masa, hominy, and corn grits – everything was so good. My family is going to be really happy when I make the Verde Chicken Pesole at home this fall. While we were there we had the chance to talk with Dr. Ruth McDonald, a Professor and Chair at Iowa State University. She discussed the practices behind Genetically Modified Organisms (GMOs). It definitely helped my understanding of why GMOs are used in agriculture. We met farmers who farm with and without using GMOs.
The main thing I learned was that many farmers use GMOs to help make their plants less susceptible to pests, drought, and other things that can hurt their crops. Using GMO's helps the farmers save more soil, because they are not tilling nearly as much. Annette said she is saving at least 4 passes on each field using the GMOs. Not only is this saving her money with fuel, crops that don't survive, and equipment wear and tear; it is helping the environment by reducing the carbon footprint. It also means the farmers can spray less pesticides on the plants throughout the season. My real main take away from our talk was to do your research. You have to research both sides of the story, just like you do at everything else in life. More research and studies are coming out every year on this topic, and it is important to keep researching, even after you have an initial opinion. Some major players in the area are rethinking things, and coming out with new opinions. So don't just jump on the bandwagon.
Next up was a trip to the farm! I got to drive a combine and actually harvest corn! It was amazing to see the size of these machines in person. And to see how many hours these farmers are working, just to harvest the corn. And not even the corn we get to eat. Only 1% of the corn grown in Iowa is sweet corn.  The other 99% is used for ethanol/fuel, animal feed, or products.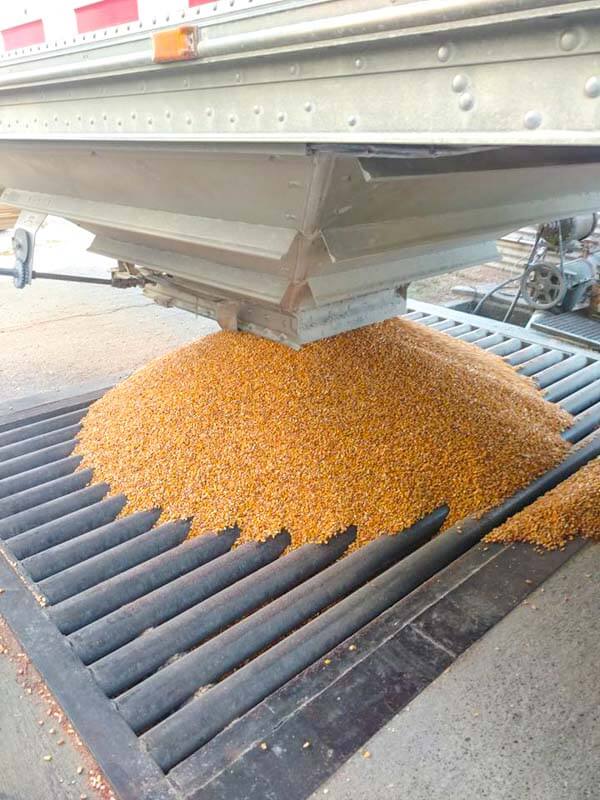 Dinner was hosted at the Gallagher's farm. They are professional tailgaters and made the most amazing chicken and ham dinner for us. Including the BEST French fries I have ever had in my life. All of the farmer's we met were the most welcoming and open people. They would answer any and every question we had, and not make us feel silly for not knowing the basics. Such a great experience.
The next day after a quick trip to the John Deere Pavilion we headed to Kent, a Grain Processing Center. We learned a lot of science and technical details behind nutritional science and developing nutritional solutions. Kent started in 1927 and has grown into a leading manufacturer and worldwide marketer of corn-based products.
Unfortunately I had to miss lunch with the rest of the group, because I had to head to Texas. I was sad to say goodbye, but so happy Iowa Corn invited me on the trip!  Thank you for such a great time! I will never think of Iowa the same again.
**I was sponsored by the Iowa Corn Organization to attend IA CornQuest 2016. All thoughts and opinions about what I learned and my time there are 100% my own.
Save