Smoked Tri-Tip – a perfectly smoked cut of meet is a gorgeous thing! This Tri-tip is coated in a quick and easy rub, and then smoked to perfection!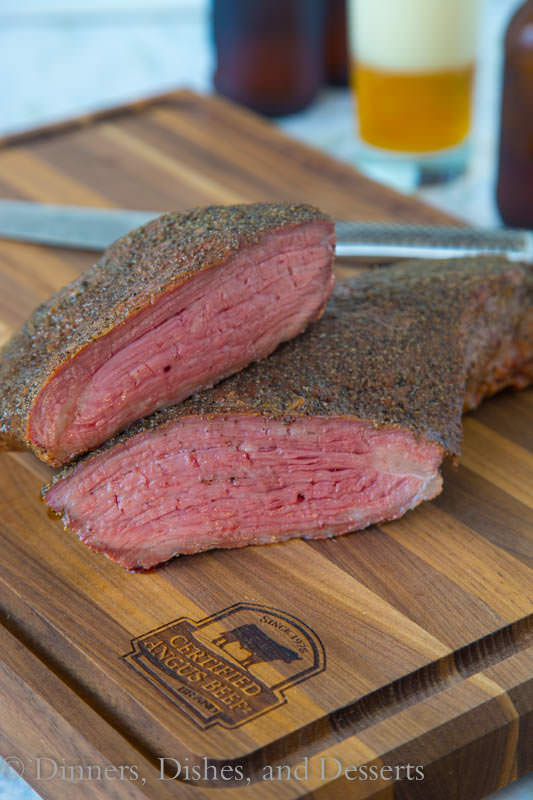 You may remember, especially if you follow along on Instagram, that back in June I had the amazing opportunity to go to Wooster Ohio, and meet with the people at Certified Angus Beef Brand.  Well today, I am going to show you an amazing recipe, and I learned it all from the chefs at Certified Angus Beef Brand.  I mean, I am usually the one that grills at our house, so I can make a burger, grill up chicken, pork, and I can even do a steak.  But….I use a gas grill.  I have never used charcoal in my life.  So this trip was an eye opening experience.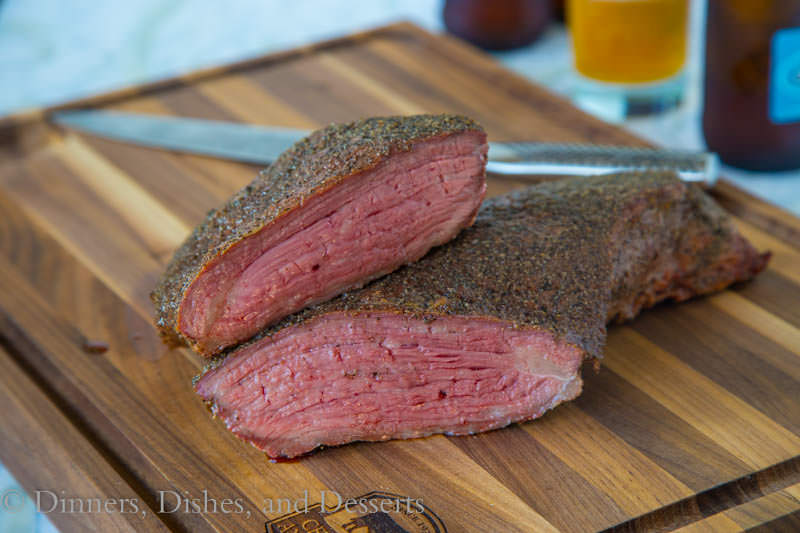 So pretty much the first thing we did when we arrived at the Culinary Education Center was head outside.  They had 2 smokers set up, and we learned all about proper smoking techniques, temperatures, the right equipment etc.  Then we actually got to start one up!  We added charcoal, wood chunks, and started it all one fire.  The other bloggers attending were all huge grill people, so I am pretty sure I was the only one who was taking notes and learning at this point.  But it paid off, because at home I can now start a charcoal grill like a pro!  Thanks Chef Michael, I couldn't have done it without you.  We immediately smoked a tri-tip and got to try it.  So good!  I knew it was going to be the first thing I wanted to do at home, and share with my family.
The next day at the education center we got a serious crash coarse in butchery.  I mean, a side of beef hanging in the kitchen, a meat scientist (Dr. Phil who went to CSU, where I live) telling us all about the different parts and cuts of meat.  Then we actually got to do some hands on work.  We were able to cut different steaks and roasts out of different sections.  I was really nervous about this part, but it was so much more fun that I thought, and I learned so much! For lunch we even got to make our own grind of meat and grill burgers.  I have never ground my own meat before, but now I wish I had the capabilities to do it at home! And of course the trip would not have been complete, without a lot of food consumed!  More smoked tri-tip, brisket, dry aged ribeyes, a whole charcuterie set up and so much more!
Certified Angus Beef Brand is an amazing company, with such great people working for them.  I could go on and on about them all day, I am just so supportive of their mission, their product, and everything they stand for.  Please, when you see the Certified Angus Beef seal when you are at the store, pick it up, you will not be disappointed.  The quality of their meat is just far superior, and you will get the same thing every single time. No wondering why it didn't turn out the same as last time, or what did you do differently.  Do a side by side taste test if you don't believe me, and then let me know.  It is night and day!  And no, they are not paying me to say this.  I just really want you to love it as much as I do!
Ok, so today we have a smoked tri-tip recipe very much like the one we made in Ohio.  AND….. this is a big and.  I am giving away EITHER a Weber Performer Premium 22″ Charcoal Grill or a Weber Smokey Mountain Cooker 18″ Smoker.  I have the smoker and it is what I used to make this tri-tip, and I love it!  But the winner gets to choose!  Awesome, right?!  Use the widget after the recipe to enter!
Smoked Tri-Tip
Smoked Tri-Tip - a perfectly smoked cut of meet is a gorgeous thing! This Tri-tip is coated in a quick and easy rub, and then smoked to perfection!
Ingredients
1

Tri-Tip roast

(about 2 1/2 pounds)

1

Tbls

kosher salt

1

Tbls

black pepper

1

tsp

garlic powder

1

tsp

onion powder

1

tsp

granulated raw sugar
Instructions
Heat smoker or grill to 225 degrees.

Combine salt, pepper, garlic, onion, and sugar in a small bowl. Sprinkle over roast, and gently rub into the meat.

Place onto smoker or grill. Cover and cook until you reach 130 degrees (about 90 minutes).

Remove from heat and let rest for 5-10 minutes before serving.

Thinly slice to serve
Recipe Notes
I used apple wood for the smoker.
You can make this on a grill following the same instructions, you will just not have the same smokey flavor.
Weber Smoker or Grill Giveaway
**Certified Angus Beef did pay for my travel to and from their headquarters. I was not compensated for my time. All thoughts and opinions are 100% my own. Thank you for supporting the brands I love and that make Dinners, Dishes, and Desserts possible.