First I wanted to announce the winners to my Moo.com Giveaway
The winners of 50 personalized business cards are:
Jen
Kate
….and the grandprize (50 personalized business cards, and personalized postcards) winner is:
Suzanne
Check your email ladies!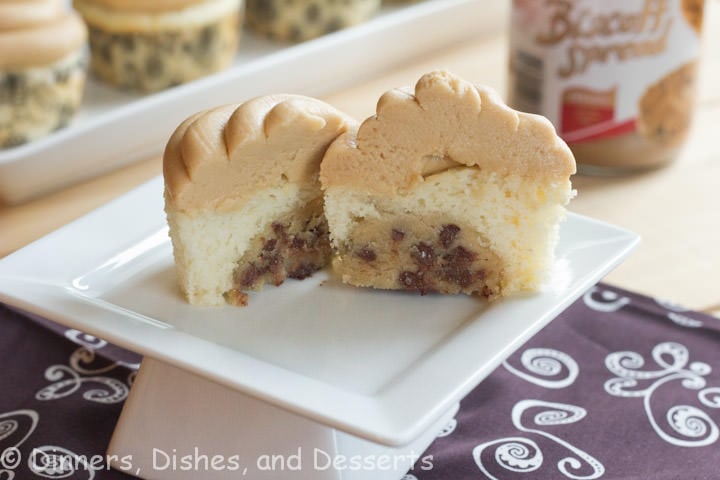 Ok, now on to this cupcake.  There is just so much amazingness in this thing there aren't really words to describe it.  It starts with an incredibly light and perfect vanilla cupcake.  There is a ball of egg free cookie dough in the middle.  And then it is topped with a Biscoff frosting.  Really, I should just give you the recipe and be done here, because I think I have said enough.
But, I guess I will keep going
  I took this idea from Cookies and Cups.  I know you know who she is, but just in case you don't; Shelly has an amazing dessert blog with super creative over the top desserts. She has the same love of chocolate and peanut butter that I do (stay tuned I just made something else from her site today).  I always come away from her site inspired and hungry.  Probably best we aren't neighbors or I would be at least 20 pounds heavier.
So anyway….make these cupcakes!  They were a huge hit when our friends were visiting.
Cookie Dough Cupcakes with Biscoff Frosting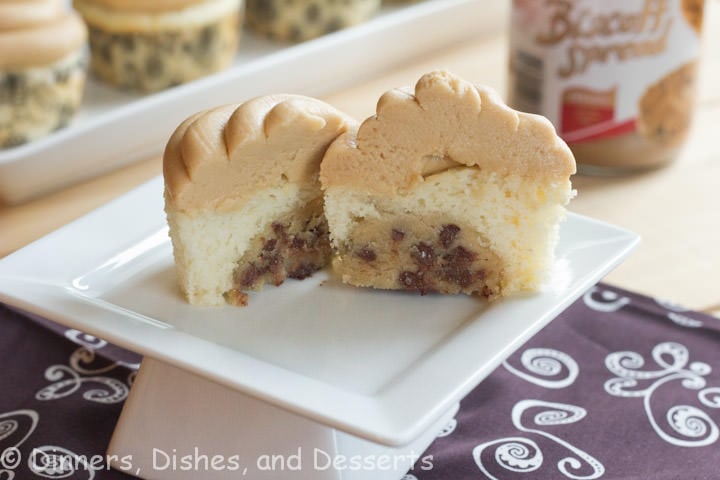 Soft tender vanilla cupcakes filled with egg free cookie dough and topped with a Biscoff frosting
Ingredients
Cupcakes:
4 egg whites
½ cup butter softened
1¼ cups sugar
1 tsp vanilla
2¼ cups flour
2½ tsp baking powder
½ tsp salt
1 cup milk
Cookie Dough Filling
1 cup butter, softened
1 cup brown sugar
½ cup sugar
¼ cup milk
2 tsp vanilla
2½ cups flour
1 tsp salt
1 cup chocolate chips (mini)
Frosting
1 cup butter
1 cup Biscoff Spread
4 cups Powdered Sguar
3-4 Tbls milk
Instructions
Start by making the cookie dough filling. In a stand mixer cream together butter and sugars until fluffly, about 2 minutes. Add the milk and vanilla and beat until fully incorporated and smooth. Mix in flour and salt. Fold in the chocolate chips. Scoop the dough out by rounded tablespoons, and roll into a ball. Place on a baking sheet and place in the freezer for about an hour.
Preheat oven to 350 degrees. Line muffin tins with paper liners, makes 18 cupcakes. Set aside.
In a large bowl, beat the egg whites until it forms stiff peaks. Set aside. In a stand mixer beat butter and sugar together until fluffy, about 2 minutes. Stir in vanilla. In a separate bowl whisk together the flour, baking powder, and salt. In multiple additions, alternate mixing in the flour mixture and the milk, scraping down the sides if necessary.
Place about 1 Tbls of batter into the bottom of each muffin tin. Place a frozen ball of cookie dough on top of the batter. Cover with more batter. Bake for about 20 minutes, until the cupcakes springs back when pressed. Allow to cool completely before frosting.
To make the frosting beat the butter and Biscoff spread until smooth. Add in the powdered sugar and milk. Beat until smooth, you can adjust the milk/sugar amounts to get the desired consistency.
Once cupcakes are completely cool frost with Biscoff frosting.