10 Things to do in Shanghai – Headed to China?  Wonder what to do in Shanghai?  Here are our 10 favorite things to do in Shanghai.
We love to travel!  We have been all over the world, and have so many places on our list to still see and places we want to go back to.  Getting to see and experience all parts of the world is just good for the soul! I need to get better about writing up our travel posts!
This year we took a trip to China over my son's spring break.  We spent 4 days in Beijing, followed by 5 days in Shanghai. We have been to Japan before, but this was our first time in China, and boy was it an amazing, memorable, delicious, and an incredible experience.  China is SO different than any place we have ever been before, and we loved getting to take it all in.  The food was amazing, and cities were huge and unique, and we loved everything we did.
Today I am sharing with you our favorite 10 things to do in Shanghai.  There are over 24 million people who live in Shanghai, so there are literally thousands of things you can do and places to eat.  You can go as part of a tour group, but we don't like to be tied to a bunch of people or a specific itinerary. We did book a couple private tours that we got to pick what we did for a day, but that was it. Tours by Locals is a great resource when traveling in any city.  We used it in Italy last year, Japan, China, and have always had great experiences.
Shanghai Disneyland is about an hour outside for downtown Shanghai. We took a taxi from our hotel for about $40. The subway would have been a lot cheaper, but would have taken about 90 minutes at that time of day.  We did take the train back at the end of the day, and it was easy and took about an hour on the way home. I highly recommend a Hong Kong sim card for your phone.  This way you can know the train times, where to go etc. But you can also use US websites.  China blocks Facebook, Instagram, Google and more. With the Hong Kong card you can still access those sites without a problem.
Or purchase something like this Borderless Wifi Hot spot.  You purchase data and you can use it as a hot spot all over the world, even if your cell phone doesn't get service, this can. It was a lifesaver on the trip. And over time is way cheaper than $10/day per phone that is costs in some countries.
So if you are thinking of going to China or are just curious, check out our favorite 10 things to do in Shanghai!
1. Untour Food Tour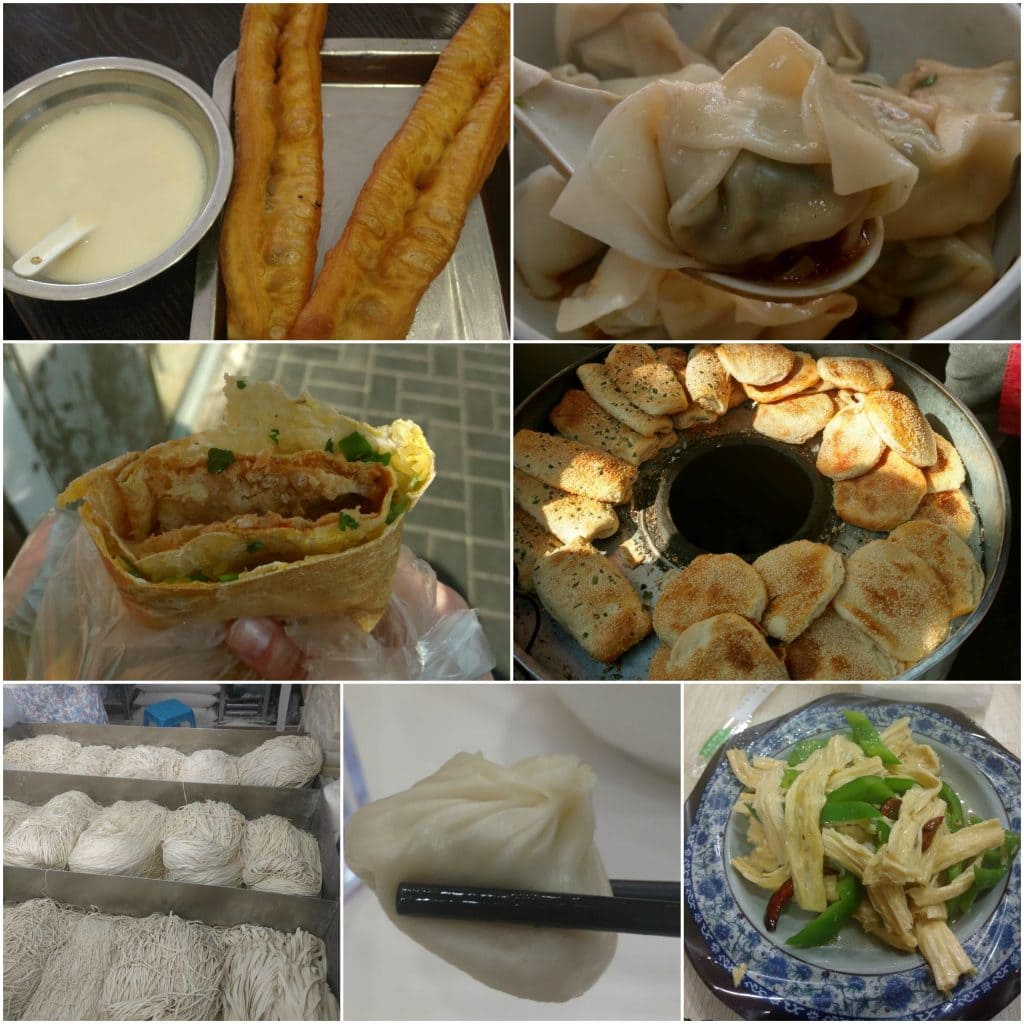 Experiencing the food is a huge part of travel to me. Food changes from region to region, country to country, and even city to city. So taking a food tour is one of our favorite ways to really experience local cuisine and get to know more about the area we are visiting.  We were watching something on You Tube and the Untour Food Tour came up, so we looked into it.  After researching all the different tour options, we knew this was the one we wanted. The whole tour is in English, and the tours are kept small.  We only had 3 other people on our tour, so it was so easy to ask questions, get to know the other people, and really learn about the country and the food we were trying.
In China there are a lot of food stalls and small restaurants all over the place.  But there is very little English spoken, so it can be hard to try a lot of the different things you walk by. This tour was perfect. We got to try so many different things, I think we tried about 12 different items.  The tour we took started around 9am, so you get to try some of their traditional breakfast items as well as lunch, dumplings, and even dessert. The guide spoke English perfectly, so she could answer all of the questions we had.  The company was started by 2 guys who loved trying different foods around Shanghai. They kept going back to these same places over and over. Anytime friends, family or anyone would ask for recommendations, these are the places they told people to try.  So now they share their love of food with everyone, trying all sorts of local dishes they know and love.
2. Walk the Bund
The waterfront, known as the Bund, is iconic to Shanghai. It is a mile long walkway along the Huangpu  River. It is a large pedistrian only area where you can walk, stop for snacks and drinks, sit and enjoy the view, or just people watch. To one side you can see all the historic buildings, and see where the city started. Then to the other side you see the Pudong Skyscrapers and the super modern part of Shanghai. Each time we walked this walkway, we saw many wedding photos being taken. This is a very famous part of the city, and even the locals visit frequently.
3. Yu Garden
Yu Garden is a huge Chinese garden that is located in the Old City of Shanghai. It was first built in 1559 as part of the Ming Dynasty. This place is massive, and to think that it was built in the 1500's is just insane.  From parts of the garden you can see the skyscrapers and the modern city behind the walls. But inside it is tranquil, quiet, and you feel like you are in a different world. Outside the walls of the garden is a giant bizarre. You can easily get lost in all the different streets with shops, restaurants, and food stalls.  You can buy just about anything you can think of here. Take your time walking the streets and take it all in.  The architecture here is all Old City, so you see buildings in the old Chinese style that you picture in your head when you think of China.
4. Day trip to Hangzhou
We took a day trip outside of Shanghai, because we wanted to see and experience more than just huge city life in China. After doing some research we decided that Hangzhou looked like it would be perfect. We wanted something that wasn't super touristy, but still had activities, history, and culture to explore. Seeing the tea plantations growing on the hills is something I have always wanted to see, and in Hanghzou we got to!!  We booked a private tour, so we could see all the highlights, ask lots of questions and learn about the area.
West Lake is what Hangzhou is known for. We took a small wooden boat around the lake. In the center is a small island and 3 statues in the water.  This has become the main symbol of West Lake, and is even printed on the back of the 1 RMD dollar bill. There are gorgeous gardens all around the lake. When we visited the flowers were starting to blossom, so it was so pretty and smelled amazing too.
Hangzhou is a "small city" in China with only 7 million people. But we were able to see some of the out lying areas that were not densely populated. The tea plantations were so cool to get to walk through. March is about the time that they start to harvest, and all of the harvesting is done by hand. We were able to visit a small tea village and learn all about how it was processed and turned into the tea people drink, as well as sample some fresh high quality green tea.
5. Pudgong Skyscrapers
If you have ever seen a picture of Shanghai, chances are it was of the infamous skyline. The Pearl TV tower is there, the Shanghai World Financial Center is here, and many other massive buildings. The Shanghai Tower is the 2nd tallest building in the world, at 2,073 feet. There is an observatory that you can pay to go to the top to see.  The elevator is the fastest elevator in the world with a top speed of 46 mph.  We did not pay to go to the top of the building.  Our view from the Hyatt on the Bund was amazing, so we didn't want to spend the extra money.
Just walking around street level of these buildings is amazing.  You can look up, and it is hard to see the top!  The Park Hyatt is also in this area, and has a hotel bar near the top of the building.  So you can go have a drink there and enjoy the view without having to pay to go to an observatory. There are a couple really nice malls in this area as well, with lots of great dining options.
6.  Museums
We are not huge museum people. There are a couple types of museums that we like going to, but when you can't read the language all the signs are in, you really don't want to spend a lot of time there.  But we visited the Shanghai Museum and the Museum of Urban Planning, and they were both well worth visiting. The Shanghai Museum is free to enter, so you don't have to feel guilty when you only spend an hour here.  We visited all of the floors and walked through the exhibits, but very little was in English.  It was cool to see, and some of it you could easily figure out what it was.  They had a calligraphy exhibit that was gorgeous to walk through. And a room full of furniture carved for the different dynasty's over the years. They were so intricate and impressive.
The other museum we enjoyed was the Museum of Urban Planning. This is across the street from the Shanghai Museum, and takes only about an hour to do. So you can do both one morning. The Urban Planning Museum is not free, but I think it was about $10 for our family of 3 to go in.  The highlight of this place was a model of entire city of Shanghai. It took up an entire room, with a walkway around the edges and was just massive. You can pick out the skyscrapers you recognize and then see just how big the city is.
7.  Visit a Fake Market
China is known for knockff items. One guide told us if you had a favorite pair of jeans you could take them to a certain market, and they would make another pair for you in about 30 minutes. Nothing is off limits in China. The best knock off market is at the metro stop for the Shanghai Science & Technology Museum. Here you will find hundreds of stalls with everything from souvieners to shoes, toys, purses and more. Beware, the sellers are aggressive and really do want you to buy from them.  If you show interest in something they will try to convince you to buy it, and may follow you around some.
In a fake market everything is barginned for.  When you ask for a price, they will give you something crazy high.  You are supposed to bargin with them and end up about 20% of their original price.  So if they tell you $100, you say $10 go from there, with the goal to pay about $20-$25. Everything is done in their currency, so know the exchange rate and the highest you want to pay before you start.
It is interesting to walk through, but we didn't spend a ton of time there.  We bought a couple small things, but that was it.  I am not comfortable in super high pressure situations.  But if you are in China going to a fake market is a must! The sellers speak English enough to bargain and converse with you. Lots of people have fun with bargaining and are not intimidated, and if that is you, you can score some major deals!
8.  Nighttime River Cruise
There are quite a few different options when it comes to cruising the Huangpu  River. The skyline of Shanghai can not be beat at night. All the buildings are lit up, many in neon colors. Quite a few of them have changing designs and displays on the buildings. So taking in the area at night is a must. A river cruise is a great way to be able to see everything, in a relaxing and great environment.  Interestingly enough the buildings turn off their lights at 10pm, so all the cruises are over around 9:30pm. So it doesn't have to be a super late night activity, which is nice when you have kids.
9.  Shanghai Disney
If you like Disney, you have to visit Shanghai Disney.  It is the newest of the Disney parks, opening in June of 2016. It has become popular very quickly.  I will be writing a separate post about the Disney park shortly.  They have a few of the rides you know and love from the US Disney parks, but they also have a few different rides that are amazing as well as some really cool updates to classics.  The Pirates of the Caribbean was incredible, even when you don't understand any of the dialogue. Tron is a really cool roller coaster unlike anything I have ever ridden.  They also have lots of different food options.  So don't think that you are just going to get classic Disney, this definitely has a Chinese twist and is well worth a visit.
10. Nanjing Road
Nanjjng road is a great shopping street in Shanghai.  We were able to walk the just over 1 mile distance from our hotel. The street has quite a few high end shops, as well as a few malls. The further down the road you get, it becomes a pedistrian only street that is lit up with lots of neon lights at night, and it quite the spot for people. There are hundreds of shops and stalls to buy anything you can think of.  You can find souvineer shops, food stalls and more on the street.  We found a grocery store here that was very interesting to walk through. The first floor was all the prepared and packaged foods, lots of fresh pastries, snacks, drinks and more. Then the further up you went, the more traditional Chinese it became. You could buy live fish, meats and things I have never seen or heard of before. They also had a food court area with lots of local food. It was super fun to walk through.
So many things to do in Shanghai.  We had 5 nights here, and it was perfect!
Pin up the image below so you can always remember 10 things to do in Shanghai!