This white chicken enchilada skillet turns the traditional dish into a one-pan, stove-top meal! And even better, it's ready in 20 minutes.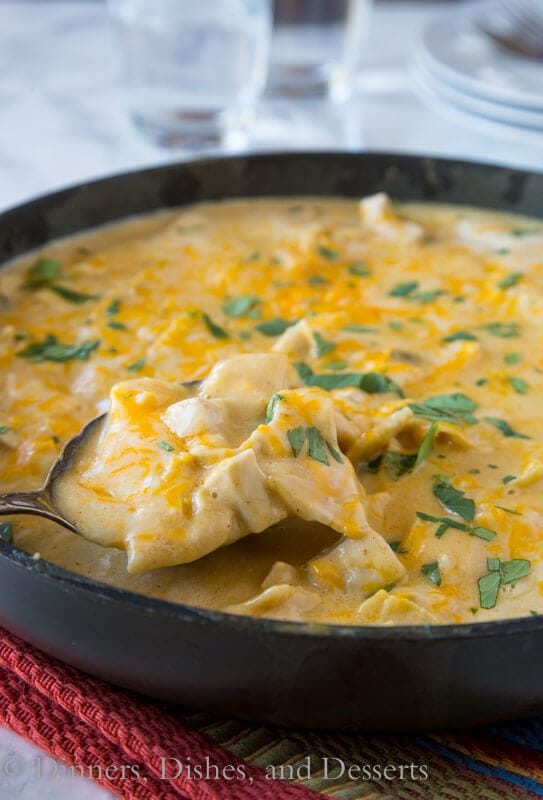 We are having a debate at our house if your 5th grader gets a present for elementary school graduation.  I am in the no camp, he is in the yes camp.  I talked to a few other parents, and they all said no as well.  So I am not sure where he is getting this idea from.
On Friday they have a 5th grade party at a fun outdoor lake, so I am saying that is his graduation present.  And, he can pick a dessert and I will make him that over the weekend.  Seems good to me!  I mean, finishing elementary school is a big deal, but not present worthy.  Am I wrong?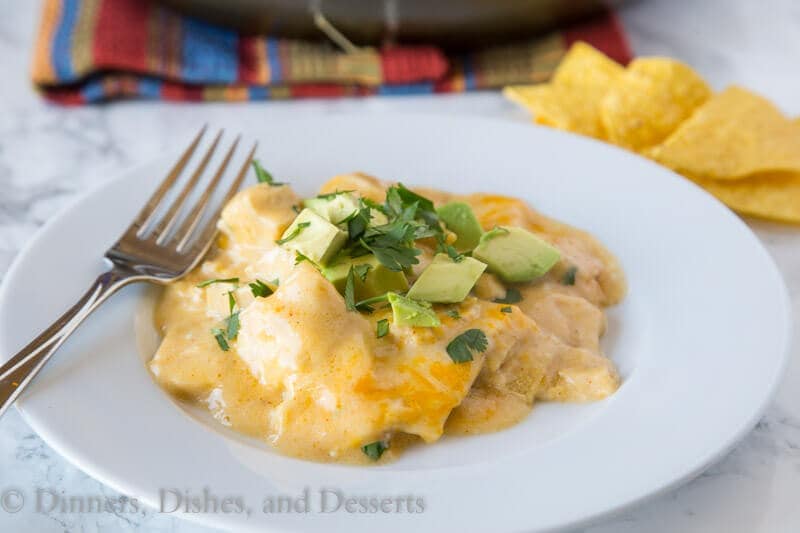 One thing I know I can do to win over my 11 year old with?  Make him a creamy, cheesy, dinner.  This white chicken enchilada skillet is right up his alley.  Whenever I ask him what he wants for dinner his response is Pasta Skillet.
Well, I threw him this time making a skillet meal with no pasta!  Not sure what he is going to ask for next time, because he practically licked his plate clean with this enchilada skillet.
White chicken enchiladas are one of my favorite things to order at a restaurant.  But I hardly ever make them at home.  I hardly ever make enchiladas of any kind at home.  They are just so time consuming with the rolling, chopping, cooking the filling, and then baking.  My family goes crazy when I do make them, because everyone loves them.
So I decided why not make white chicken enchilada skillet.  Get all the flavors of white chicken enchiladas but in a one pan meal.  Plus, this skillet meal is ready in 20 minutes, so you can make it any night of the week! Top with diced avocado and cilantro for a delicious dinner everyone will love.  We can't have Mexican at our house without homemade guacamole, so add a few tortilla chips for some crunch and we are all happy!
I am sharing this recipe over at Food Fanatic today.  Head over and check out all the other easy dinner recipes I have shared!
Want more? Check out all of the other One Pan Dinner Recipes here and here are some more you might like:
Shrimp & Avocado Tostadas
Salsa Verde Chicken Skillet
Sheet Pan Chicken and Potato Dinner by Nutmeg Nanny
One Pan Coconut Chicken & Rice by Bless this Mess

Want more one pan meals?