Almond Joy Brownies – An almond joy candy bar turned into a super fudgy brownie.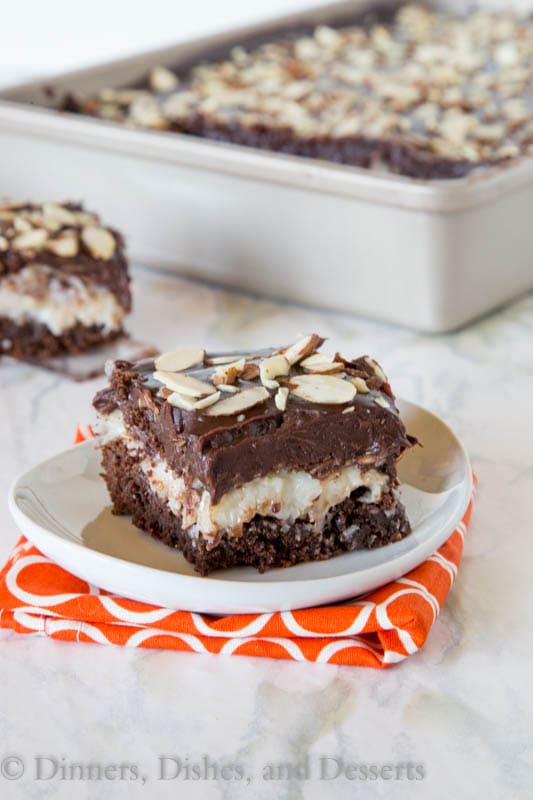 I can't believe that Halloween is almost here.  I think we may have decided what my 10 year old is going to be for Halloween, but it is a pretty easy and not exciting at all.  I am not happy with his choice, but he is pretty set on it, so we will just go with it.  At some point I guess I better get candy for the trick-or-treaters.  I haven't even gotten out our Halloween decorations this year.  I am just so far behind!  Maybe at this point I should just start getting ready for Christmas, so I can at least accomplish something this year!
Click here to the get the full recipe for these brownies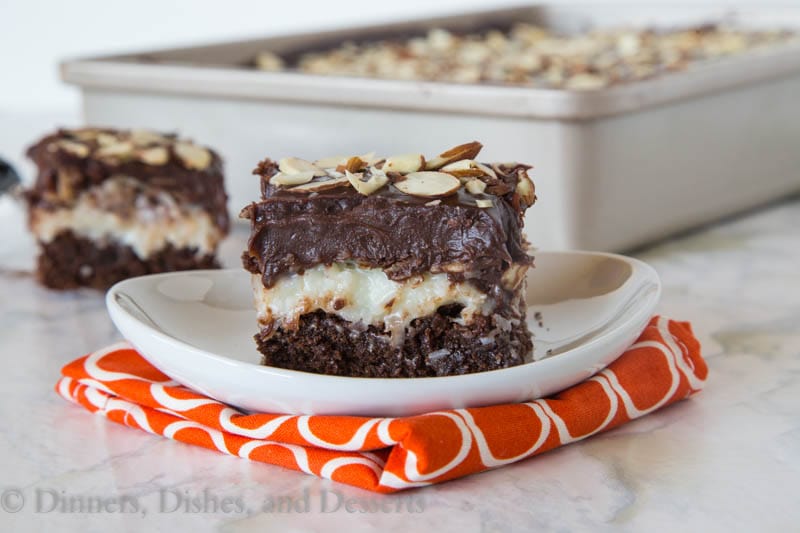 So in the interest of being close to Halloween and candy season I am turning the Almond Joy candy bar into a brownie.  I am a sucker for brownies, they are pretty much my all time favorite dessert.  And the fudgier the better!  For these fudgy brownies I added a layer of sweetened coconut, sliced almonds, gooey chocolate ganache, and then topped with even more sliced almonds.  So if you like chocolate, coconut and almonds, you NEED to try these!  My dad's favorite candy bar is an Almond Joy, so I am kind of sad that I didn't get to share these with him. I am pretty sure he would have loved them!
I am sharing this recipe over at Imperial Sugar today (click to get the recipe)!!!  I am also teaming up with OXO to help raise money for Cookies for Kids' Cancer.  Last year I made Chocolate Pudding Rolo Cookies for the same cause.  OXO will be donating $100 to Cookies for Kids' Cancer for each blog post dedicated to this campaign in October (up to $100,000 commitment*).  I love that all I have to do is share a recipe with you, and we are raising money to fight cancer.
I used  this Non-Stick Pro 9×13 Cake Pan: http://us.oxo.com/bfmKr and Brownie Spatula: http://us.oxo.com/bfmLD to make these fudgy Almond Joy Brownies.  Be sure to head over to Imperial sugar, so you can make them too!
** Cookies for Kids' Cancer is a recognized 501c(3) public charity duly incorporated under the laws of the state of New Jersey. Your donations are tax deductible to the fullest extent allowable by law. 100% of proceeds raised by Cookies for Kids' Cancer fund pediatric cancer research. *In 2015, OXO will donate up to $100,000 to Cookies for Kids' Cancer through product proceeds, bake sale matches and other fundraising efforts
**I have an on going relationship with Imperial Sugar for recipe development.  I was compensated by Imperial Sugar for my time in creating this recipe.  All thoughts and opinions are 100% my own.  I have not been compensated by OXO for this post.