Last night we went to my son's first grade musical, Dinostars. He played a Pterodactyl, and had a speaking part. He did a great job! All the kids did a great job, they were all so cute dressed up like dinosaurs, singing their songs. Amazing how grown up he is getting. He turns 7 next month. While he was at school yesterday, I went out and bought him a new pair of shoes. They were the same size as mine! Seriously?! My 6 year old has the same size feet as me? I am really not sure how I feel about this.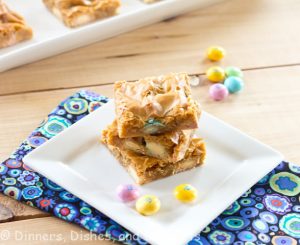 Despite how big he is getting, I can still win him over with treats . Hopefully that will never change. He was a big fan of these bars. He doesn't always like white chocolate, but he did in here! I had seen these White Chocolate M&M's all over the place, I just had pick up a bag, and try them myself. My husband loves butterscotch, so I thought I would mix the two together. He loved these Blondies I made, but I wanted the butterscotch flavor to go all throughout, instead of just chips. So I melted the chips down, and stirred it into the batter. Brilliant! I am seeing this technique working out well with other recipes too.
Yield: 16
Butterscotch M&M Bars
Butterscotch flavored blondies with white chocolate M&M's
Ingredients
1 cup brown sugar
1 egg
1/2 cup butter, , melted (or Melt)
1 tsp vanilla
1/4 tsp salt
1 cup flour
2/3 cup butterscotch chips, , melted
1 cup White Chocolate M&M's
Instructions
Preheat oven to 350 degrees. Prepare 8×8 pan.
Blend butter and brown sugar together until smooth.
Stir in egg and vanilla.
Mix in the melted butterscotch.
Add flour and salt, mix until combined.
Fold in the M&M's.
Pour into prepared pan, and bake for 25-30 minutes.
Cool completely before serving.
Nutrition Information
Yield
16
Serving Size
1
Amount Per Serving
Calories

238
Total Fat

12g
Saturated Fat

8g
Trans Fat

0g
Unsaturated Fat

3g
Cholesterol

30mg
Sodium

107mg
Carbohydrates

30g
Fiber

0g
Sugar

24g
Protein

2g