Dining Guide for the Pride of America – want to know where to eat when sailing on Norwegian's Pride of America in Hawaii.
I think when someone decides to go on a cruise, one of the things they look forward to the most is the food. Or maybe that is just me. Well, not just me, because I know my husband looks forward to the food on a cruise probably more than I do. So when we went on a cruise to Hawaii for our 15th anniversary a couple months ago, you know we tried everything and ate everywhere we could! Want to know more about cruising Hawaii? Be sure to check out my 5 Reasons to go on a Hawaiian Cruise post.
Norwegian Cruise Line's Pride of America has six different specialty restaurants, as well as the main dining room and even more casual dining options. So you will never go hungry, and can always find something you are craving. So come follow along, and check out my dining guide for the Pride of America.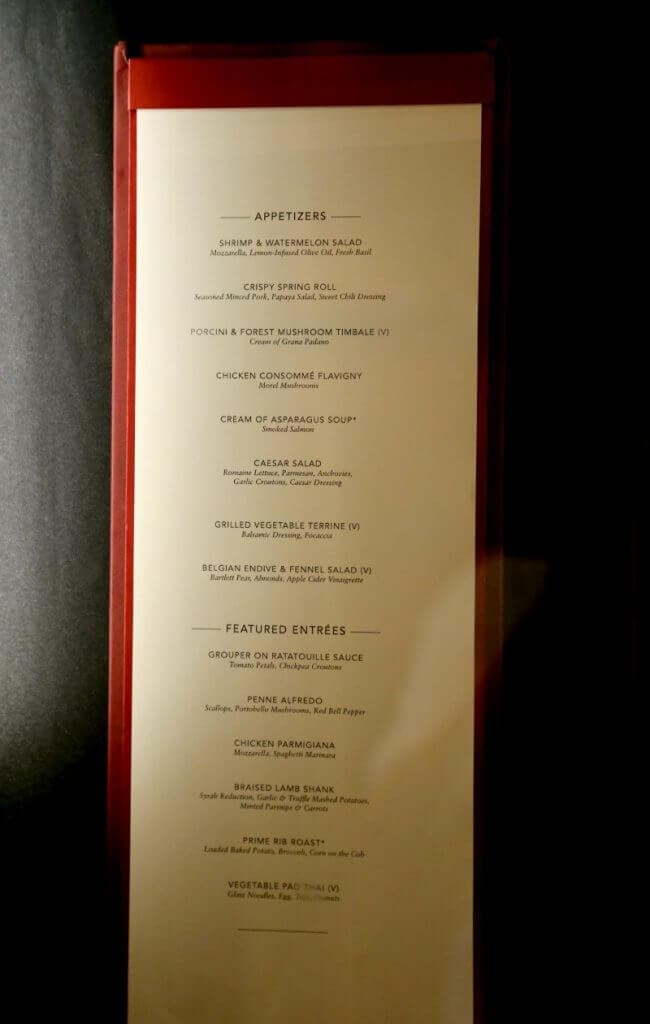 The Pride of America has two main dining rooms called Liberty Dining Room and Skyline Restaurant. They serve the same menu each night, but the decor theme is different. The nice thing about Norwegian Cruise Line is they have freestyle dining. That means, you can go to dinner anytime you want. You can make a reservation or just show up; whatever works for your schedule that day. The main dining room is included in the price of the ship, so there is no extra charge to dine there (aside from drinks). You have your choice of a salad, appetizer, main course, and dessert each night. The menu changes daily, and they post it outside the dinning room early in the day, so you can check to see if that is what you want to eat that night, or try something else.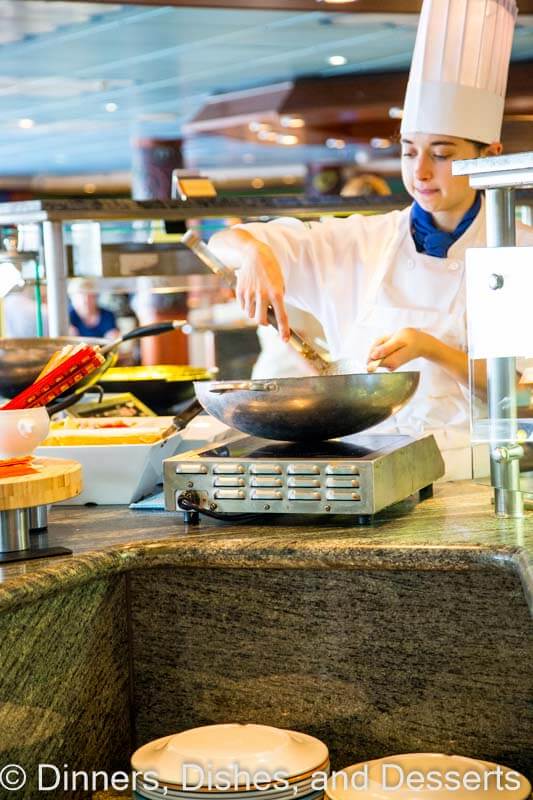 Aloha Cafe is the casual buffet option on the ship. An easy way to eat breakfast, lunch and dinner for sure. The cafe is located on deck 11, and there is a lot of seating along the windows, so you can dine with a great view.  The buffet has a wide variety of options, so your picky eaters will definitely find something!
Included in the price of the cruise is also East Meets West Grill, which is an Asian inspired restaurant.  You will want to make reservations early in your cruise if you want to dine here, because it fills up quickly. It is a higher end Asian fusion restaurant that gets rave reviews.
You an also dine at the Cadillac Diner, which is a 50's style diner. It is open 24 hours a day, so you can get burgers, fries, and milkshakes anytime you want! For more burgers you can check out the Key West Bar & Grill, where you can eat your burgers pool side! A great option if you are hanging out by the pool, and don't want to go change before getting lunch.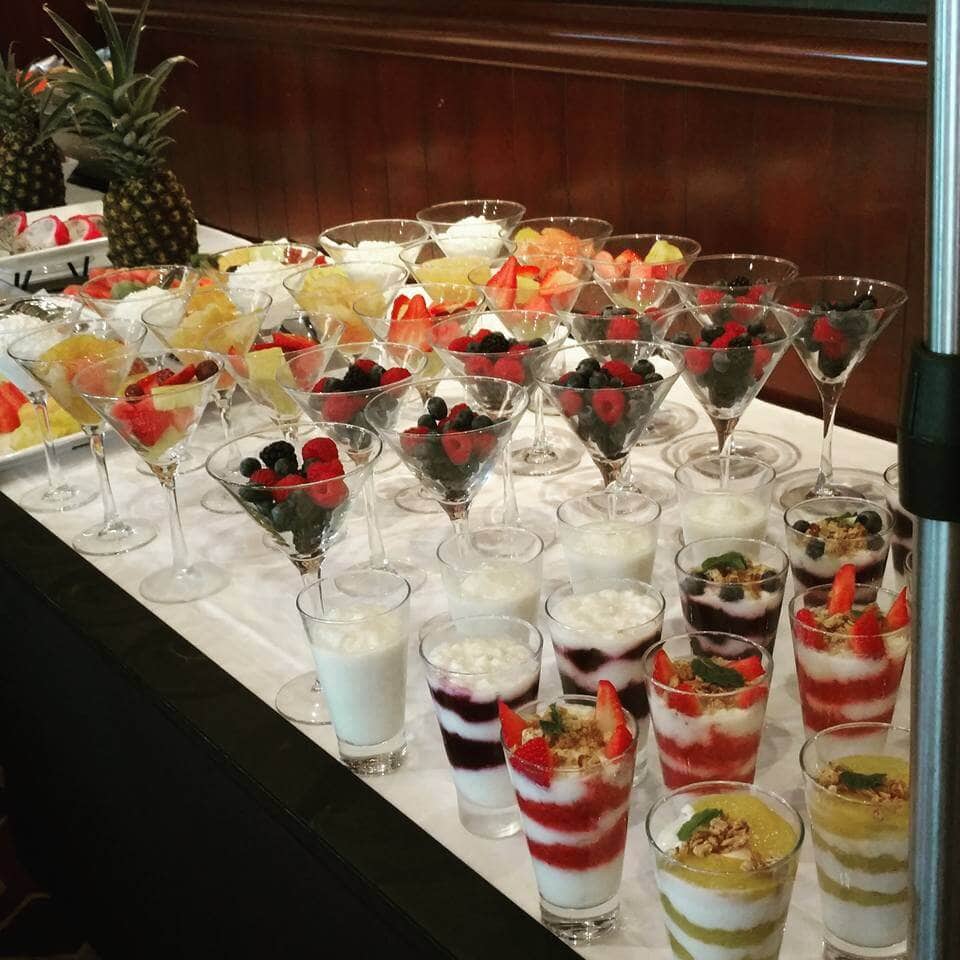 Norwegian offers dining packages for those that want to eat at their more upscale restaurants. We opted for the 5 night Ultimate Dining Package, which meant we could eat at any of the specialty restaurants for 5 nights. If you know you are going to go try the specialty restaurants, the ultimate dining package is definitely the way to go. It will save you money, and you can pick how many nights you want to buy (1-7).  The restaurants below all involve a fee to dine there, and would be included in the ultimate dining package.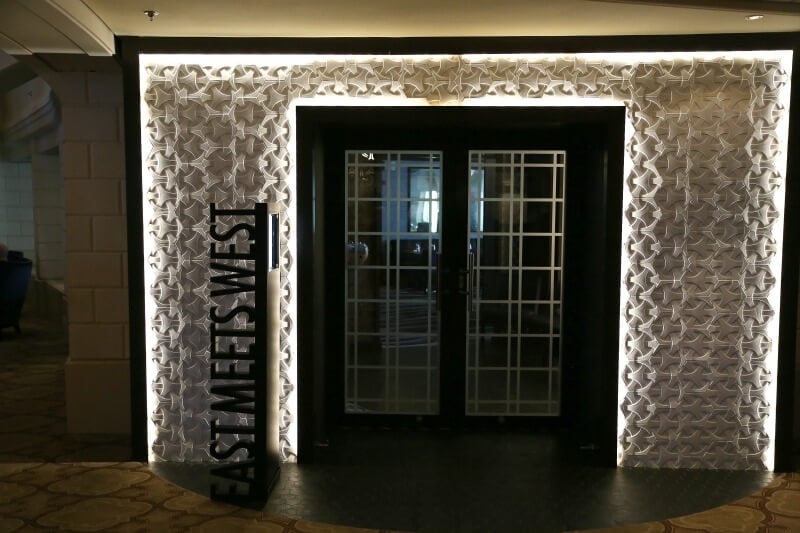 Teppanyaki is a Japanese style restaurant that is actually attached to East Meets West Grill. It is similar to traditional teppanyaki restaurants. You have about 12 people (they have 2 stations, so about 24 per seating) that sit around a grill and the chef entertains you while cooking your food. The food was outstanding, and by far better than any teppanyaki place I have visited before. The chef was funny and engaging with everyone at the table. The only downside, is because the regulations with the ship, they are not allowed to do tricks with fire. They make up for it other things though. Given only 24 people can eat at one time, you want to make reservation ahead of time to dine at Teppayaki.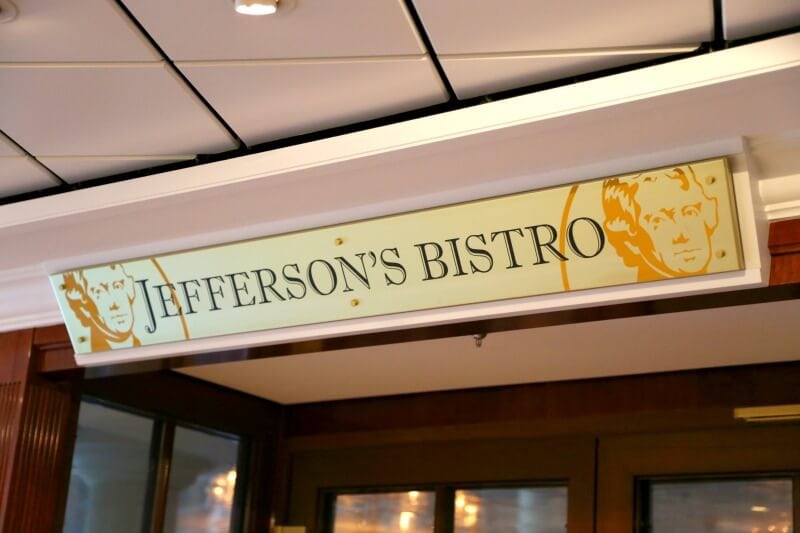 Jefferson's Bistro is a French style restaurant. This was by far my husband's favorite place. Between the escargot, mussels, scallops, lobster, and French onion soup he was in heaven. And creme brulee for dessert?  This was a highlight of the trip for sure! We ended up adding on an extra night, so we could could eat here twice we liked it so much. If you are celebrating a special occasion, let the wait staff know. They come and sign a love song to you, and do a wonderful job.
Cagney's Steakhouse is a traditional steakhouse. If you are in a suite, you can actually dine at Cagney's for breakfast and lunch free of charge. They are only open to the "public" for dinner, but suite guests get special dining options there every day. Breakfast and lunch at Cagney's is much higher end food than you will find at other places on the ship. Plus there are only a few suites on the cruise, so you get a much quieter and more personal experience at lunch and breakfast.  For dinner, you will find amazing Certified Angus Beef Brand steaks, sea bass, crab cakes, veal chops and more. And for dessert the most decadent 7 layer chocolate cake you can imagine!
Moderna Churrascaria is a fancy Brazilian steakhouse. If you like meat, this is the place to go. Wait staff come around to the table carrying skewers of meat, then you get to pick and choose what you want to try. They slice off pieces of whatever you ask for. Find something you love? No worries, they will come back!  There is a rather large salad bar at the center of the restaurant. They have many prepared pasta salads and cheeses as well as a "make your own salad bar". So there is something to eat for everyone in your group.
La Cucina is an upscale Italian restaurant. You can find traditional Tuscan dishes on the menu. The appetizers include pastas, that you can order as a larger size for a main dish if you would like. I had the pesto gnocchi, and it was so soft and tender. The best gnocchi I have ever had. You will find osso bucco, calamari, seafood pasta, and other Italian favorites on the menu. Plus an extensive wine list for the perfect pairings. It is a very intimate dining experience, with views of the ocean.
You can view menus for all of the restaurants at the reservations desk. So you can see what places you want to try, purchase an ultimate dining package if you choose, and make reservations all in one place.  Plus if you have questions, the staff there are very knowledgeable about the restaurants and happy to help.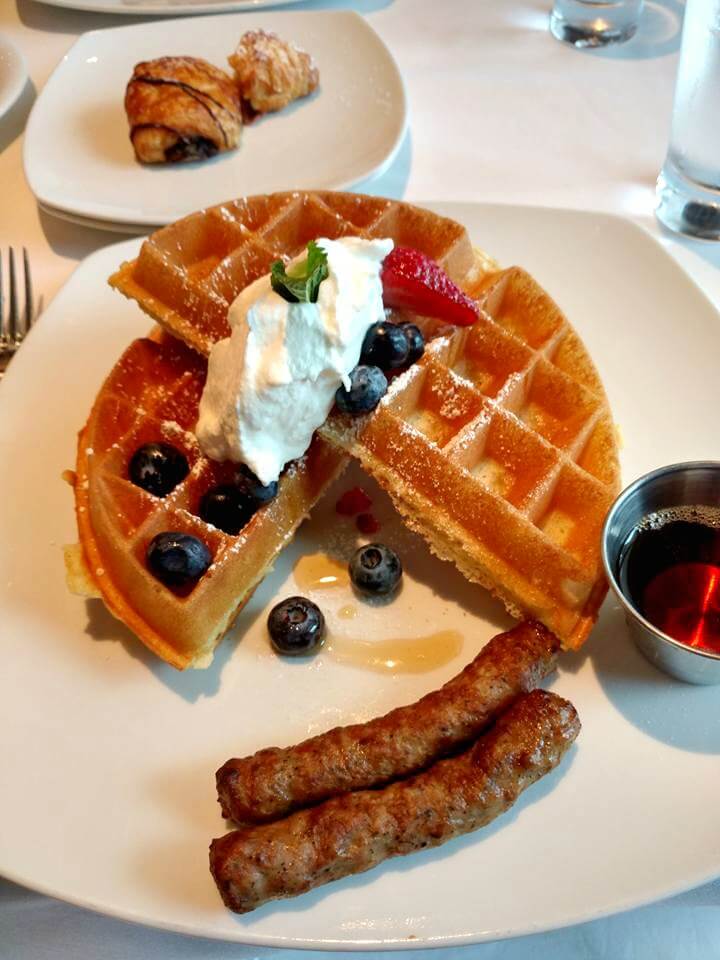 **I received a discount on the price of the cruise for writing this review. All thoughts and opinions are 100% my own.