Creamy Mushroom Soup – a steaming, comforting bowl of homemade mushroom soup. Plus you can can (or freeze) the base for a quick batch of soup any day of the week!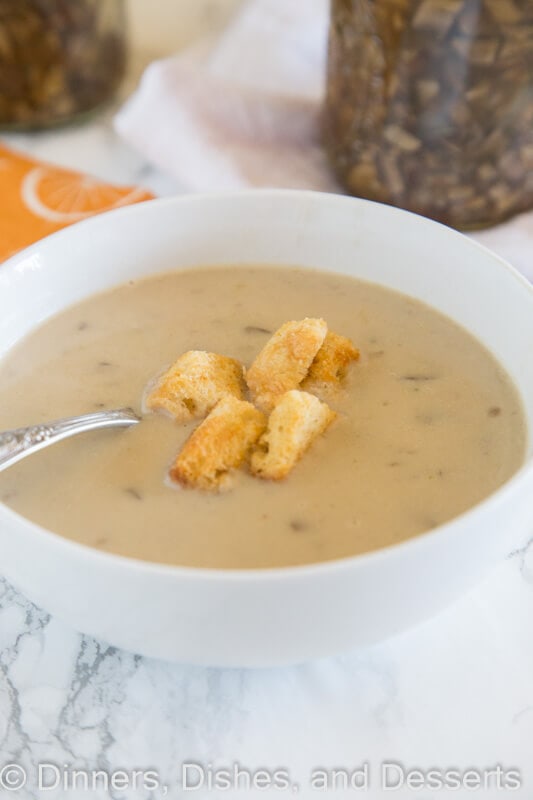 Do you have as much Halloween candy around your house as I do? We always put out a bowl of candy, and then my husband and I both take our son trick or treating. When we come home, the bowl is always empty. We then refill it, and answer the door for the rest of the night. I have no idea how many kids actually come to our house, so I always end of buying too much candy.
So between the candy my son collected, and all of our extra, our house has a ton of candy. I pretty much lack any will-power, so this is pretty much my worst nightmare. Someone send help! On second though, I am making this Candy Bar Cookie Pizza.
I like to think of myself as a good friend. I go out of my way for friends, I am always there for anyone that needs me, and I am super supportive. Well, I totally dropped the ball with this one.
My wonderful friend Rebecca from Foodie with Family came out with an amazing cookbook a couple months ago. She sent me a copy, so I could see it ahead of time. I immediately knew I what I wanted to make, and was going to post it here, because I knew you would love the recipe too.
Well life got in the way, and months have gone by before I am posting. The book Not Your Mama's Canning Book, is a top seller at Amazon, and it is pretty easy to see why. Rebecca has taken canning to a whole new level, and made it cool again. You are not going to find your average pickle recipe in this book; instead you will find recipes like Bourbon Brown Sugar Peaches and Blackberry Lemon Thyme Syrup.
The whole second half of the book gives you recipes to use your canned goods. So you can make your Korean Barbecue Sauce, and then turn it into Korean Inspired Flank Steak Lettuce Wraps! So many different recipes you can make, even if you aren't a canner. You can make the recipes and freeze them, or use them right away in the recipes in the back. Definitely something for everyone!
My family isn't a fan of mushrooms, but I love them. Easy Sauteed Mushrooms is pretty much my favorite thing to make when no one else is around. So when a friend was coming over for lunch one day, I knew exactly what I was going to make. I made the mushroom soup concentrate, and then made us Creamy Mushroom Soup for lunch. Rebecca even has a version of the soup to replace condensed cream of mushroom soup in recipes.
The mushroom soup concentrate is super easy to make, the hardest part is chopping all the mushrooms. Instead of canning the concentrate, I decided to freeze the extras. Now, I can break them out and make myself lunch any day of the week! I just have to add liquid and thicken it to make a delicious bowl of creamy mushroom soup.
Yield: 4 pints
Creamy Mushroom Soup
Creamy Mushroom Soup - a steaming, comforting bowl of homemade mushroom soup. Plus you can can (or freeze) the base for a quick batch of soup any day of the week!
Ingredients
Mushroom Soup Concentrate
2 Tbls olive oil
1 onion, , finely diced
1 clove garlic, , minced
3 pinches kosher salt
3 pounds crimini mushrooms, , finely chopped
6 sprigs thyme, , tied together in a bundle
1 1/2 quarts chicken stock
Creamy Mushroom Soup
2 Tbls butter
2 Tbls flour
1 pint mushroom soup concentrate
1 cup water
1/2 cup heavy cream
Instructions
Heat a stock pot over medium-low heat. Add olive oil, swirl to coat the pan.
Add onions, garlic, and first pinch of salt. Stir until well combined and everything is coated.
Sweat the onions and garlic for a couple minutes.
Add 1/3rd of the mushrooms and a 2nd pinch of salt. Stir well, raise the heat to high. After they have released their liquid, and it has mostly evaporated stir in another 1/3 of the mushrooms and the 3rd pinch of salt. Stir in the bundle of thyme. Again, once the liquid has evaporated, add the last of the mushrooms and the final pinch of salt. Cook until browned, and liquid has evaporated.
Allow the mushrooms to cook until some of the bits are sticking to the bottom of the pan.
Add marsala wine, scraping the bottom to loosen the bits. Add stock and bring to a boil. Reduce heat to medium low and simmer for 20 minutes. Remove bundle of thyme.
If canning - fill sterilized pint jars, leaving 1 inch at the top. Wipe the edge clean using cider vinegar and a clean paper towel. Place lids on and fasten. If using a pressure canner follow the instructions for 10 pounds of pressure for 45 minutes. Let canner come to atmospheric pressure naturally, then open lid and transfer to a towel-lined rack to wool for 24 hours. Store in cool dry place for 1 year.
If freezing - fill air tight plastic containers with 1 pint of mushroom soup concentrate. Close, and store in freezer for 4-6 months.
To make Creamy Mushroom Soup -
Melt butter in a sauce pan over medium heat. Whisk in flour. Keep whisking and cook until it bubbles and starts to thin. Reduce heat to low and cook for 3-4 minutes.
Slowly add 1 pint of mushroom soup concentrate, whisking until incorporated. Add water, and bring to a boil. Reduce heat and simmer for 5 minutes. Whisk in heavy cream, do not boil.
Serve immediately.
Notes
Mushroom Soup Concentrate makes 4 pints. 1 pint of concentrate makes 2 generous servings of soup
Nutrition Information
Yield
12
Serving Size
1
Amount Per Serving
Calories

252
Total Fat

12g
Saturated Fat

5g
Trans Fat

0g
Unsaturated Fat

6g
Cholesterol

20mg
Sodium

521mg
Carbohydrates

29g
Fiber

2g
Sugar

5g
Protein

9g
**I was sent a copy of this book to review. This post contains an affiliate link.