Japanese Wagyu Beef – Where to go to get Wagyu beef that is tender, amazing, and like nothing you have ever had before.
If you have heard about Japan, one thing that everyone has heard of is Kobe beef. Kobe beef is a type of Wagyu beef that is only raised in Japan. It is known all over the world as some of the best and most expensive beef that you can find.
Well, we have been to Japan a few times now and after experiencing real A5 Wagyu I can safely say it is like NOTHING you will find anywhere.
What is Wagyu Beef?
A special breed of cattle that is native to Japan. It has a unique taste and tenderness because it is so highly marbleized. Which is why it is so different than anything you can find anywhere else in the word. There is so much to learn about Wagyu beef, it is such a specialty item.
Where to buy Wagyu Beef?
If you are in Japan, you can find it all over the place, but back in the US it is a lot harder to find. Crowd Cow is my go-to when I want to order it for home. It comes shipped straight from Japan and is exactly what we had when we were in Tokyo.
When we were in Tokyo in March we decided to try Ginza Steak. They are known for all you can eat Wagyu. You sit around the table, where the chef cooks everything right in front of you. It is an experience to dine there, not to mention a meal of a life time. Only 24 people can dine at one time, so making reservations is a must!
When you make your reservation at Ginza Steak you can choose what beef course you want. The top level course comes with 2 kinds of A5 Wagyu beef (both are all you can eat) and the lower level course comes with just 1 kind of A5 Wagyu beef. They also have a couple other courses that include different appetizers as well with the same beef options.
Here is the menu the night were were there. Everything was absolutely amazing! I am not even a fan of scallops, but that truffle sauce was to die for. My husband and son think that I need to figure out how to make the potato portage at home and it needs to be part of our holidays going forward!
We picked the top course, so we could try 2 kinds of beef. Both of them were literally melt in your mouth tender. It was the butteriest piece of meat I have ever tasted. They did have a definite difference in taste. One of them had a more "beefy" flavor and the other was more mild.
How does Ginza Steak Work
When you make your reservation (which you can do online) you select which menu you want to order. I believe everyone in your party has to order the same thing.
When you arrive you are taken to your portion of the table where you will be given a nice bib to protect your clothing. Because they already have your order, all you have to order is any drinks that you want. The chef will immediately start preparing your food.
We were given the first wagyu appetizer course while we watched the chef prepare the scallops. The seating is staggered, so the chef is really only cooking for half the table at once, which means you get your food quickly and cooked perfectly.
Once the appetizers are finished, the chef will start preparing the beef course that you ordered. You will be given a tray with soy sauce, black pepper, and garlic chips that you can dip your steak in.
The beef is all you can eat for up to 60 minutes. I have heard of many places that offer this, but you are ignored and aren't really able to order all you can eat. Ginza Steak is different. It was truly all you can eat. I think you could order up to about 8 steaks given the amount of time for cooking etc.
The chef will ask you if you want another steak, and which type of beef you want.
After you have finished all the steaks you want it is time for rice in a wagyu beef broth followed by super creamy ice cream.
If you want to try Wagyu beef and have an experience of a lifetime, I highly suggest Ginza Steak. It is almost the reason to plan a trip to Tokyo! If you can find a deal on airfare, just book it and go! Tokyo is probably our favorite city in the whole world. It may be one of the biggest, but it is also the cleanest, safest and one of the nicest places.
Be sure to check out Instagram where you can see the highlights in my stories of our whole trip. It is a must visit place in your lifetime.
Ginza Steak was absolutely delicious, and I would go back in a heart beat. We paid for everything with our own money, it was not sponsored in any way. There are a ton of places to try Japanese beef in Tokyo. You can go a lot more expensive or you can go cheaper. This is probably middle of the road for price, and it was incredible. I can't really imagine what a high end place would entail!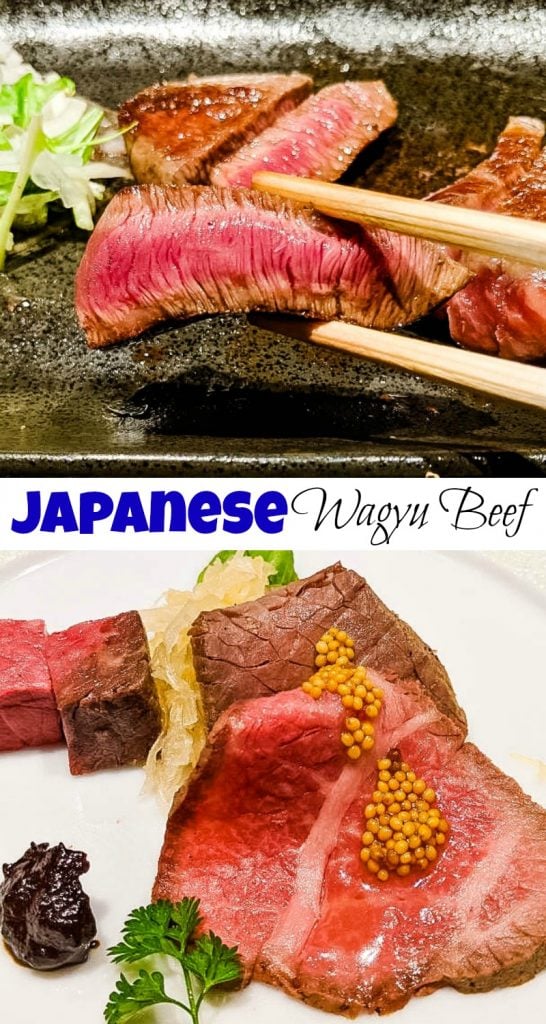 **This post is NOT sponsored. We paid for our meal at Ginza Steak.