New Zealand – Wanaka/Queenstown: Traveling in Wanaka and Queentown New Zealand. See what we saw and did over the week.
I am finally getting around to sharing our New Zealand trip with you. The hold up has been the pictures. Seriously, 6 weeks of pictures to go through is crazy. And I am only talking about the ones I took with my phone. I do not have the patience yet to go through the real camera pictures, so all the ones I am sharing with you were just taken by my phone. It is just too over whelming to tackle the other ones at this point. We were in New Zealand for 6 weeks, so I am going to attempt to recap our trip over 6 posts. Beware, there are a LOT of pictures, and you will want to visit there after you see them.
We flew from Denver to San Francisco to Auckland to Queenstown. San Francisco to Auckland is about a 12 hour flight, but then we had a 4 hour layover. Longest 4 hours ever! The flight to Queenstown is only about 90 minutes, and has the most stunning views and craziest landing ever. Queenstown is in the very Southern part of New Zealand, where we wanted to start. New Zealand is in the southern hemisphere, so March is their fall. We wanted to start in the South, where they get snow and cold, and work our way North, to beaches and warm year round weather.
We rented a car in Queenstown and drove the 1 hour to Wanaka. We rented a house through bookabach in Wanaka for 6 nights. After the longest travel "day" ever, we managed to eat dinner and crashed for the night. Our first full day in Wanaka we woke up to clouds. So we changed our plans and decided to take a drive to the other side of the lake, on Haast Pass, where we could see lots of waterfalls, rivers, and go on a few short hikes. Turns out the other side of the lake was sunny and blue skies. So we had a gorgeous day driving from waterfall to waterfall.
On our drive we saw rivers that were the prettiest blue color.
The next day our weather was much better. Here is the morning sun from our balcony.
Right down at Lake Wanaka
We drove about 1 hour outside of Wanaka to do the Rob Roy Glacier Track, which is about 12 km long. Most of the hike was in trees, and then at the end we came out to see these huge, amazing cliffs and glaciers in front of us. We had packed a picnic lunch, and sat there to enjoy it. Can't get much better view for lunch.
Mt Cook is the highest point in New Zealand, 12,218 feet high. It was definitely a drive from our place in Wanaka, but something we really wanted to see. We had to drive over a pass, and on some winding roads to get there, but it was well worth it. This is the view of Mt. Cook from a few miles away. It was covered in clouds most of the time we were up close to it, but from a distance you can see how massive it is.
The Hooker Valley Track leads you up to a glacier and lake at the base of Mt. Cook. It was a relatively easy trail, and the views were stunning. All around were giant mountains, covered in glaciers. I can not imagine how it would look on a clear sunny day.
Lake Wanaka is surrounded by mountains. One day we climbed the Rocky Mountain Loop Track (8km), and got stunning views of Lake Wanaka and the town. The lake is huge, and it was the perfect day to enjoy the views.
One of our last days in Wanaka we spent at Puzzling World. Stuart Landsborough created Puzzling World over 40 years ago, because he had such a love of puzzles. It is complete with rooms of illusion, hands on attractions that confuse you, bizarre buildings, and don't forget The Great Maze. It was more fun that I ever thought it would be. My son and husband, who love puzzles, probably could have spent all day there!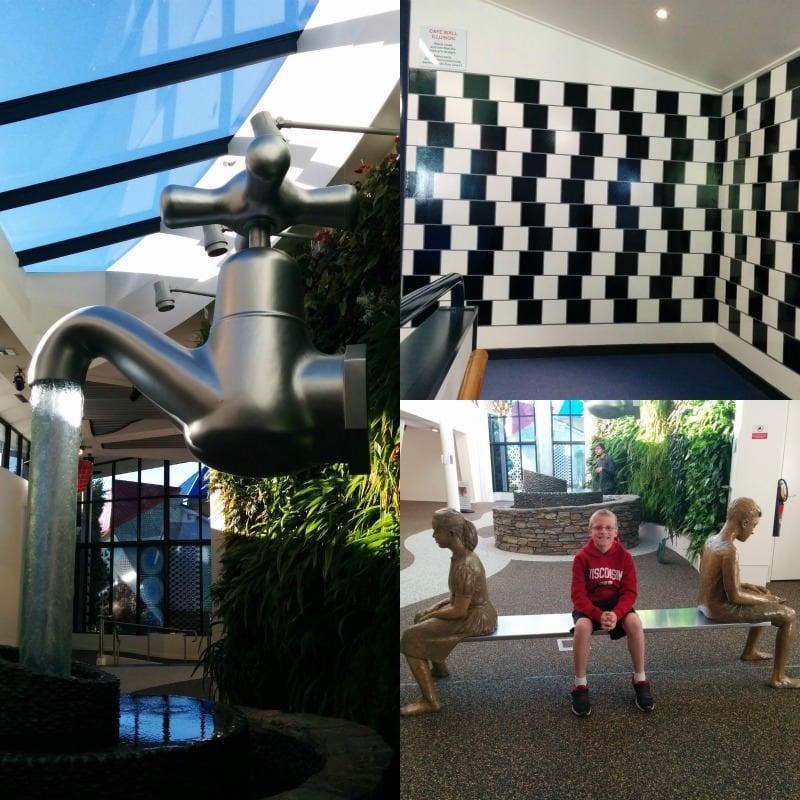 After 6 nights in Wanaka, we drove to Queenstown for a couple of days. Queenstown is known for its adventure activities; bungee jumping, sky diving, white water rafting and more. All things I would do, but not my family. Our first day was cloudy, so we decided to do the Queenstown Hill Walkway. It is a short 5km hike that starts from a neighborhood in town. It was crazy steep, but we got up over the town and the lake. You can see in the picture below we are above the planes that were landing at the airport.
The main thing we wanted to do in Queenstown was the Routeburn Track. The entire track is close to 32 km long. It takes a couple days to do, but there are buildings/huts along the way for you to camp in. Given we had our 10 year old with us, we didn't think camping with 35 other people would be a good idea. So we hiked until we got to the Routeburn Falls, then went a little further to see what we could see. Then we turned around to leave the way we came. In total we hiked just short of 15 miles that day. It was LONG, but amazing. And our 10 year old did it without complaining once! He definitely earned his ice cream treat that night.
After much convincing we finally decided to do a jet boat tour. Thunder Jet seemed like the most mild, for my cautious 10 year old. First we crossed the lake in the boat, and then entered the river. From there it was a crazy ride with 360 degree turns, fast corners, and lots of fun. Definitely a great way to end our time in Queenstown.
View from our house in Queentown – gorgeous Lake Wakatipu!
**I worked with 100% Pure New Zealand and received a discount at Puzzling World and Thunder Jet. We paid for the trip entirely on our own, and all opinions are 100% my own.