Strawberry Margarita Bars – a twist on a classic lemon bar.  Strawberry, lime, and tequila make these taste like the classic strawberry margarita in dessert form.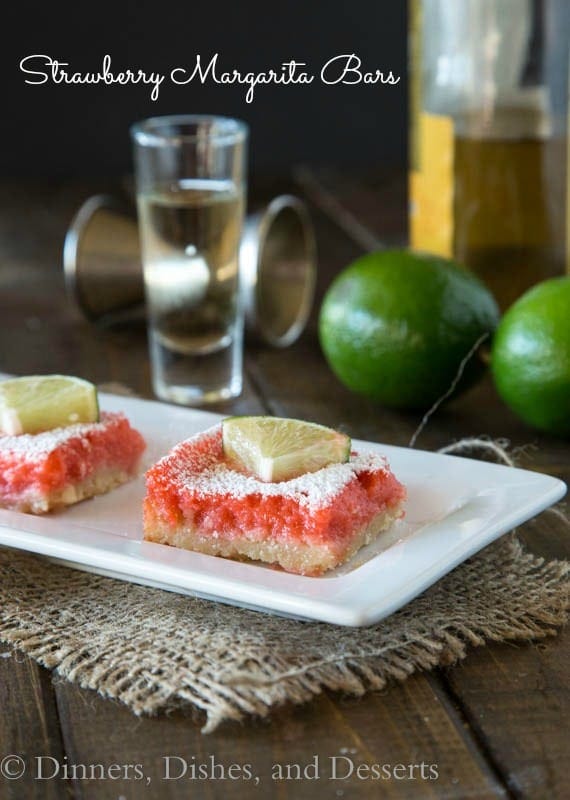 Today I am hanging out with my mom and kind of going crazy.  I am packing and trying to get stuff together like a mad woman.  We leave for 6 weeks on Friday, and I swear I am going to forget everything important.  We have been making lists of what to bring for over a month, but I still feel like I am going to forget something major.  My parents are here for the next 2 months, so they can stay at our house, and hopefully find an area they want to move to in the next year or so.  Thankfully she is here and helping me remember some stuff I would not have thought to pack.  Good thing they have stores in New Zealand, so I can at least replace what I forget.
Click HERE to get the recipe.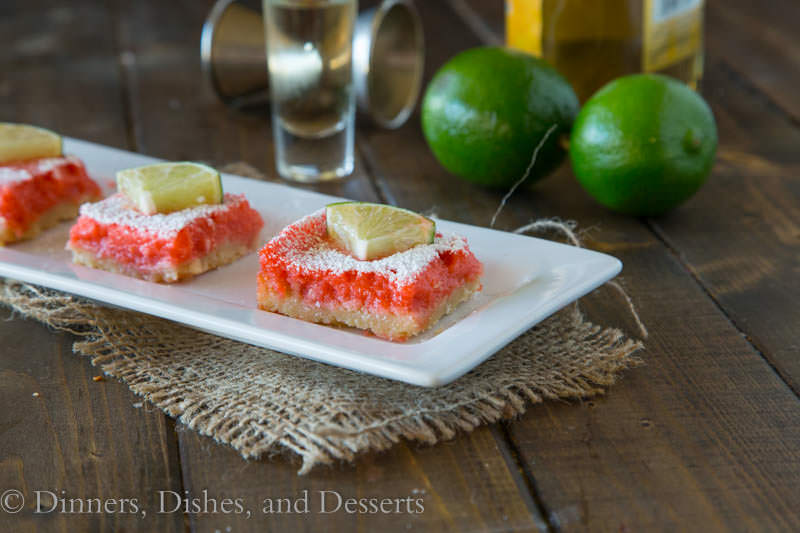 I am super excited about these strawberry margarita bars, you have to try them!  I am a choco-holic to the core.  So a fruity citrus dessert it not usually my thing.  Don't get me wrong, I like and enjoy them, but usually I would much rather have a brownie.  But these?  Totally loved!  I could not stay out of them, they were just darn right addicting.  Maybe because a strawberry margarita is my favorite drink?  I am not sure why, but these totally changed my mind on non-chocolate desserts.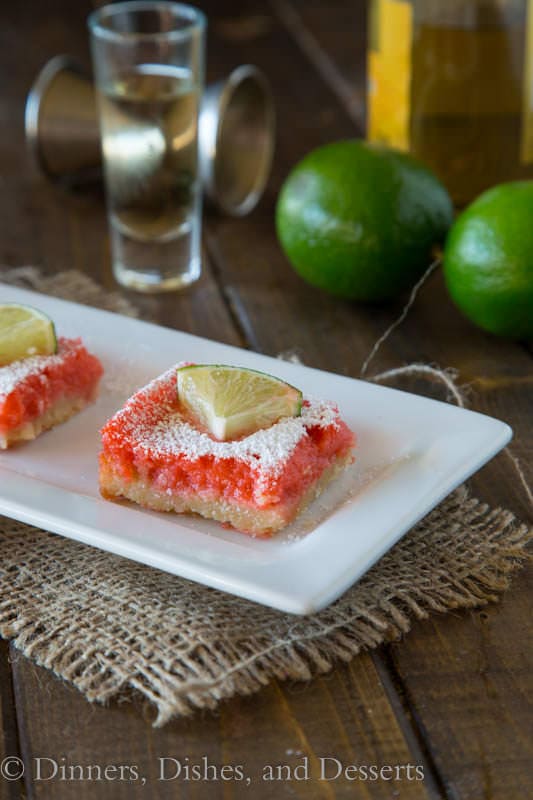 I started with a base of a lime flavored shortbread for the crust.  Then a layer of creamy, strawberry, lime, and tequila flavored filling.  Perfectly sweet and tart, just like a great margarita.  The alcohol bakes out, so no need to worry about feeding these to the kids.  But if tequila isn't your thing, just leave it out and replace it with lime juice.  Trust me, I had them that way and they were just as good!  Strawberry and lime is just a great flavor combination.  You need to make these soon, you will not be disappointed!
Today I am sharing this recipe over at Imperial Sugar.  Click on Strawberry Margarita Bars to get the full recipe!
**I have an ongoing relationship with Imperial Sugar for recipe development.  All thoughts and opinions are 100% my own.  Thank you for supporting the brands that make Dinner, Dishes, and Desserts possible.