Yesterday I shared our award winning recipe from the Puff Pastry competition we had at Pepperidge Farm last week. The Brazilian Chicken Turnovers were a big hit with the judges, and with my family. Aside from the day at Pepperidge Farm, I was able to spend a little bit of time traveling around New York City.
I have always wanted to go to New York City, so I was very excited for this opportunity. I arrived at the hotel around 3:00 on Wednesday afternoon We stayed at The Tuscany on E39th St. It was a beautiful hotel. I immediately headed out and walked up 5th Avenue, and admired all of the high end window displays along the street. Every corner had street vendors, so I finally gave in and got a giant soft pretzel. I was able to see Rockefeller Center as well as Grand Central Station.
Rebecca from Foodie with Family arrived, and we then went to meet one of my friends from high school who lives in the city. He showed us around Chelsea Market, Highline Park, Greenwich Village, and a few other local places. I had dinner with my friend and his girlfriend at Otto, Mario Batali's casual restaurant. We ordered a few things for the table, and shared everything. The pizzas were delicious, and so was the special bruschetta of the day.
After our day at Pepperidge Farm we went out for dinner at a fun little Mexican restaurant. As as bloggers do, we headed to Magnolia Bakery and bought all the things. Luckily there was a park across the street, so we were able to enjoy to beautiful weather and our treats. The next morning a few of us headed out to find bagels. When in New York…..right?
Glory from Glorious Treats and I then walked to Time Square. All of the lights, signs, and people; it was just crazy. Pretty much exactly what you expect. After browsing a couple of the candy stores, I went to meet another blogger friend Audra (The Baker Chick) for tea and scones at Alice's Tea Cup. The pumpkin caramel glazed scone was incredible. Heading back to my hotel before heading out, I had to stop and get a slice of pizza. It was one of the couple things you HAVE to have when you are in NYC.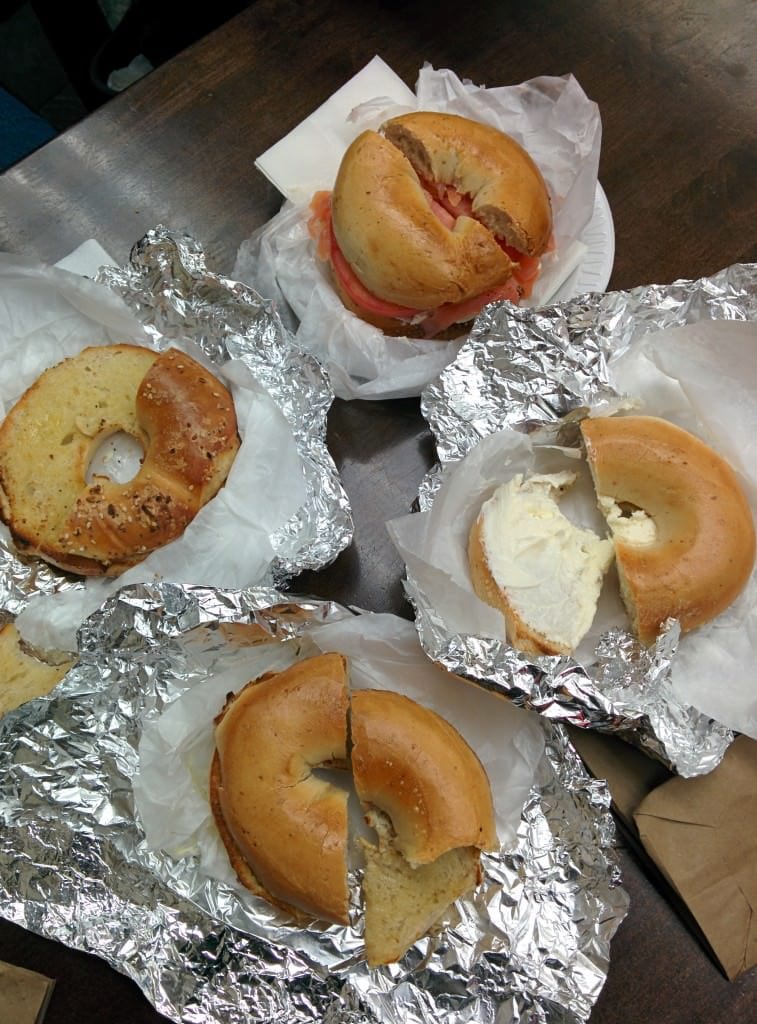 I was able to just touch the surface for New York, I can't wait to go back. I know my family would have a great time there as well. All the food, the sights, getting to see a show, and everything else, I need to start planning our next trip.