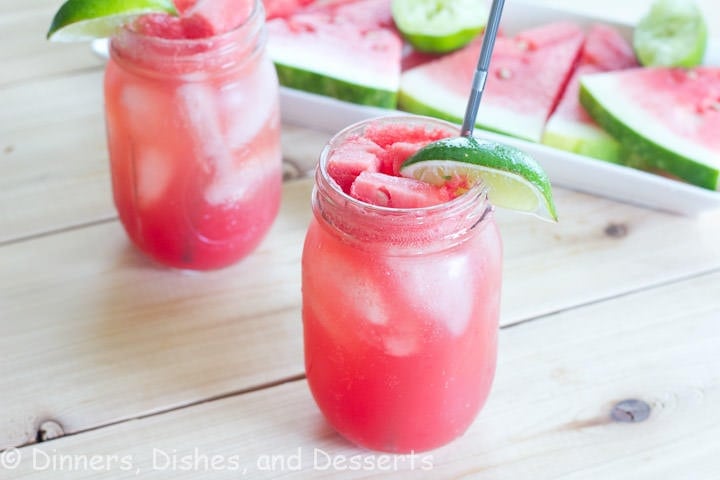 Thanks for all the kind words yesterday, about the frustration with our house.  We are trying to communicate with our "renters" and get things worked out.  Seems like it is just going to take a few days.
Today it is time for Holiday Recipe Club again!  If you are interested in joining in the fun, make sure you contact Erin.  This time we are getting you ready for Memorial Day.  Our challenge ingredients were watermelon, beer, or pork.  I really thought about different things I could make with all 3.  It was really hard to pick a winner.  But in the end, I was thirsty 🙂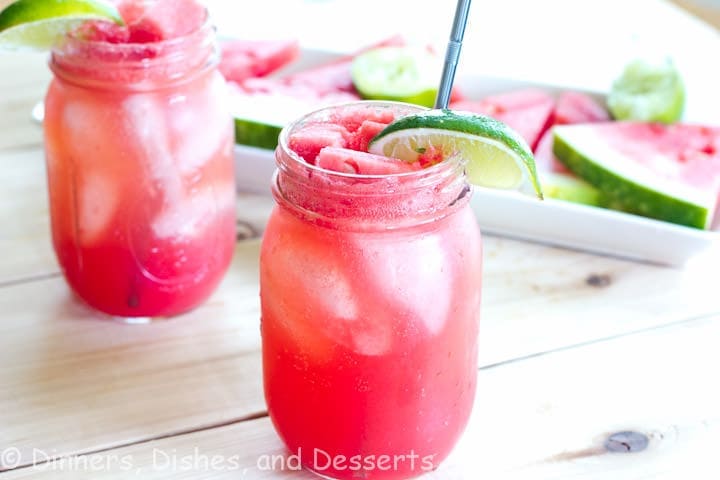 I made this without any alcohol, but if you want to turn it into an adult beverage some Gin would work well in here.  I made these the other day while my husband was at work.  He came home at lunch, and I was drinking one.  He made the comment "You are starting early today, huh?"  It took a little while to convince him, that no I was not drinking at 11:30 in the morning, by myself, and these were in fact non-alcoholic.  I almost made them the night before and shared them with my 7 year old, but it was getting dark, and I was lazy.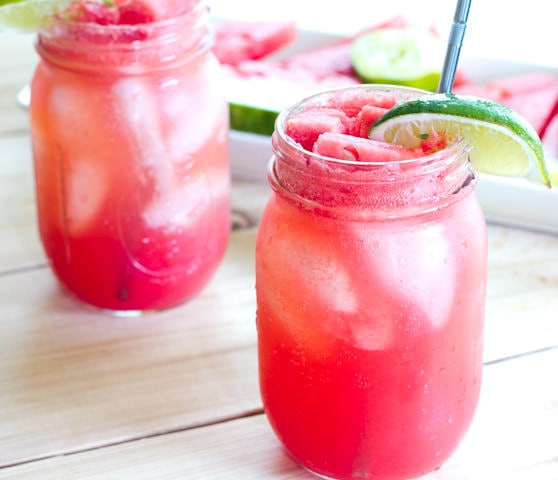 The watermelon and the lime work really well together in this drink.  It is just the right amount of tart and sweet together.  I am not usually a Ginger Ale drinker, but here I liked it.  I think Sprite would work well too.  Plus if you use diet soda, there are hardly any calories in here! I am giving you the recipe for 2 big glasses.  You could easily make a big pitcher of this to have at your Memorial Day get together.
Watermelon Fizz
Light and refreshing drink for summer
Ingredients
4

cups

watermelon

, diced

2

limes

1 1/3

cup

Ginger Ale

A few chunks of watermelon frozen

, for garnish

lime wedges

, for garnish

3

oz

Gin

(optional)
Instructions
Puree the 4 cups of watermelon in a food processor or blender. Pour through a strainer. You should have about 1 cup of watermelon juice. Fill each cup with ice. Pour about 1/3 - 1/2 cup of watermelon juice over the ice. Into each glass squeeze the juice of one lime. If using Gin add 1 1/2 oz to each glass. Pour in 2/3 cup of Ginger Ale, and stir. Garnish with frozen watermelon, and a lime wedge.
Recipe Notes
Adapted from Eat Well
Nutrition Facts
Watermelon Fizz
Amount Per Serving
Calories 213
% Daily Value*
Sodium 18mg 1%
Potassium 272mg 8%
Total Carbohydrates 39g 13%
Protein 1g 2%
* Percent Daily Values are based on a 2000 calorie diet.