Chocolate Lava Cakes
Chocolate Lava Cakes – chocolate molten lava cake is a decadent and indulgent dessert that is way easier to make at home than you think!
Today I am super excited to share this lava cake recipe with you, because it comes from one of my dear friends. Carolyn from All Day I Dream About Food and I became friends when we both started blogging over 6 years ago. She just had a book come out, and I am so happy to be able to share it with you.
The book is called The Everyday Ketogenic Kitchen. You may have heard of the keto diet, it is a low carb, high fat diet. Carolyn has been sharing low carb, gluten free recipes for over 6 years, and this book is the culmination of it all! Seriously, more than 150 recipes from breakfast to dessert.
I have been paging through the book for a few days, and have tried a couple recipes already. Garlic Butter Steak Bites were first on the list. They were ready in minutes, and a great weeknight meal. Easy Taco Pie was a huge hit, we topped it with guacamole and it was delicious. My son bookmarked about half of the recipes in the book, so we are not even close to done!
But lave cake was next. I am a sucker for chocolate recipes of any kind. Chocolate lava cakes are pretty much my favorite indulgent dessert. When we go out to dinner if it is on the menu, I am always super excited to try it. Plus desserts for two is the perfect amount for my family.
I have to say, I am so excited with how this molten lava cake came out. It only makes 2 cakes, so perfect for Valentine's Day, date night, or just when you don't want a bunch of dessert sitting around. Top with whipped cream or vanilla ice cream and you have one amazing decadent treat.
To top off this lava cake recipe it is gluten free! I am not really a gluten free baker, but I picked up a bag of almond flour and was able to make them no problem. I did make these soft and chewy double chocolate cookies once using a gluten free flour. So it wasn't my first attempt.
Desserts for two are great when you have a family of 3 people, and one doesn't like chocolate. It means, I won't eat all of it. Well, maybe I will, but I won't have all the guilt of a huge batch. Pizookies for two are another favorite.
So this Valentine's day or when you are just craving chocolate – these lava cakes are a must!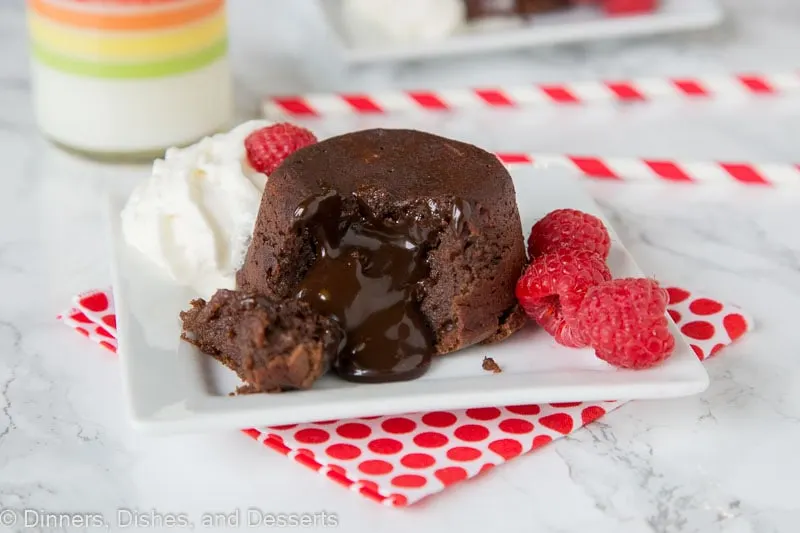 Yield: 2
Chocolate Lava Cakes
Chocolate Lava Cakes - chocolate molten lava cake is a decadent and indulgent dessert that is way easier to make at home than you think!
Ingredients
cocoa powder for dusting
1/4 cup butter
1 ounce unsweetened chocolate, chopped
3 Tbls sugar (erythritol sweetener to make it keto approved)
1 large egg
1 large egg yolk
1/4 tsp vanilla extract
3 Tbls almond flour
1/8 tsp salt
Instructions
Preheat oven to 375 degrees.
Generously grease or butter 2 4-oz ramekins. Dust with cocoa powder
In a small sauce pan melt butter, chocolate, and sugar together over low heat.
Remove from heat and whisk in egg, egg yolk and vanilla until smooth.
Mix in almond flour and salt.
Divide evenly between the ramekins. Bake for 13-15 minute until the edges are set, but the middle jiggles slightly when shaken.
Remove from oven and let cook for 5 minutes.
Turn ramekins over onto a small plate. Serve with a side of ice cream or whipped cream.
Nutrition Information
Yield
2
Serving Size
1
Amount Per Serving
Calories

550
Saturated Fat

21g
Cholesterol

246mg
Sodium

391mg
Carbohydrates

31g
Fiber

4g
Sugar

23g
Protein

11g
**This post contains and affiliate link. I was sent a copy of this book. All thoughts and opinions are 100% my own.