Weeknights are all about easy dinners around here.  I am sure most of you are the same.  You have a busy day at work, all you want to do is get dinner on the table for your family.  Something that everyone will like, and something that is healthy, and you can feel good about giving them.  This is where stir-frys come in for me.  You can use whatever you have on hand, and they are ready in minutes!
Shrimp is one of the fastest cooking proteins, so I always have it on hand.  My 7 year old will eat shrimp like crazy, he will eat more of it than I do in a sitting.  He isn't a fan of veggies, but he will pick around them to eat the shrimp and rice.  This meal came together in less than 20 minutes.  That is faster than you can go get fast food, or call for take out.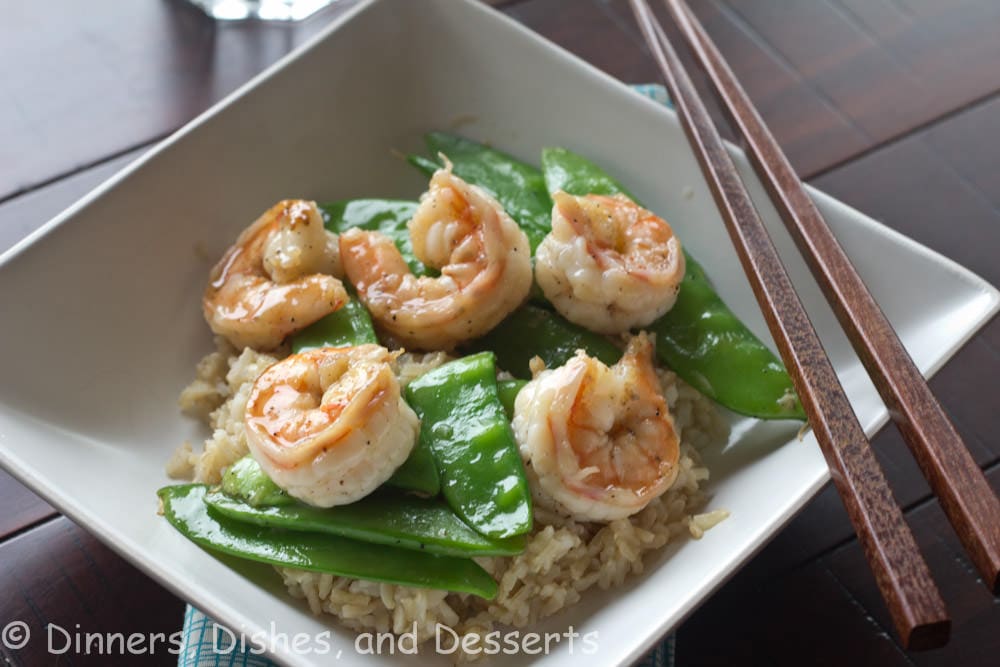 My family was a little skeptical given the name of this dish.  But it went over well.  It is a little sweet, and a little spicy; so it is sure to please.   The original recipe calls for 2 tsp of black pepper.  I went for a milder version and used only 1 tsp.  That was perfect in my opinion, so if you are sensitive to heat I might even start with a little less.  You can even add whatever veggies your family likes, or you have in your fridge.  Get creative!

Sweet and spicy shrimp stir-fry
Ingredients
1

Tbls

water

2

tsp

corn startch

1

Tbls

sesame oile

12

oz

large shrimp

, peeled and deveined

2

cups

snow peas

2

cloves

garlic

, miced

1

tsp

black pepper

1/4

tsp

salt

1/2

cup

chicken stock

3

Tbls

brown sugar

2

tsp

fish sauce

Brown Rice
Instructions
In a small bowl combine water and cornstarch. Set aside.

Heat a large skillet over medium-high heat. Add oil, swirling to coat the pan. Add the shrimp, and cook for 2 minutes, or until starting to turn pink. Mix in snow peas, garlic, black pepper, and salt. Cook for 1 minute. Remove from heat.

In a small saucepan combine chicken stock, brown sugar, and fish sauce. Heat over high, and bring to a boil. Stir in the cornstarch mixture. Cook for 30 seconds, or until it starts to thicken, stirring constantly. Pour over shrimp.

Return shrimp the heat, and cook for 2 minutes or until hot.

Serve over brown rice.