Today is our last day in San Francisco. My husband and I were able to get away for the weekend, so we took a trip to San Francisco. The last time I was here I think I was a teenager. I loved it than, and have always wanted to come back. We have had a great time, and I am not ready to leave! So many great sites, and food, and just relaxing with no responsibility for a few days has been amazing!
I will be excited to get back home and see my 7 year old though. And get back in the kitchen. A 4 day break has been nice, but I am ready to cook again. Fresh pasta is right up there with things I would like to make too. Last week I shared a homemade ravioli with you, today a homemade cannelloni. You could use this pasta recipe to make ravioli, or any shape pasta you want. It is kind of nice to add a little nutrition to your pasta, and a fun color.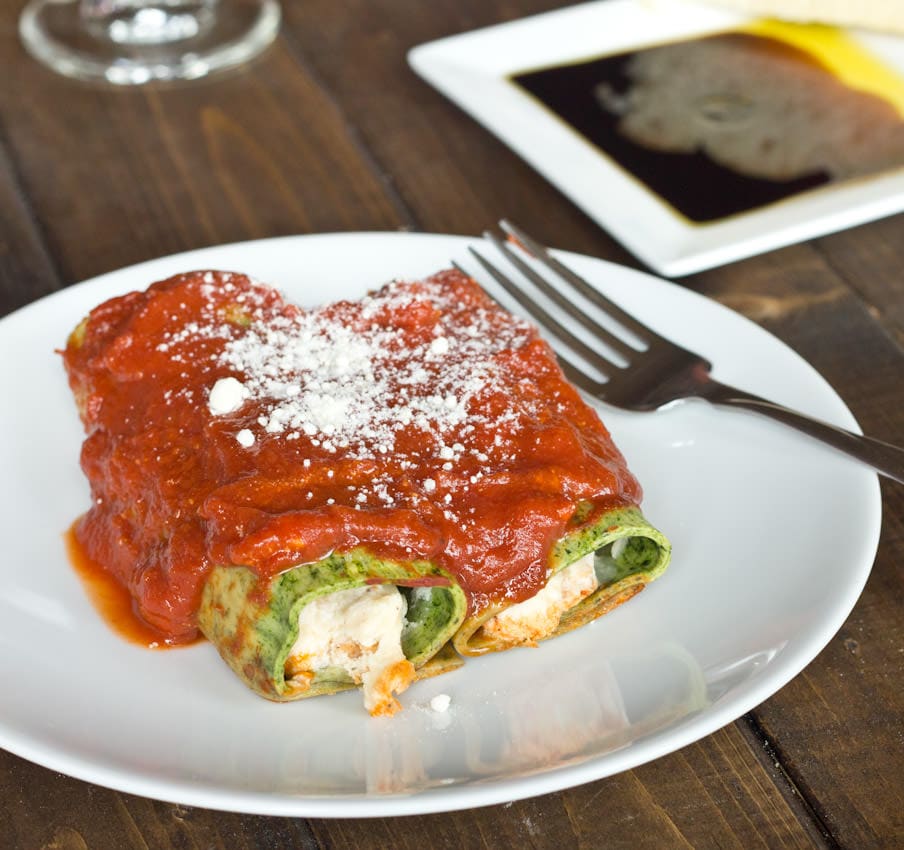 The pasta is not that much more work than other pastas. Just an extra step to wilt, and chop the spinach. Other than that, almost the same as making your traditional pasta. I rolled it into sheets, then filled it with a sausage and cheese filling. I chose marinara sauce, because I thought it went well with the sausage. But you could top with a cream sauce, or a cheese based sauce, it is really up to you. These are definitely worth the extra work as opposed to buying the dried tubes of pasta as the store. Great weekend meal the whole family can help with.
Yield: 8
Cannelloni with Spinach Pasta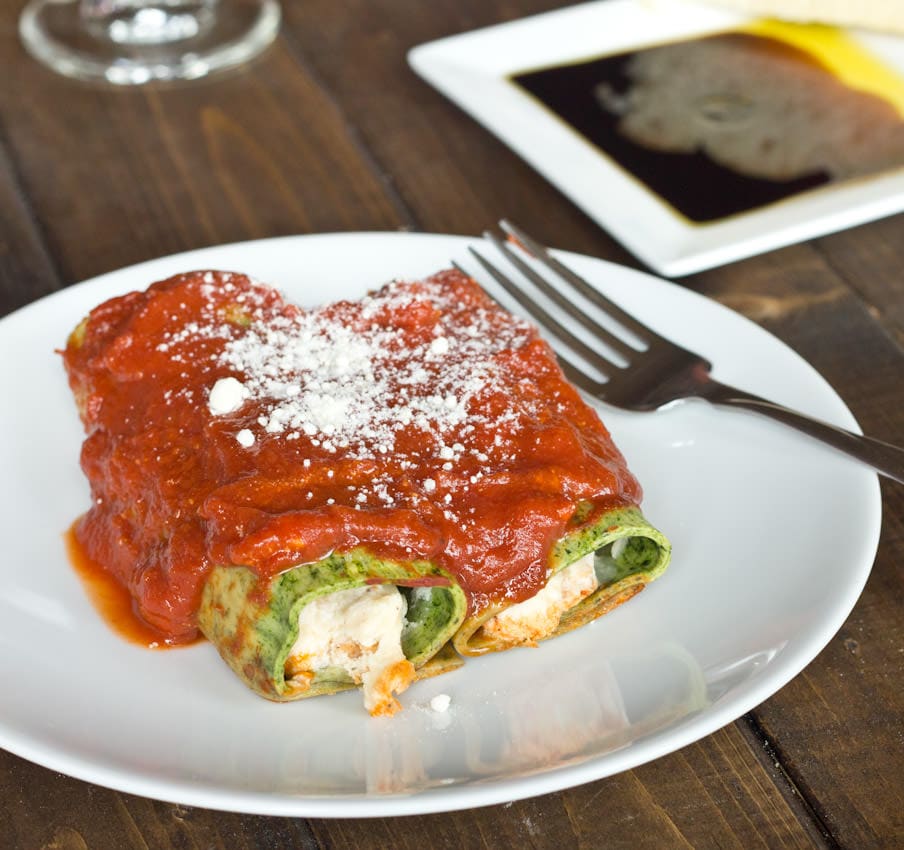 Spinach pasta filled with a cheesy sausage mixture, topped with marinara sauce
Total Time
1 hour
30 minutes
Ingredients
Pasta
6 oz baby spinach, , stems removed
2 large eggs
10 oz all-purpose flour
Filling
10 oz Italian sausage, , browned and crumbled
1 egg, , beaten
2 cloves garlic, , grated
11/2 cup ricotta cheese
2/3 cup Mozarella cheese
1/2 tsp salt
1/2 tsp black pepper
Top with marinara sauce
Instructions
To prepare the spinach pasta: Fill a pot with 1/2 cup water, and bring to a boil. Add spinach, cook until wilted, turning often. Cook for 1 more minute, drain, and place in a bowl of ice water. This will keep the bright green color.
Drain, and squeeze out most of the water. Form it into a compact ball. Slice the ball thinly in one direction. Then turn, and slice in the other direction. Chop finely.
Place chopped spinach in a food processor. Add the eggs, and process until very fine.
Put flour in a large bowl. Shape so there is a well in the center. Add the pureed spinach in the center. Using a fork start incorporating the flour, as you spin the bowl.
Once the pasta starts to form large clumps, start kneading the dough in the bowl. When all the flour has been incorporated, and has formed a ball, transfer to a board and finish kneading it. You can add more water, a teaspoon at a time, if it gets to dry. The dough will be smooth when you are done.
Cover the dough with a damp cloth, and let rest for 30 minutes before shaping.
Meanwhile prepare the filling. Mix all of the filling ingredients together until well blended. Store in fridge until ready to use.
Preheat oven to 375 degrees.
Divide the dough into 4. Roll the dough just slightly thicker than you would for traditional ravioli or linguini.
Cut the dough into 4 inch squares, you should get 18-20 squares.
Bring a large pot of water to boil. Cook sheets of pasta, in small batches for 2-3 minutes (about half cooked).
Fill each square with 1/4 cup of filling. Roll squares tightly closed, compacting the filling as you go. Arrange in a 13x9 in baking dish.
Cover with marinara sauce. Bake for 30 minutes, until bubbling and hot. Allow to cool slightly before serving.
Top with additional Parmesan cheese if desired
Notes
Pasta adapted from Making Artisan Pasta
Nutrition Information
Yield
8
Serving Size
8 Servings
Amount Per Serving
Calories

555
Total Fat

28g
Saturated Fat

14g
Trans Fat

0g
Unsaturated Fat

14g
Cholesterol

150mg
Sodium

752mg
Carbohydrates

40g
Fiber

2g
Sugar

2g
Protein

35g
Nutrition Disclaimer: All information presented on this site is intended for informational purposes only. I am not a certified nutritionist and any nutritional information shared on dinnersdishesanddesserts.com should only be used as a general guideline.