Brown butter is all the rage right now. I have used it a couple times in cookies (Brown Butter M&M Cookies & Brown Butter Chocolate Chip Toffee Cookies). Today though, I am giving it to you in a savory dish. A super quick, (like under 20 minutes quick) and easy dinner.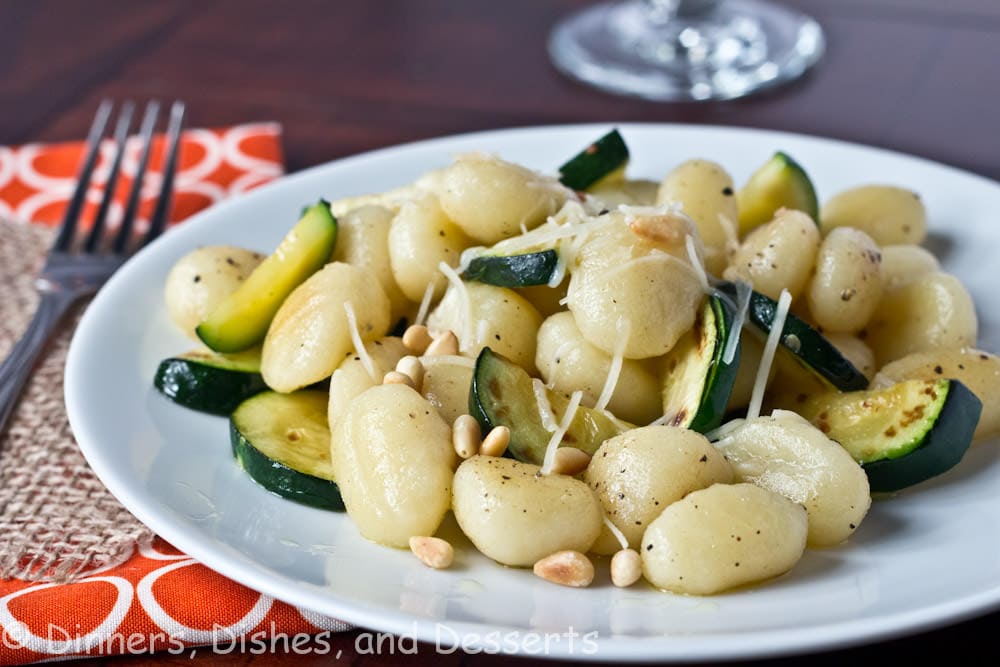 You can customize it to whatever veggies your family likes. My family will tolerate zucchini, so that is what I went with. The original recipe uses broccoli, which my family won't even get close to. I think it would have been wonderful with broccoli, but sometimes you just have to please the crowd. Toss in a few pine nuts for texture, top with Parmesan cheese and you have dinner. Serve with a small salad to round out the meal, or some bread if aren't counting your carbs 🙂
You can buy gnocchi with the dried pasta at the grocery store. If you are ambitious you could make your own gnocchi. Making gnocchi from scratch is on my list of things I want to do some day, but not on a quick weeknight. This is a great, quick, meat free dish that everyone enjoyed. Leftovers were even delicious the next day!
Yield: 6
Brown Butter Gnocchi with Veggies & Pinenuts
Chewy gnocchi tossed with a nutty brown butter and zucchini. Comes together in 20 minutes for a quick weeknight meal.
Ingredients
2 (16-ounce) packages gnocchi
1 zucchini, , sliced
Salt and Pepper to taste
2 Tbls butter
2 Tbls extra-virgin olive oil
1/4 tsp black pepper
3 Tbls pine nuts, , toasted
1/3 cup Parmesan Cheese
Instructions
Bring a large pot of water to boil. Cook gnocchi according to the package directions.
In a large skillet, over medium heat add butter and olive oil. Cook for 7 minutes or until the butter starts to brown.
In a separate skillet saute zucchini. Season with salt and pepper.
Toss cooked gnocchi with brown butter. Add zucchini, pine nuts, and black pepper.
Top with Parmesan cheese to serve.
Nutrition Information
Yield
6
Serving Size
1
Amount Per Serving
Calories

401
Saturated Fat

5g
Cholesterol

14mg
Sodium

639mg
Carbohydrates

55g
Fiber

4g
Sugar

1g
Protein

9g