Parmesan Gnocchi with Sage Butter– comfort food that is on the table in 15 minutes. Soft gnocchi tossed with melted butter, sage, and Parmesan cheese! 
Recently I was headed out of town for a week. My husband is a great cook….when he wants to be. He can follow a recipe like no one else. The more complicated the better for him.  A layer cake from scratch with homemade frosting? Doesn't phase him, it might just be the best cake you have ever tasted. Homemade pasta from scratch? No problem. The problem is he doesn't often actually apply these skills.

So when I was going to be gone, I made sure the fridge was stocked with food. I took out leftover tortilla soup from the freezer, so they could have that a couple nights, as well as 2 other dinners. Because you know what would happen if I didn't? They would eat cereal the whole time I was gone. Seriously great cook would eat cereal for 5 days, instead of cooking. I just couldn't let that be the case, so I stepped in.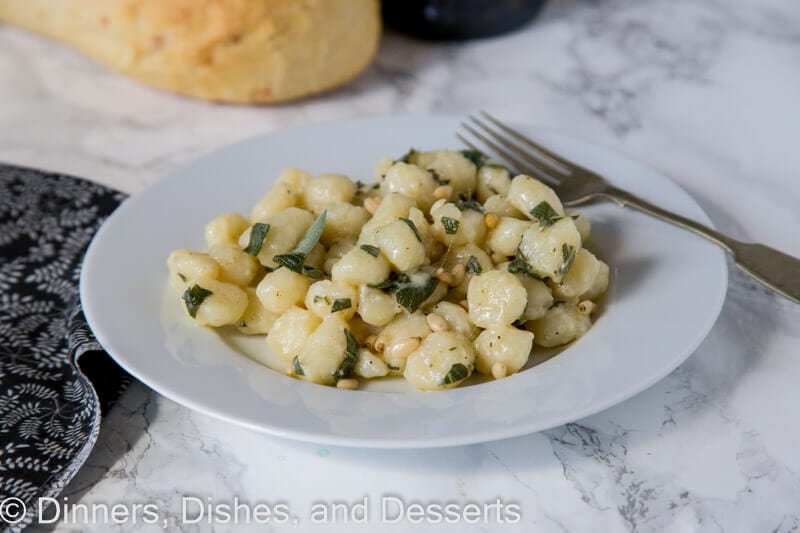 Parmesan Gnocchi with Sage Butter was a last minute addition to their week of meals. I was going through the pantry trying to figure out my lunch the day before I left and found a box of gnocchi. My sage plant is more like a sage bush at this point, so I grabbed a huge handful of it and went to work. The recipe took all of 15 minutes to make. You can not get any easier than that.
Now that the weather is colder, comfort food seems to be on the menu. More pasta, meat, cheese, and less salads. Pretty sure that is not exactly how life should go, but I am just being honest here. There is just something about a steaming bowl of pasta that hits the spot, and that will never change. This bowl of gnocchi was exactly what I wanted.

Melted butter infused with sage leaves. Then mix in hot gnocchi and Parmesan cheese. It all comes together in a delicious bowl of goodness. I topped with a few pine nuts of crunch, but those are totally optional. Parmesan Sage Butter Gnocchi is great for a last minute meal any night of the week. You don't have to have anything thawed or planned ahead, just some pantry staples and dinner is done.
I am sharing the recipe for Parmesan Gnocchi over at Food Fanatic today. Check out this and all the other Easy Dinner Recipes I have shared over there.