Creamy Spring Gnocchi – A great use for leftover ham and spring veggies! Make this creamy spring gnocchi recipe in minutes, plus it is lightened up for spring!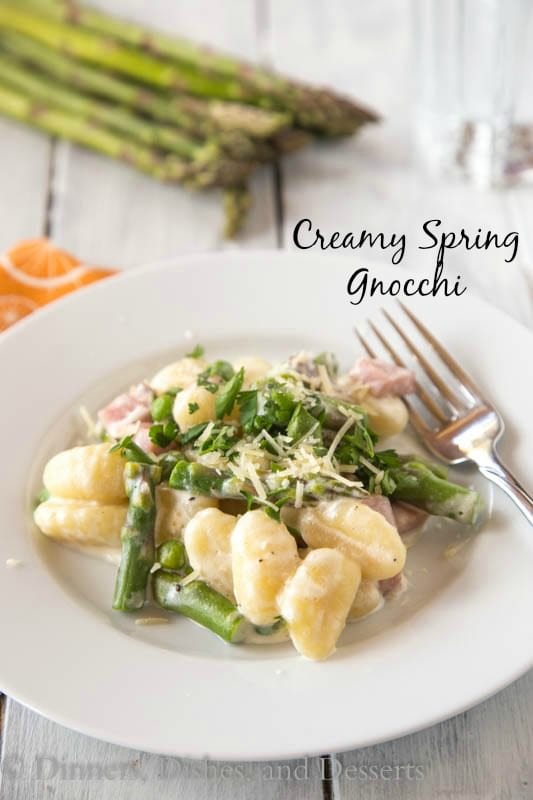 I think that spring has finally sprung around the country!  We have had a week in the 70's here in Colorado, and it is just gorgeous.  I am just crossing my fingers that it actually stays this way.  I think a lot of parts of the country still need to melt out, but I think there really is an end in sight!  Which I guess means we are getting close to swim suit season, which is a whole other problem!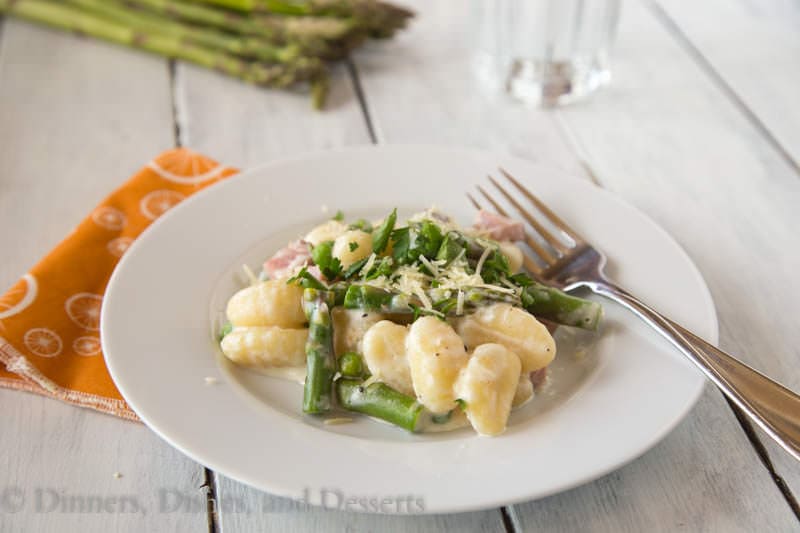 To get ready for summer, I have a creamy spring gnocchi dish full of lots of spring veggies.  Plus it is a great way to use up some of that leftover Easter ham that you are going to have in a few short days.  I can't believe Easter is only 10 days away, this year is just flying by.  That means that in 15 days my 8 year old is going to become my 9 year old.  It might be time to officially start freaking out!  Not sure what is going to happen next year when he enters the double digit stage!
So back to the creamy spring gnocchi.  I took this to cooking club a couple weeks ago, and it received rave reviews.  I think that everyone went back for seconds, and considering how much food is usually there, that means it is good!  The asparagus and peas work really well with the gnocchi, and the lightened up cream sauce was delicious.  I am always looking for different way to use up leftover ham, and this is perfect!  I am sharing this recipe for creamy spring gnocchi over at Food Fanatic as their Easy Dinner fanatic.  There is a fun little giveaway going on with this recipe too, so head over!  Don't miss any of my other easy dinner recipes I have shared with Food Fanatic.