So Valentine's Day is only a few days away.  Do you have plans?  My in-laws are actually visiting us right now, so I am sure we will have a nice dinner at home with all of us.  For years (even before we had a child), my husband and I gave up going out on Valentine's Day.  All the restaurants are too crowded, it just isn't worth it.  So we either make a dinner of fun appetizers, or something a little more special.  This recipe is one that will surely impress your date this year.
I think we all know that homemade trumps store bought most of the time.  There is no comparison between fresh pasta and the dried stuff.  Don't get me wrong, I have a pantry stocked with the dry stuff that I use often.  But for a special night or on a weekend, making it fresh is so much better.  It really isn't that hard either.  Usually we just make linguini, but this time I decided to go all out and try ravioli.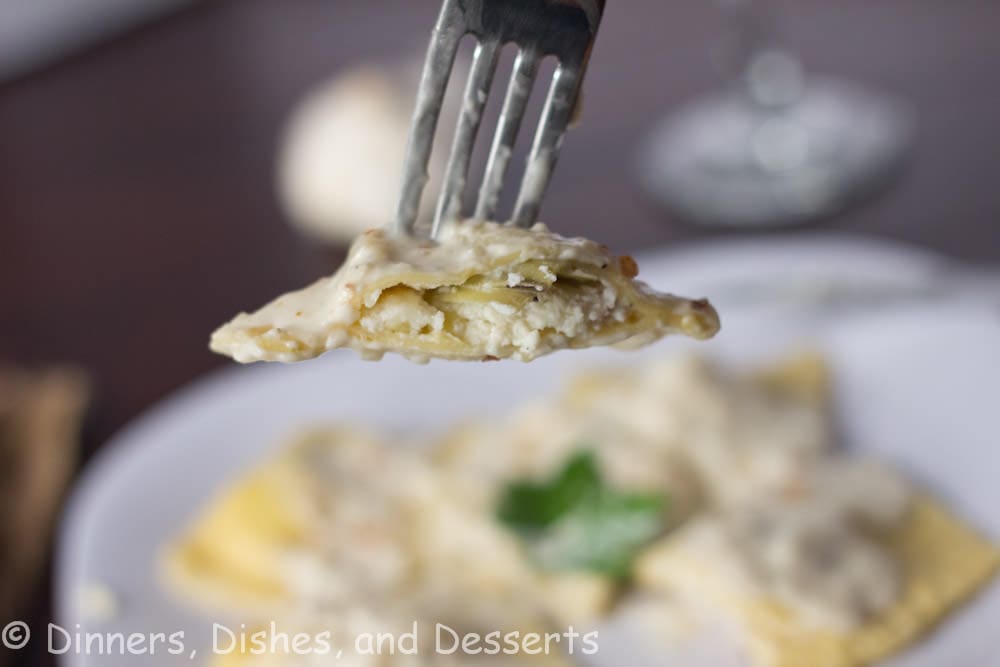 There is no going back now.  There is a package of ravioli that we always buy from Costco.  I made that the other night, and all 3 of us couldn't believe the difference.  I am thinking of making up big batches of this stuff, and freezing it for quick weeknight meals.  I made a chicken and artichoke filling, but you could do whatever you wanted.  Just cheese, sausage, spinach…the options are endless.  I topped ours with a roasted garlic cream sauce.  It was perfect with the light filling.  I have made these twice already we loved them so much!

Homemade Ravioli with a Chicken & Artichoke filling. Topped with a roasted garlic cream sauce.
Ingredients
For Pasta
10

ounces

flour

3

large eggs

Water
For Filling
14

oz

artichoke hearts

, drained and chopped

6

oz

chicken breast

, cooked and chopped

1

egg

, beated

2

cloves

garlic

, grated

1 1/2

cup

ricotta cheese

2/3

cup

Mozarella cheese

1/2

tsp

salt

1/2

tsp

black pepper
For Sauce
8

cloves

roasted garlic

, minced

2

tsp

butter

1

cup

heavy cream

1/4

cup

Parmesan cheese

1/2

tsp

salt

1/4

tsp

black pepper
Instructions
For the pasta; In a food processor pulse the flour a few times. Add the eggs, and pluse for about 30 seconds, until it starts to form a ball. Add water (1 tsp at a time) if needed to get the dough to come together. Knead on a clean dry counter top for 1-2 minutes, until the dough is very smooth. Cover with plastic wrap and allow it to rest for at least 15 minutes, up to 2 hours.

If using a pasta roller, roll through the roller at the largest setting. Then fold the ends in to meet at the end. Place through the roller 2 more times. Then start to move the settings smaller, and roll until you can see the outline of your hand through the dough.

For the filling; Mix all of the ingredients for the filling together. Place about 1 Tbls of filling 2 inches apart on a sheet of dough. Fold the dough over to cover the filling.

Press the air out, and seal shut, use a fork if necessary. Place on a baking sheet until ready to cook. Pasta will cook in 4-6 minutes in a large pot of boiling water.

To make the sauce; Melt the butter in a small pot. Saute garlic for 1 minute.

Add heavy cream, and bring to a simmer. Whisk in Parmesan cheese. Let simmer over low heat for 3 minutes.

Garnish pasta with crushed red pepper and more Parmesan cheese
Recipe Notes
Pasta recipe from Cook's Illustrated