French Bread Rolls – Easy dinner rolls that are warm and fluffy on the inside and just a little bit crusty on the outside. Perfect pairing with just about any dinner!
Nothing smells better than fresh bread! The whole house just smells amazing when it starts to bake and it is all I can think about. These French Bread Rolls are one that is super easy to make, and you can really serve them with just about anything.
Break them open and smear a little butter on the inside and it is carb heaven!
Bread and yeast can be intimidating, I get it. So many people shy away from making it at home, because they are just worried about what will happen. Well, this is a super easy recipe and I have tips to help you. So stick around, read the tips and start baking bread!
Trust me, what is the worst thing that can happen? You get a dense roll that is still freshly baked? Bread may not turn out exactly how you want it to the first time, even mediocre fresh baked bread is better than no bread!
What You'll Need
Warm Water
Active Dry Yeast
Sugar
Salt
Vegetable Oil
Bread Flour
All-Purpose Flour
One of the big keys to working with yeast is making sure that your water is the right temperature. You want it to be about 110º F. This is a perfect temperature for the yeast and sugar to feed off each other and activate. If it is too cold, the yeast won't activate. If it is too hot, it can kill the yeast. So use a thermometer and measure the temperature.
How To Make French Bread Rolls
Start by measuring the water in a 2 cup measuring cup. Stir in the sugar and yeast and allow it to rest for about 10 minutes. It will start to foam up and "bloom". This is the yeast doing its thing. If yours doesn't foam up, it could mean your yeast is expired or your water temperature was off. Check these things and start again if necessary.
Next mix together the bread flour with the salt and vegetable oil. Pour in the yeast mixture and stir in the remaining flour 1/2 cup at a time, until it starts to form a ball. You may not quite use all of the flour, it depends a little on the climate and how accurately you measured the water.
Once you have a ball of dough, knead for about 5-6 minutes. if you are using a stand mixer, knead for 5 minutes. Your dough should be nice and smooth.
Place in a well oiled bowl, cover and let it rise for about an hour, or until it is doubled in size.
Punch down the dough, and divide into 16 equal pieces of dough. Use your middle finger and your thumb to roll the pieces of dough on the counter to form smooth round ball.
Place on a lined baking sheet, cover and let rise for about 30 minutes.
Bake the rolls for about 20 minutes until they are golden brown on the outside, and sound hollow when you knock on them.
Brush with melted butter and serve warm.
Storage
These dinner rolls last for about 4-5 days, just keep them in an airtight container. You can re-warm them in the oven if you want to get the outside a little crust again before serving.
Can You Freeze French Dinner Rolls
Absolutely. You have multiple options with freezing. You can freeze after they are baked or before.
To Freeze Baked Rolls – simply put them in a freezer safe plastic bag and store in the freezer. They will last 2-3 months in the freezer. You can remove and let them thaw on the counter. Place them in a hot oven if you want to warm them up before serving.
To Freeze Unbaked Rolls – Once you roll the balls of dough, instead of letting them rise for 30 minutes, place them in the freezer. After about 1-2 hours, when they balls are completely frozen, place them in a freezer safe plastic bag. When you are ready to bake them, remove from the oven and let them sit out for 1-2 hours, or until they are thawed and have doubled in size. Then you can bake according to the recipe. this will be similar to the frozen rolls you buy at the grocery store for instructions and how they work.
Soups To Go With Dinner Rolls
Tips For Baking With Yeast
Pay attention to the temperature of you liquid. You need the water or milk to be warm, but not really hot. If there is a temperature listed in the recipe, actually measure the temp of your water to make sure it is accurate. If the water is too hot you will kill the yeast and it will not rise. If the water is too cold the yeast will not grow and your bread will not rise.
Use good yeast. You want to make sure your yeast is not expired and is stored in the proper conditions. Storing it in the fridge is the best bet. If the yeast is expired, toss it and get new stuff. Yeast it was makes your bread rise, so it is important to make sure it is fresh.
Knead your dough. You can use an electric mixer with a dough hook or your hands, but make sure you follow the recipe. If it says knead for 10 minutes, watch the clock and knead for 10 minutes. When I first started making bread I just estimated and had a lot of failures.
Let your bread rise. Yeast likes to feed on the sugar and rise in a slightly warm dark place. If it is winter and your house is cold, place your bowl of dough near a heat vent. If you have a bread proof setting on your oven, use it.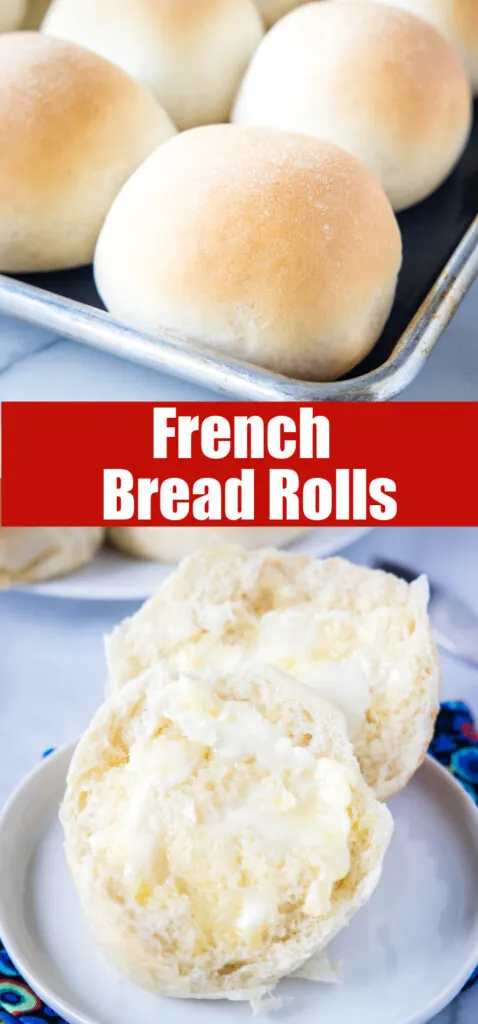 Yield: 16
French Bread Dinner Rolls
French Bread Rolls - Easy dinner rolls that are warm and fluffy on the inside and just a little bit crusty on the outside. Perfect pairing with just about any dinner!
Total Time
2 hours
25 minutes
Ingredients
1 1/2 cups warm water, (about 110º F)
1 Tablespoon active dry yeast
2 Tablespoon granulated sugar
2 Tablespoons vegetable oil
1 1/4 teaspoon salt
2 cups bread flour
2 cups all-purpose flour
2 Tablespoons melted butter
Instructions
In a 2 cup measuring cup, stir together warm water, yeast, and sugar. Let stand for 10 minutes, or until foamy.
In stand mixer bowl combine 2 cups of bread flour, salt, oil, and the yeast mixture. Add the remaining all-purpose flour 1/2 cup at a time, until the dough pulls away from the sides, and forms a ball.
Turn mixer on low, using the dough hook, and let mix for 5 minutes. If you don't have a stand mixer you can knead it by hand for about 5-8 minutes.
Place dough in a lightly oiled bowl. Cover and let rise until doubled in volume, about 1 hour.
Press dough down, and form into 16 balls of dough. Roll into round balls, and place on a lined baking sheet, about 2 inches apart. Cover and let rise for 30 minutes, or until the rolls have doubled in size.
Preheat over to 400º F.
Bake rolls for 20-25 minutes, until golden brown and they sound hollow when you knock on them.
Brush with melted butter while hot and serve warm.
Notes
Recipe from Mommy's Kitchen
Nutrition Information
Yield
16
Serving Size
1
Amount Per Serving
Calories

137
Total Fat

2g
Saturated Fat

0g
Trans Fat

0g
Unsaturated Fat

2g
Cholesterol

0mg
Sodium

183mg
Carbohydrates

25g
Fiber

1g
Sugar

1g
Protein

4g
Nutrition Disclaimer: All information presented on this site is intended for informational purposes only. I am not a certified nutritionist and any nutritional information shared on dinnersdishesanddesserts.com should only be used as a general guideline.
I created a fun group on Facebook, and I would love for you to join us! It's a place where you can share YOUR favorite recipes, ask questions, and see what's new at Dinners, Dishes and Desserts (so that you never miss a new recipe)!
Be sure to follow me on Instagram and tag #dinnersdishes so I can see all the wonderful DINNERS, DISHES, AND DESSERTS recipes YOU make!
Be sure to follow me on my social media, so you never miss a post!
Facebook | Twitter | Pinterest | Instagram
Did you know there is a Dinners, Dishes, and Desserts SHOP? Lots of different E-Books for sale. Or you can buy me a coffee to say thanks!