Chocolate Chip Coffee Cake – A light and fluffy coffee cake with a layer of chocolate chip streusel in the middle and on top!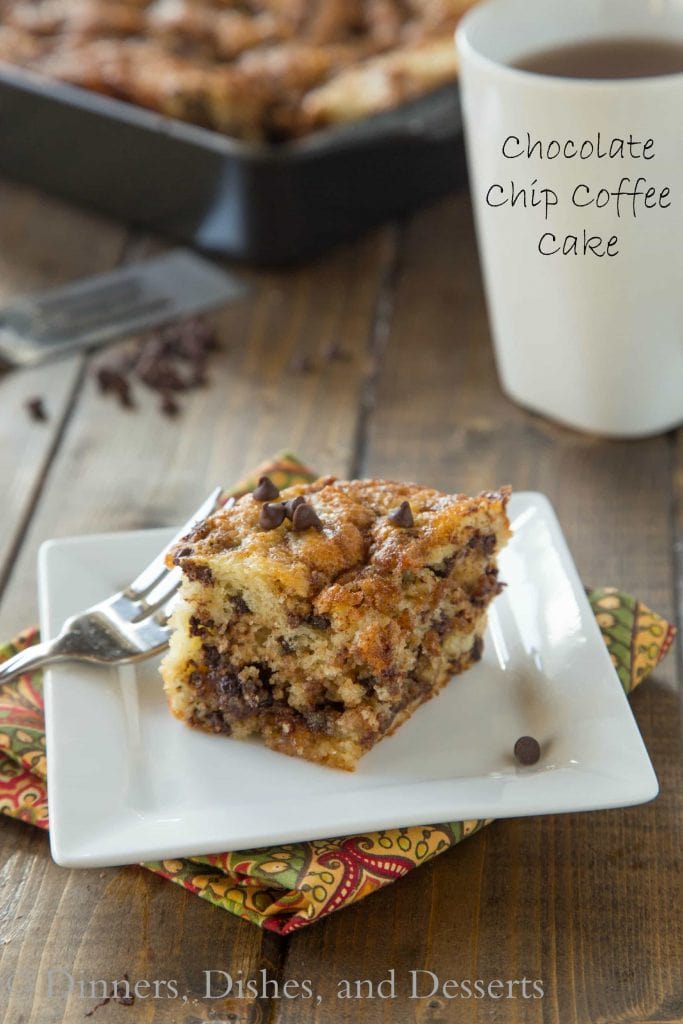 I hope that everyone had a wonderful and relaxing weekend. We celebrated my husband's birthday, and he got to do whatever he wanted. After traveling for work, and being busy, he didn't want to do much. But to be able to sit around, guilt-free, is worth something! We did get some stuff done around the house, so that was at least productive. I still can not figure out why there is always so much do to around the house. I mean, we pick up and clean up after ourselves daily, but at the end of the week the house is a mess and there is so much to do. I think I just need to have a live in housekeeper! If anyone wants to fund that, just let me know!
Coffee cake is one of my son's all time favorite breakfasts. Whenever we visit my parents, it is required that my mom makes coffee cake one day for breakfast. I am not sure how this tradition got started, but it is completely understood that this is what happens. No one has to say anything, it is just in the plans. My mom has been making this coffee cake recipe since I was little, and I think it is what my grandma made for her as well. Super basic, but so good! I decided to dress it up a little bit and add one of my favorite things…..chocolate!
Chocolate is never wrong, so I knew this would be good. I mixed a few chocolate chips into the batter, but also put them in the cinnamon streusel mixture. Awhile ago I made this Apple Pie Bread with Chocolate Chip Streusel, and I have been wanting to make that streusel again. And using it for coffee cake seems like such a great choice. Perfectly light and fluffy cake, with lots of cinnamon flavor and then just a little bit of chocolate. Perfect for breakfast or even just a snack. My son warmed up the leftovers for breakfast a few days until it was gone. He was in heaven having his favorite breakfast multiple days in a row!
Yield: 8
Chocolate Chip Coffee Cake
Chocolate Chip Coffee Cake - A light and fluffy coffee cake with a layer of chocolate chip streusel in the middle and on top!
Ingredients
Cake
1 1/2 cups flour
3/4 cups sugar
2 1/2 tsp baking powder
1/4 tsp salt
1/4 cup canola oil
3/4 milk
1 egg
1/2 cup mini chocolate chips
Topping/Filling
3/4 cup brown sugar
3 tsp cinnamon
3 Tbsp butter
1/4 cup mini chocolate chips
Instructions
Preheat oven to 375 degrees. Spray a 8 inch baking pan with non-stick spray. Set aside.
In a bowl mix together flour, sugar, baking powder, salt and chocolate chips. In a 2 cup liquid measuring cup, mix together oil, milk and egg. Add to flour mixture, mixing until just combined.
In a small bowl, use your fingers to combine brown sugar, cinnamon, and butter until the texture of coarse sand. Mix in chocolate chips.
Spread half cake batter in pan. Sprinkle with half topping/filling. Top with remaining cake batter and then remaining topping/filling.
Bake 25-30 minutes.
Nutrition Information
Yield
8
Serving Size
8 Servings
Amount Per Serving
Calories

424
Total Fat

17g
Saturated Fat

7g
Trans Fat

0g
Unsaturated Fat

10g
Cholesterol

37mg
Sodium

287mg
Carbohydrates

66g
Fiber

2g
Sugar

44g
Protein

5g
Want even more breakfast recipes?
Be sure to browse through my Recipe Index for even more breakfast ideas! Follow along on Pinterest to never miss a recipe!