So who watched the big game last night?  More importantly, who had some great food they want to share?  I made a new version of Nutella Brownies that I will be sharing with you sometime soon.  They were so fudgy, it was hard to actually bring the pan to the party, and not just keep them for myself.  I also made an Artichoke Jalapeno dip that my husband loves.  It was a great time with friends, good food and good drinks.  I think we only half paid attention to the game.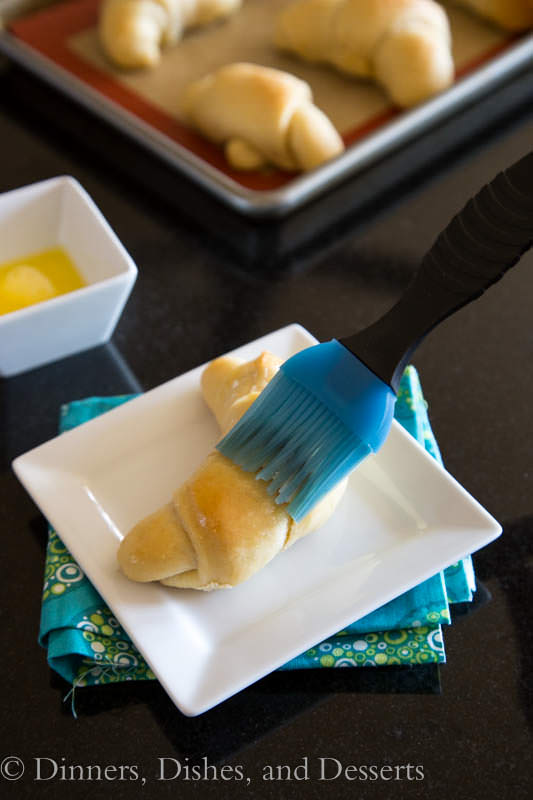 If you are a regular around here, you know that I like fresh bread.  There is just something special about measuring out the flour, kneading the dough, watching it rise, and then getting a perfect loaf of bread.  It makes the whole house smell good, and there is a great sense of accomplishment when you cut into it and get to take the first bite.  We will pretty much use any excuse to have bread with a meal.  Pasta?  Why not add more carbs?  Soup?  You have to have something to dip with!  Pork chops?  Why not!
I have seen a few versions of crescent rolls around recently, and I have been curious to try them.  Not sure why, but it never dawned on me that you could make them from scratch.  I almost never buy them, but I am used to crescent rolls coming out of a tube.  Ok, that just sounds strange as I type it.  Bread from a tube?  Moving on….  Crescent rolls are actually pretty darn easy to make.  They are also super light and fluffy.  This recipe makes quite a few, but they are great reheated the next day.  You could even wrap the dough and freeze it before the last rise.

Crescent Rolls
Light and fluffy homemade crescent rolls
Ingredients
1

(1/4 oz) package active dry yeast

1/4

cup

warm water

(110 to 115 degrees)

1/2

cup

+ 1 Tbls sugar

, divided

3/4

cup

warm milk

(110 to 115 degrees)

3

eggs

, beaten

1/2

cup

butter

, softened

1

tsp

salt

5

to 5-1/2 cups all-purpose flour

Melted butter
Instructions
In bowl of an electric mixer; mix together yeast and warm water. Add 1 Tbls sugar, and let stand for 5 minutes until foamy.

Add 1/2 cup sugar, milk, eggs, salt and butter. Slowly add enough flour to form a stiff ball. Turn onto a floured surface and knead for 6 to 8 minutes. Add additional flour if needed. Dough will be smooth and elastic when done.

Place dough in a well oiled bowl, turning to coat. Cover and let rise for about 90 minutes, or until doubled in size.

Punch down the dough, and divide into 3 equal parts. Roll each part into a 12 inch circle. Using a sharp knife cut each circle into 8 wedges.

Roll up the wedges, starting with the wide end going towards the point. Place on a lined baking sheet with the pointed end down. Cover and let rise for 30 minutes.

Preheat oven to 375 degrees.

Bake for 10-12 minutes until golden brown. Remove from oven and brush with melted butter if desired.