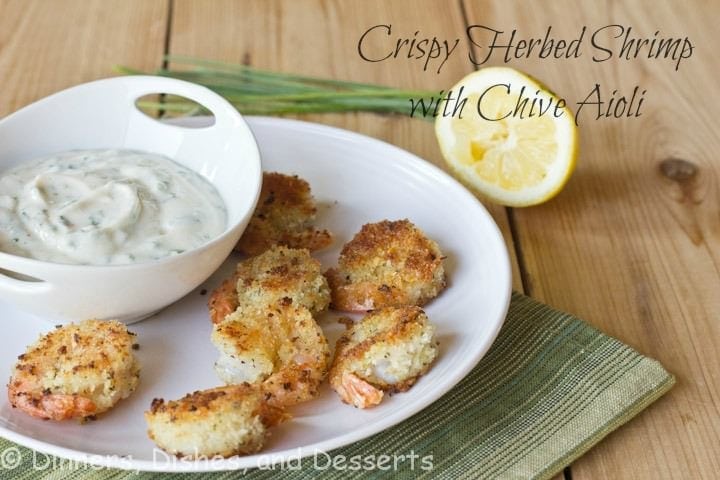 Today is the first day of school! Exciting and sad all at the same time. Hopefully 2nd grade will be great, and maybe teach my kid a thing or two. Maybe if they worked on math and science with food that could have real life applications. Like, say you really like fried fish, and your mom says fried shrimp is for dinner. Will you like it? Well….fish live in the ocean, and shrimp live in the ocean. Both are fried. So YES I will like it, and there is no reason to complain!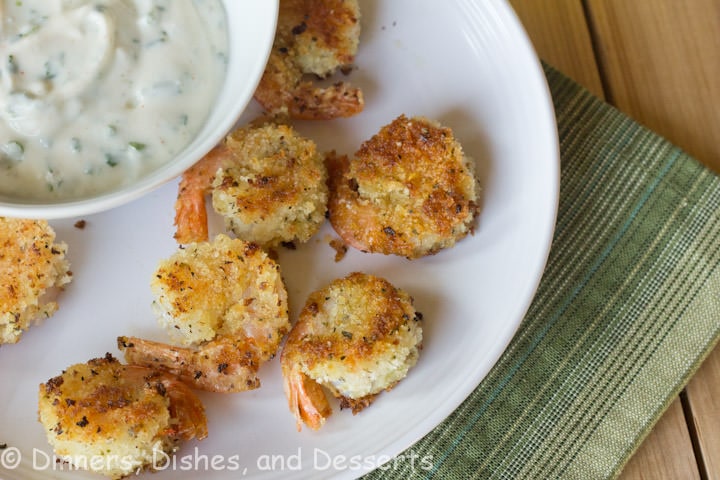 This may have been the argument when I made this shrimp for dinner the other day. My 7 year old started complaining when he saw me take shrimp out of the fridge. I tried to tell him he would like it, and all would be fine, but he just wouldn't believe me. That is until it was time to eat. Then he ate the shrimp like crazy. When I asked him about it he said "well yeah mom, shrimp are seafood, and I like seafood." So there you go, maybe I missed my calling as a teacher.
These shrimp aren't actually "fried". It is a Cooking Light recipe, so they are sauteed in olive oil to get a crispy coating without lots of added calories and fat. Fried shrimp is my favorite way to eat shrimp, and this healthier version did not disappoint. It was crispy, full of great flavor, and the dipping sauce paired perfectly with it. We had roasted potatoes with our shrimp, and the aioli also served as a great dip for the potatoes. I switched up the herbs called for in the original recipe, because I didn't have them on hand, but you could use any herbs (dried or fresh) that you like.
Yield: 4
Crispy Herbed Shrimp with Chive Aioli
A healthy version of fried shrimp. Served with a lemon and chive dipping sauce. Quick and healthy dinner.
Ingredients
3/4 cup panko breadcrumbs, , divided
2 tsp Italian seasoning
1/4 tsp red pepper flakes
2 Tbls cornstarch
2 egg whites, , beaten
1 pound shrimp, , peeled and deveined
1/4 tsp salt
1/4 tsp black pepper
1/4 cup olive oil
Aioli
1/2 cup plain Greek yogurt, (I used non-fat)
1/4 cup mayo, (I used light)
3 Tbls fresh chives, , chopped
1 Tbls lemon juice
1/2 tsp cayenne pepper
Instructions
Start by making the aioli. In a small bowl stir together all of the ingredients. Set aside until ready to use. You can store leftovers in an airtight container in the fridge.
In a small food processor combine 1/4 cup panko, Italian seasoning and the red pepper flakes. Pulse until well combined. Transfer to a shallow bowl. Add the remaining 1/2 cup of panko, and stir to combine. Place the egg whites in a shallow bowl. In a 3rd shallow bowl put the corn starch. Season the shrimp with salt and pepper. Working a few shrimp at a time, coat with the cornstarch (making sure to shake off the excess), dip into the egg whites, and then press into the panko. Transfer coated shrimp to a plate or small baking sheet, while you repeat with the rest of the shrimp.
Heat 1 1/2 Tbls in a large skillet over medium-high heat. When the oil is hot add about 1/2 the shrimp to the pan. Becareful not to over crowd the pan. Cook for about 2 minutes per side or until golden brown and cooked through. Remove from pan, and repeat the process with the rest of the shrimp.
Serve with the aioli dipping sauce.
Notes
Nutrition Information
Yield
4
Serving Size
1
Amount Per Serving
Calories

430
Saturated Fat

3g
Cholesterol

292mg
Sodium

1235mg
Carbohydrates

17g
Fiber

1g
Sugar

2g
Protein

29g