Garlicky Crock Pot Mashed Potatoes – make your favorite mashed potatoes in the slow cooker!
I am sitting here typing this, and I think my house might blow away. It is crazy windy, like 40+ mile an hour winds. Stuff is just blowing by the windows in the back of my house, and it is just loud. It is a perfectly sunny day too, not a cloud in the sky. Thankfully it wasn't quite as windy yesterday with garbage day, or the neighborhood would be a real mess. But it makes me want to just curl up inside and not go out at all today. Too bad that isn't an option.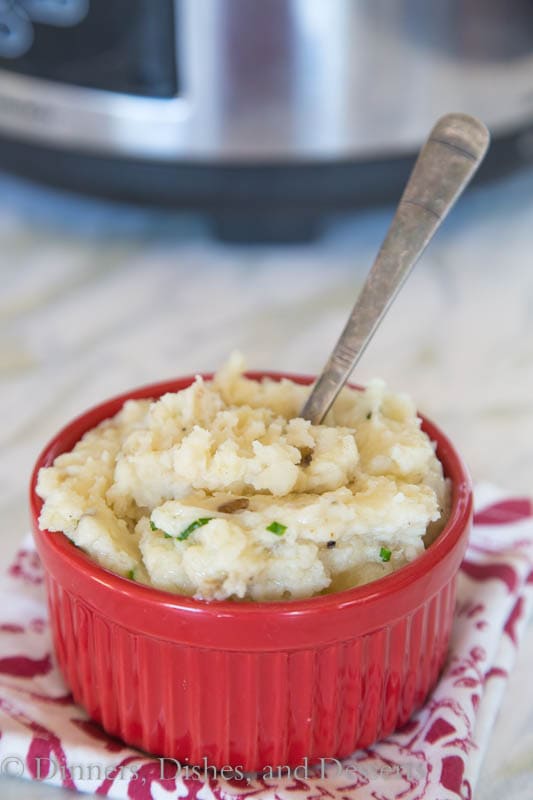 I think that mashed potatoes is one of the most popular side dishes during the holidays. But sometimes dealing with making them can be kind of a pain, especially when you have 8 other things you are trying to work on. Which is why these crock pot mashed potatoes are such a great recipe to have in your back pocket. They are even great if you are bringing a dish, because they can stay creamy and hot even while you transport them. Plus, making mashed potatoes in the slow cooker could not be easier!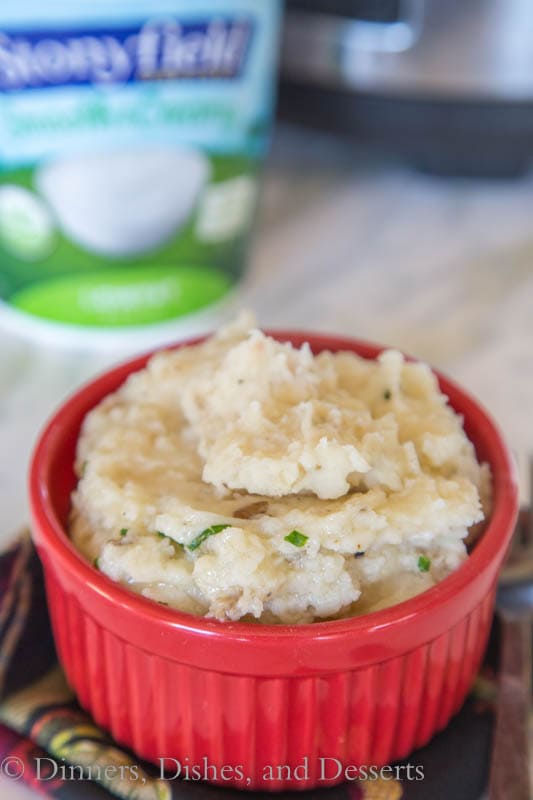 Garlicky mashed potatoes are definitely a favorite in our house. Creamy, buttery, galicky mashed potatoes are a big hit. And these crock pot mashed potatoes are no different. All you have to do is peel (if you like your potatoes peeled), and chop the potatoes. Then the slow cooker does the rest of the work. You come back 3-4 hours later, mix in some Stonyfield yogurt, milk, salt and pepper, and you are good to go! You can spend that time visiting with family and friends, working on something else, or just relaxing! These garlicky crock pot mashed potatoes are great for more than just holidays too! And you can change up the flavors with different add-ins to mix it up each time. Or stick with garlicky mashed potatoes, because those are always a winner.
Yield: 8
Garlicky Crock Pot Mashed Potatoes
Garlicky Crock Pot Mashed Potatoes - make your favorite mashed potatoes in the slow cooker!
Total Time
4 hours
10 minutes
Ingredients
3 pounds potatoes, , peeled and cut into 1 inch cubes
1/2 cup chicken stock, (or water)
4 cloves garlic, , minced
5 Tbls butter, , divided
1/2 cup heavy cream, (or half and half I used today)
2/3 cup plain yogurt
salt and pepper to taste
Instructions
Put potatoes, chicken stock, garlic, and 2 Tbls butter (cut into cubes) into the slow cooker. Cook for 3-4 hours on high.
Mash or use a mixer to get your desired consistency. Mix in yogurt, cream, and salt and pepper. Top with cubes of remaining butter, stir in to serve.
Nutrition Information
Yield
8
Serving Size
1
Amount Per Serving
Calories

292
Total Fat

13g
Saturated Fat

8g
Trans Fat

0g
Unsaturated Fat

4g
Cholesterol

37mg
Sodium

150mg
Carbohydrates

39g
Fiber

4g
Sugar

4g
Protein

6g
**I developed this recipe for part of the Stonyfield Clean Plate Club. All thoughts and opinions are 100% my own.