Roasted Butternut Squash – roasted butternut squash that is tossed with butter, sage, and toasted walnuts. Great side dish for fall.
Well, it is officially fall in Colorado. We were close to 80 last week, and this week we had a couple of days that barely hit 50. It was rainy and cloudy, so fall is here. And that means time for comfort food, the crockpot, squash, pumpkin, and anything else fall related. As I type this I am cuddled up on the couch under a blanket wearing my new comfy flannel shirt, so I think I am fully embracing the new season.
Time to break out the skinny jeans and the boots! Now if I only liked coffee, I could complete the picture with a pumpkin spiced latte. But I just can't do it!
INGREDIENTS
Butternut Squash– This is the star of the recipe.
Non-stick Spray– Helps keep the squash from sticking to the pan and keeps it from drying out while roasting.
Salt– Just a little goes a long way.
Black Pepper– To add just a little kick to the flavor.
Butter– Adds an additional element of creaminess and helps the sage stick to the squash.
Chopped Walnuts– A surprising crunch that compliments the tender texture of roasted vegetable.
Fresh Sage– Is a surprising addition to this recipe, but it just works.
HOW TO MAKE ROASTED BUTTERNUT SQUASH
You're not going to believe how incredibly simple this butternut squash recipe is. Just four easy steps will give you a hands-off side dish that is as delicious as it is nutritious.
Preheat your oven. Let the oven heat completely before you pop your dish full of squash in. Otherwise, the time listed will not be long enough for the butternut squash to cook through.
2. Place cubed squash onto a baking sheet, making sure it is in a single layer. This ensures it cooks evenly throughout.
3. Spray with nonstick spray and add salt and pepper. Give it a toss to make sure all of the pieces are seasoned well.
4. Bake for 20-25 minutes. The time may vary depending on how large you cut your cubes of butternut squash, so check them often around the 20 minute mark, and pull them out of the oven when they are perfectly tender.
5. Remove from the oven and toss in finishing ingredients. Don't be shy with the butter, walnuts, and sage. All of these flavors pair perfectly and are what make the roasted butternut squash shine.
6. Serve immediately. The warm, melty butter makes this dish best served hot.
Believe it or not, I only discovered that I liked squash a couple of years ago. We never had it growing up, so it took me a while as an adult to get brave enough to try it. However, my husband did grow up with squash, but really only ever had it in a soft or mashed (like mashed potatoes) form. Lately, I have been trying to mix our menu up a bit.
This time I tried roasting cubes of butternut squash. Once they were tender, but slightly browned on the outside I tossed them with butter, sage, and toasted walnuts. This butternut squash side dish totally embraces all things fall. Much to my surprise, my family fell in love with the new texture and flavors.
DO I NEED TO PEEL BUTTERNUT SQUASH BEFORE ROASTING?
When roasting butternut squash, removing the peel before you roast it is completely optional. The uncooked peel can be really tough when the vegetable is uncooked, but once it is roasted it becomes very tender and is completely edible.
If you have issues with a picky eater or texture aversions, you may consider peeling the butternut squash before you cube and roast it. The texture of the peel is slightly different than the inside of the squash and removing it makes it easier to convince beginner squash eaters (like I was!) to try it.
IS BUTTERNUT SQUASH A BAD CARB?
I've never been one to count carbs when I cook, but I know that following a low carb or keto lifestyle is extremely popular, so I wanted to include this little tidbit of information. If you're watching your carbohydrate consumption and are looking for a great substitute for potatoes, roasted butternut squash is absolutely an option.
The texture of the roasted butternut squash is very similar to roasted potatoes will still being relatively low in carbs. Half of a cup of roasted butternut squash is only 7.5 net carbs per serving. This recipe also includes walnuts, which also happen to be low in carbs and high in healthy fats. So, go ahead and enjoy the recipe as written (within moderation) to stay on track with your low carb lifestyle.
TIPS AND TRICKS
This roasted butternut squash is so simple, you may laugh when I suggest tips or tricks to making it. However, I'm all about making recipes right the first time.
Use these tips and tricks to make sure you fall in love from the first bite:
Peel your squash so it cooks faster
Cut in to cubes that are as close to the same size as possible. This will ensure your squash is consistently cooked.
Don't skimp on the toppings. The butter, sage, and walnuts are our favorite part of the dish.
Use fresh sage over dried sage when at all possible. It is so much more delicious and flavorful.
WHAT GOES WELL WITH ROASTED BUTTERNUT SQUASH?
I am not sure why, but I think of sage as a fall spice. I grew it in my garden all summer long, so it isn't like it is fall food. But still, when I think sage, I think comfort food.
So, it seemed like the perfect pairing for this roasted butternut squash. I served with pork chops and even my 10 year old, who has something against vegetables, ate this. He loves pretty much anything pumpkin, so I can get away with telling him that pumpkin is really a variety of squash. I am slowly converting him. Don't tell him though!
This Butternut Squash recipe makes the perfect side dish to serve with your favorite protein. Here are a few of my favorite dinner recipes to serve it with:
MEAL PREP AND STORAGE
If you live a busy lifestyle and like the option to mealprep, roasted butternut squash is also a great option for you. If you're planning on cooking this recipe to eat later, get the freshest flavors when reheating by leaving the butternut squash separate from the butter, walnuts, and sage and add when after the squash is reheated.
To store the butternut squash, simply place in an air tight container and put it in your refrigerator. Hearty squash typically last between 3-5 days after roasting when stored properly.
MORE TASTY SQUASH RECIPES
If you love this Roasted Butternut Squash as much as we do, make sure you share it with your friends so they can try this recipe too!
Yield: 4
Roasted Butternut Squash with Sage and Walnuts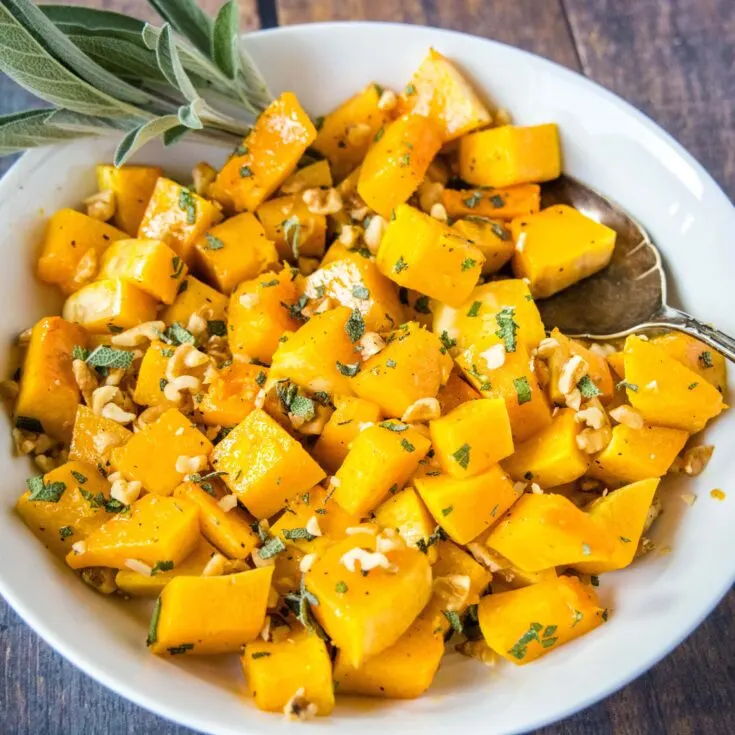 Roasted Butternut Squash with Sage and Walnuts - roasted butternut squash that is tossed with butter, sage and toasted walnuts. Great side dish for fall.
Ingredients
1 pound butternut squash, peeled and cubed
non-stick spray
1/4 teaspoon salt
1/4 teaspoon black pepper
1 Tablespoon butter, melted
3 Tablespoons chopped walnuts, toasted
1 Tablespoon fresh sage, finely chopped
Instructions
Preheat oven to 425 degrees.
Place cubed squash onto a baking sheet in a single layer. Spray with non-stick spray. Sprinkle with salt and pepper, tossing to coat
Bake for 20-25 minutes, until tender and slightly browned.
Remove from oven and toss with melted butter, walnuts and sage.
Serve immediately
Nutrition Information
Yield
4
Serving Size
1
Amount Per Serving
Calories

108
Total Fat

7g
Saturated Fat

2g
Trans Fat

0g
Unsaturated Fat

4g
Cholesterol

8mg
Sodium

173mg
Carbohydrates

13g
Fiber

4g
Sugar

2g
Protein

2g
I created a fun group on Facebook, and I would love for you to join us! It's a place where you can share YOUR favorite recipes, ask questions, and see what's new at Dinners, Dishes and Desserts (so that you never miss a new recipe)!
Be sure to follow me on Instagram and tag #dinnersdishes so I can see all the wonderful DINNERS, DISHES, AND DESSERTS recipes YOU make!
Be sure to follow me on my social media, so you never miss a post!
Facebook | Twitter | Pinterest | Instagram
Did you know there is a Dinners, Dishes, and Desserts SHOP? Lots of different E-Books for sale. Or you can buy me a coffee to say thanks!