Peaches and Cream Coffee Cake
Peaches and Cream Coffee Cake – Fresh peaches give a bright and delicious twist to classic coffee cake. Enjoy with breakfast, coffee, dessert, or just because!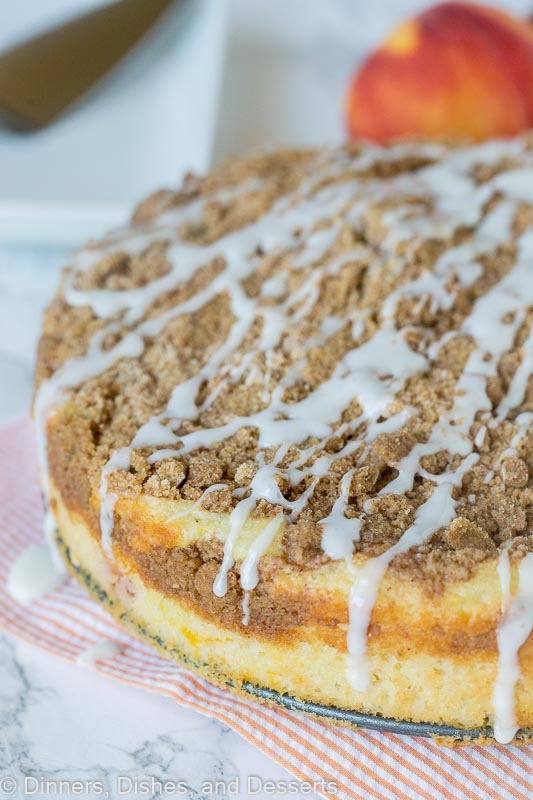 Fresh peaches are all over the place right now! What are you doing with them?  I picked up a bag at the farmer's market this week, so I am useing them every where!  Peach Cobbler Muffins are coming out of the oven as I type this. They smell so good! And making some Peach Tea Punch this afternoon.
Going to have to save some so I can make this peaches and cream coffee cake again. It was insanely good and easy!  I shared the first one of these I made with a friend. She had a house full of guests, so I knew they would eat it. Pretty sure it was a big hit there. Everyone raved about it when I saw them later in the week.
Click HERE to get the full recipe.
We love coffee cake at my house. My son loves just about anything with cinnamon. It is a special thing for him, that every time he is with my parents, my mom makes her coffee cake for him for breakfast. This has been going on since he was probably 4 years old, and I don't see it ending anytime soon.
A couple years ago I made chocolate chip coffee cake, from the base coffee cake recipe I grew up with. Today I am using that base recipe to make peaches and cream coffee cake! Great use for those fresh summer peaches that are available right now.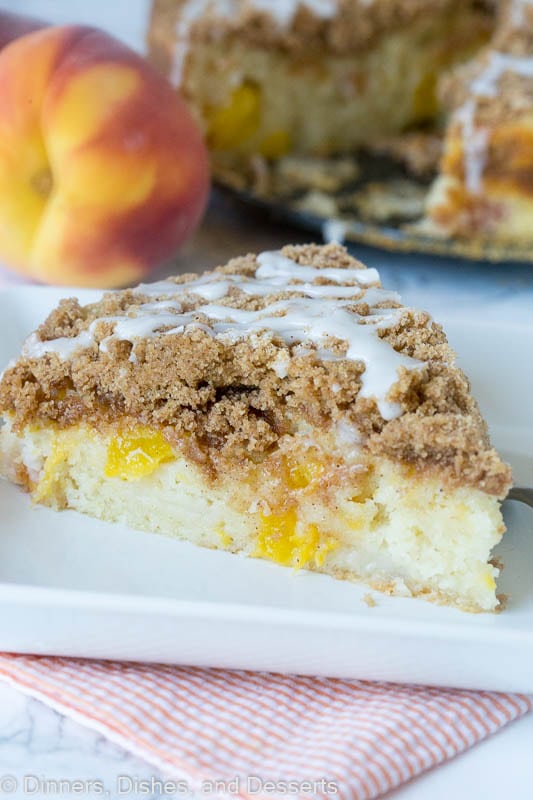 Usually I make my coffee cake in an 8 inch square pan, but this time I used my spring form pan. Either one will work for sure! I just wanted to be able to drizzle the glaze over the sides, so the spring form pan worked better for that. But if you don't have one, no worries, you can just use a regular baking dishes to make thie peaches and cream coffee cake.
So if you are looking for breakfast, a snack, something to enjoy with your coffee or even dessert I have you covered! This coffee cake covers all the bases and is super easy to throw together.
I am sharing this recipe over at Imperial Sugar today. Click on Peaches and Cream Coffee Cake to get the recipe.
**I have an ongoing relationship with Imperial Sugar for recipe development. I was compensated for my time to create this recipe. All thoughts and opinions are 100% my own.