Pecan Pie Egg Rolls – instead of traditional pecan pie, turn it into something fun.  Gooey pecan pie filling inside of a crispy egg roll and topped with whipped cream!
What is your favorite Thanksgiving dessert? I think the most popular are pumpkin pie and pecan pie. We have pumpkin pie every year at my house. My uncle's favorite is pecan pie, so every once in awhile it would make an appearance at our house.
This year I am mixing things up though, and I might just skip pie all together! Thinking Pumpkin Dump Cake so we have the pumpkin side covered. And then Pecan Pie Egg Rolls instead of the traditional pie. Sounds like a good day, right?
Click HERE to get the full recipe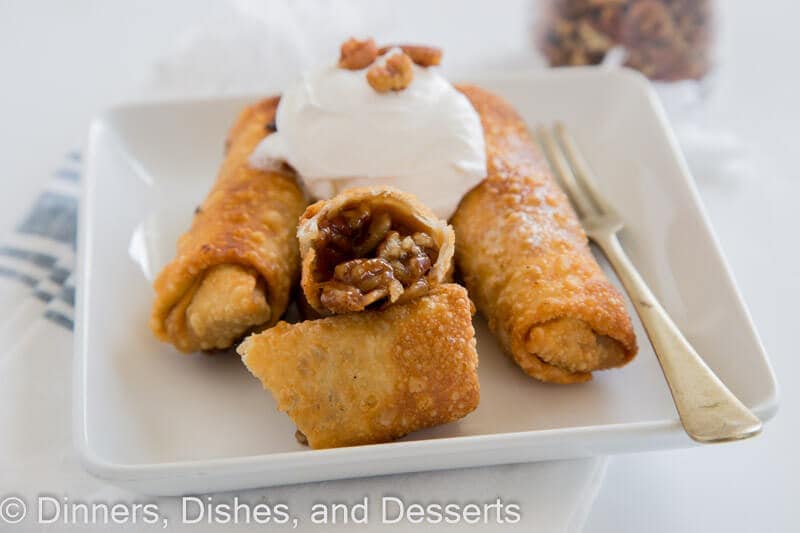 I am excited for this recipe today, it is so darn good!  To be honest, nuts in dessert has never been my favorite thing. So I usually avoid them. I don't think I ever tried pecan pie when I was a kid. But as I am getting older, I think I should branch out and be more mature. Nuts in dessert seems like the mature thing. So here we go!
I have made this pecan pie filling twice in the last week. I gave a friend a few of these egg rolls, and she said her husband and son stood over them, and finished them all at once. I also sent a batch to work with my husband, and he came home just 2 hours later with an empty tray.
Usually when you make pecan pie, you mix all the filling ingredients together, and it bakes in the oven and sets up that way. To make these egg rolls, I cooked everything on the stove top to let it boil and thicken that way. Then I let it cool completely, so I could fill the egg rolls easily and not have it melt the wrappers. Then deep fry until crispy, golden and perfect!
The best thing about pie is topping it whipped cream! So of course we did that here. Let the egg rolls drain, and then top with whipped cream to serve. They are amazing served warm, but still so good later in the day. You could even make them ahead of time, and then re-crisp and warm them up in the oven right before serving.
So if you are looking for a fun twist on classic desserts this year, you have to try these pecan pie egg rolls – everyone will be surprised and impressed!
I am sharing this recipe today over at Imperial Sugar. Click on Pecan Pie Egg Rolls to get the full recipe.
**This post is brought to you by Imperial Sugar. I have an ongoing relationship for recipe development. I was compensated for my time to create this recipe. All thoughts and opinions are 100% my own.