Candy Bar Cookie Pizza – a chocolate chip cookie pizza topped with melted chocolate and lots of your favorite candy!
Halloween is over! Did you have a good time? My son of course got way more candy than he needs. Before we went out trick or treating, I had to dump out the candy from last year that didn't get eaten. So it is safe to say that we have too much candy again this year.
We hung out with friends, carved pumpkins, and had a great time. The weather even cooperated and wasn't too cold. Always a good thing! So now what to do with all of that leftover Halloween candy….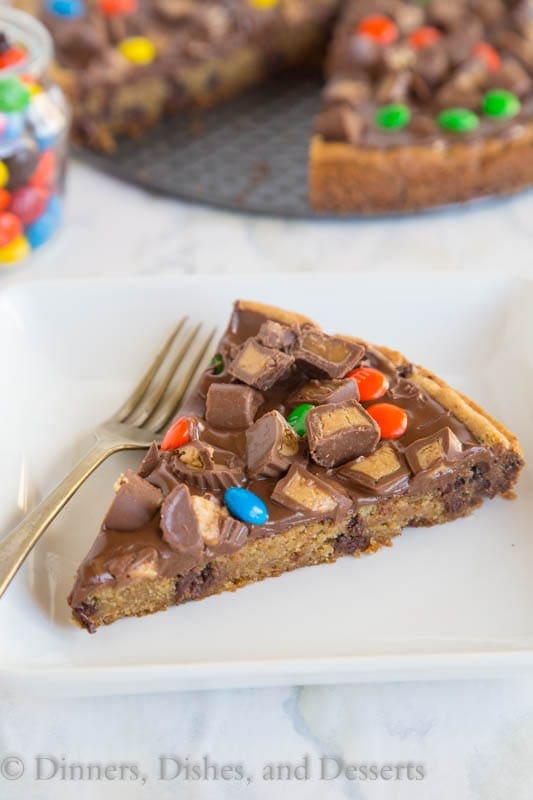 This candy bar cookie pizza will use up some of that candy for you. And trust me, it is way better than just eating the leftover Halloween candy by itself. A gooey chocolate chip cookie that is topped with a mixture of melted chocolate and peanut butter. Then you sprinkle on whatever your favorite candy is.
I used peanut butter cups, rolos, and M&M's. It is a great combination, if I do say so myself. But the possibilities are endless. Just go raid your kids candy bag and see what you can come up with! A cookie pizza is so much better than a traditional pizza, you may never go back! With the Leftover Halloween candy recipes are kind of my favorite thing to make! Candy Bar Pie is a fun one to make after any candy holiday.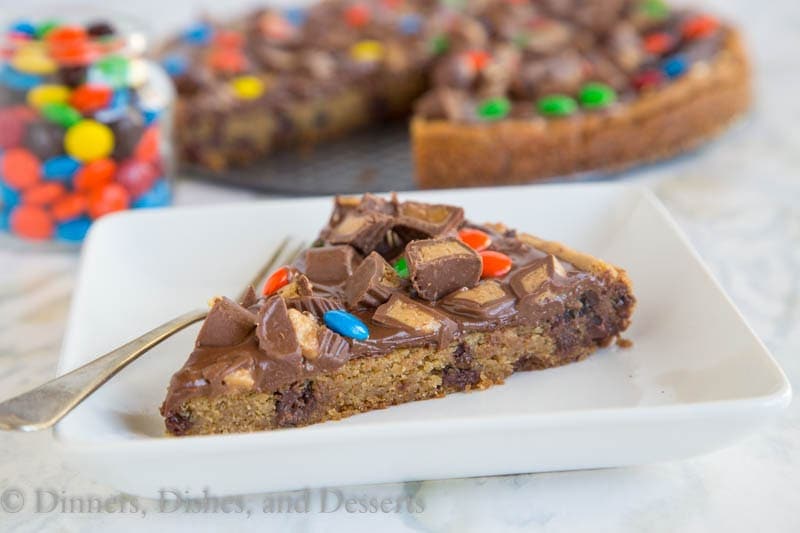 I made this candy bar cookie pizza while we had someone here doing work on our house. We know the person, so my husband took a slice of this cookie pizza out to him. It disappeared so quickly. I am only slightly worried he will find more work that he wants to do at our house 🙂 Peanut Butter Brownie Pizza is another favorite leftover Halloween candy recipe.
I wanted more than just a normal chocolate frosting, so I melted chocolate chips and peanut butter together and poured it over the hot cookie. With the peanut butter cups as a topping, I couldn't have asked for more. I know I will be making this candy bar cookie pizza again. My son will even willingly give up his candy for this!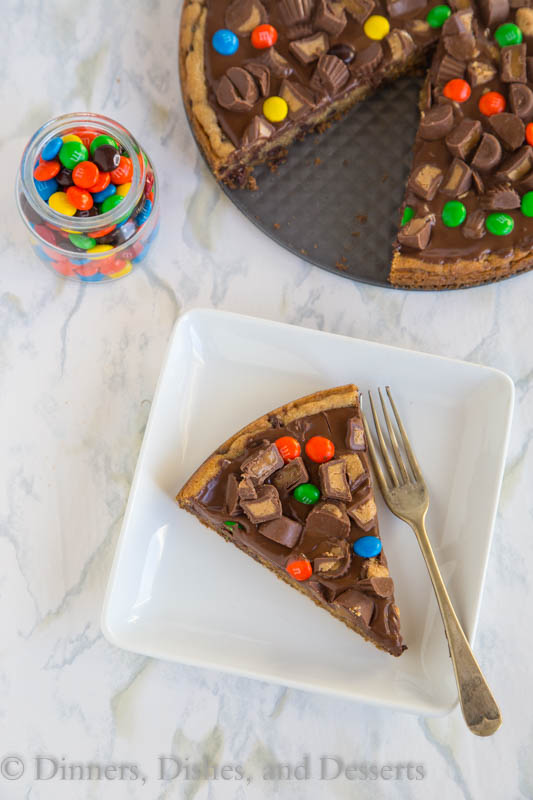 What is your favorite candy. I have a couple, but I think I am going to hoard the Milky Ways to make this Milky Way Syrup fast! Blondies are my husband's favorites, so definitely looking forward to making these Candy Bar Blondies for him. So many great options, I might just have to take all the candy!
Yield: 10
Candy Bar Cookie Pizza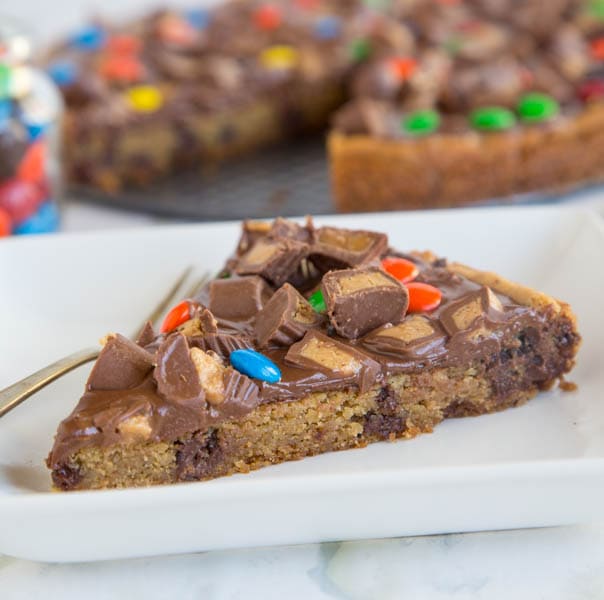 Candy Bar Cookie Pizza - a chocolate chip cookie pizza topped with melted chocolate and lots of your favorite candy!
Ingredients
1 batch chocolate chip cookie dough, (homemade or store bought)
3/4 cup semi-sweet chocolate chips
1/3 cup peanut butter
1 1/2 cups candy, , chopped (whatever you like)
Instructions
Preheat oven to 350 degrees.
Spread cookie dough in a 10 inch spring form pan (or a 9 inch baking dish)
Bake for 10-15 minutes until edges are golden, and the center is set. Do not over bake, it will continue to cook after you remove it from the oven.
Let cook for 10 minutes.
In a microwave safe bowl melt chocolate chips and peanut butter together until smooth.
Pour over cookie. Spread in an even layer.
Immediately sprinkle chopped candy over the cookie.
Let cool for at least 10 minutes before slicing. If will be very messy unless you let the chocolate set completely.
Nutrition Information
Yield
10
Serving Size
10 Servings
Amount Per Serving
Calories

262
Total Fat

9g
Saturated Fat

3g
Trans Fat

0g
Unsaturated Fat

5g
Cholesterol

0mg
Sodium

65mg
Carbohydrates

46g
Fiber

1g
Sugar

30g
Protein

3g